Phat Dat donates VND 1 billion to build charitable houses in Binh Dinh Province
On 19th October 2022 at Binh Dinh Convention Center, Binh Dinh Province launched the Month for the Poor to support the provincial "For the poor" Fund and charitable "Great solidarity" houses. Phat Dat Real Estate Development Corporation (HOSE: PDR) donated 1 billion VND to the program.
Statistically, there are over 25,000 households in poverty, 24,200 households in near poverty, and about 8,000 households with housing difficulties in Binh Dinh Province.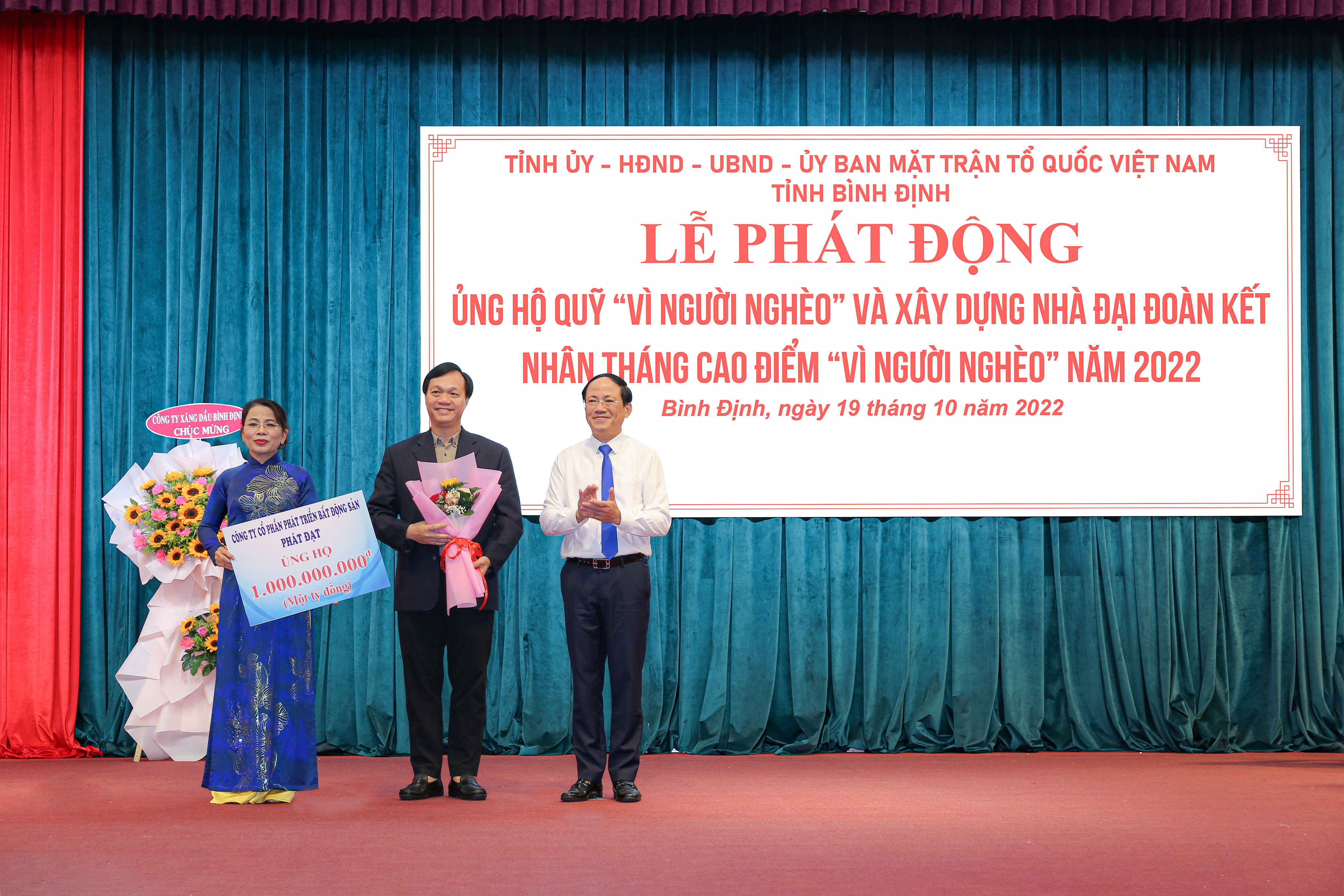 Mr. Bui Quang Anh Vu – CEO of Phat Dat Real Estate Development Corporation, presenting VND 1 billion at the launching ceremony.
In response to the call from Vietnam Fatherland Front of Binh Dinh Province for the meaningful national movement "Joining hands for the poor – leaving no one behind," Phat Dat Real Estate Development Corporation donated VND 1 billion to the fund "For the poor" to construct charitable "Great Solidarity" houses for poor households, contributing to poverty reduction and improving people's lives.
Speaking at the launching ceremony, Mr. Bui Quang Anh Vu – CEO of Phat Dat Real Estate Development Corporation, put it: "As one of the leading real estate enterprises, we are deeply aware of our responsibility to the community. Phat Dat is always at the forefront of national or local campaigns. With practical contributions, Phat Dat aspires to collaborate with individuals, organizations, and enterprises around the country to assist the underprivileged, therefore increasing the community's material and emotional well-being."
With 18 years of real estate expertise, Phat Dat is consistent in developing each project with practical contributions to the growth of the community and local economy, as well as functional and aesthetic characteristics that meet the demands of both present and future residents. Indeed, Phat Dat takes on a high level of responsibility via social activities, contributing positive values to the community where its projects are erected.
Particularly in Binh Dinh, Phat Dat is implementing CADIA Quy Nhon (at No. 1 Ngo May, Quy Nhon City, Binh Dinh). This international-standard hotel and condotel complex, located directly on the city center square, has partnered with the world's best management and operations firms. CADIA Quy Nhon is projected to boost Binh Dinh's tourism economy, increase emotional well-being, and provide numerous work opportunities for the locals.