142 new students from Quang Ngai, Binh Dinh and Phu Yen receive scholarships
70 students from Quang Ngai, 37 from Binh Dinh and 35 from Phu Yen received scholarships, worth VND 7 million to cover the expenses during their pre-admission to universities.
One of the highlisghts at Grant ceremony, Nguyen Thi Hong Nhi – a freshman of the Da Nang University of Medical Technology and Pharmacy, touched people's heart with her heart-warming story about how she had to drop out of school to take of of her mother and grandfather.
Next success story of how to overcome difficulties to reach success, Dao Thi Kieu Nhi, a recipient of  "Giving Strength to Students" scholarship in 2008,  who is currently working at the Faculty of Pharmacy at the Heart Institute in Ho Chi Minh City also recieved much appreciations from the audience.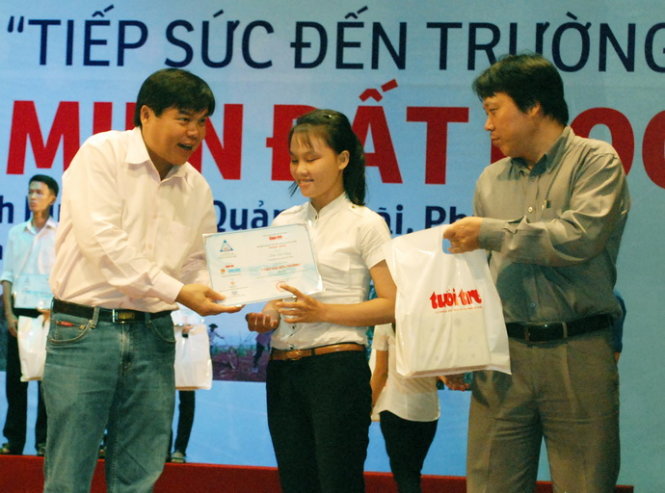 Mr. Tang Huu Phong (left), editor-in-chief of Tuoi Tre newspaper, awarded scholarships to freshmen.
Mr. Mai Thanh Thang, Vice Chairman of Binh Dinh People's Committee, said: "In despite of difficult circumstances, they passed the university entrance exams with their own abilities, their energy and community support.  Their efforts deserve a reward."
The "Giving Strength to Students" Scholarship Fund has become familiar to misfortuned students for the past ten years. The new students recieving this year's scholarships have shown a beautiful and positive attitude towards society despite their hardships ", Mr. Thang said.
At the same time, Mr. Thang called on the community to share the difficulties with the new students so that they could continue pursuing their dreams.
Looking at the gaunt, sunburnt but smiling faces of new students, Mr. Le Quoc Phong, Secretary of the Central Youth Union, President of the Vietnam Student Association, shared:
"I hope you continuously make effort to overcome difficulties at the university, continue to achieve success, and excel yourself through life's challenges.
I hope you will become the next successors of the program "For Tomorrow's Development", which has lasted for 13 years by Tuoi Tre newspaper, in helping the next generation of students with similar circumstances to persistently pursue of their dream of a university degree".
During the Grant ceremony, Mr. Nguyen Tan Danh, Deputy CEO of Phat Dat Real Estate Development, representing the sponsor of the "Giving Strength to Students" scholarship, promised to continue to support students in their difficult journey to attend universities in the future.
"We are always by your side and together we'll be able to pursue your dreams." Mr. Danh said.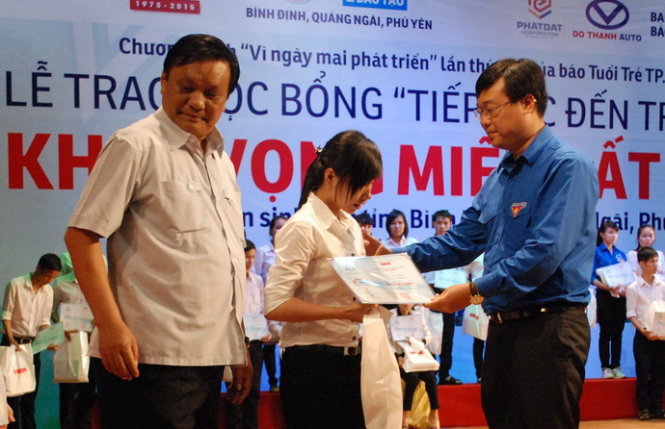 Mr. Le Quoc Phong (right) awarded scholarships to new students.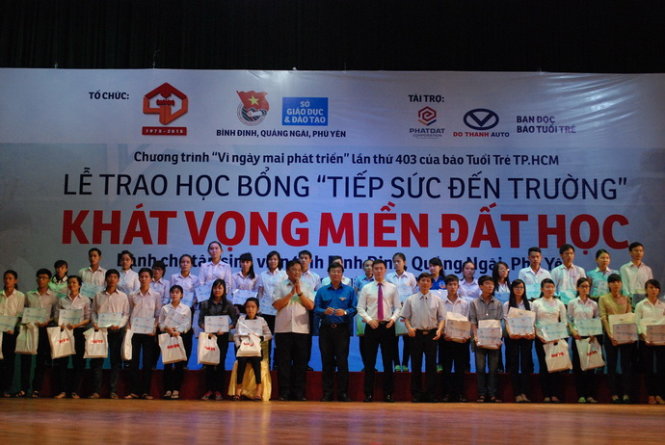 142 new students received the scholarship "Giving Strength to Students".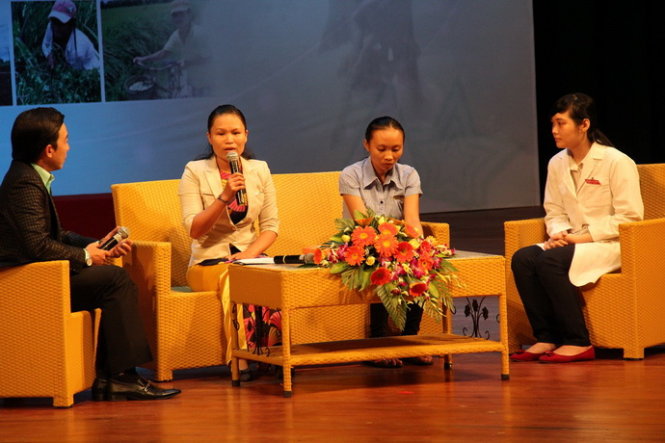 An emotional exchange between students and former students of the scholarship "Giving Strength to Students".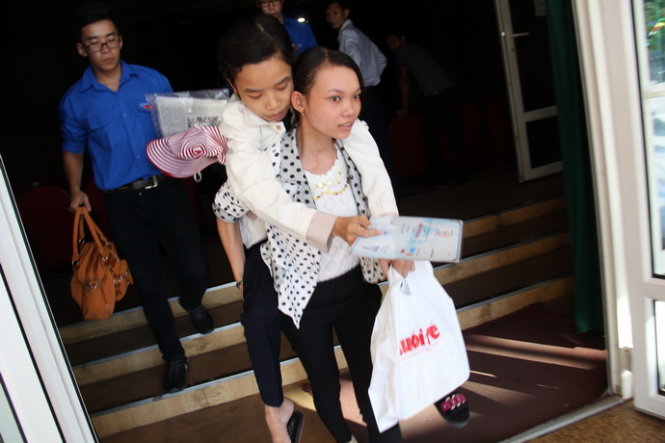 Nguyen Thi Nhu Y, who has just become a new student of accounting department at Quy Nhon University, was carried on her sister-in-law's back due to congenital muscular atrophy.
The sister-in-law Lam Thi Hang will also accompany Y throughout her four years of university. Ms. Hang looked at her disadvantaged younger sister with tears in her eyes: "Sometimes I can only cry when looking at her. She, in spite of sick and poor family, still managed to passes the university entrance exam. I discussed with my husband to let me go to Quy Nhon City to take care of her. I just hope she will achieve her dream."
tuoitre.vn