National Flagpole inaugurated on Hon La Island sponsored by Phat Dat
On April 28, Quang Binh Provincial Youth Union held the Inauguration Ceremony of the National FlagPole on Hon La Island, Quang Dong Commune, Quang Trach District, Quang Binh Province. This is a part of the project to build 7 flagpoles on predominantly important islands spread across the country.
Attending the inauguration ceremony of the Hon La Island Flagpole, Mr. Le Quoc Phong, Alternate Member of the Party Central Committee, First Secretary of the Central Party Committee, President of the Vietnam Student Association together with Mr. Bui Quang Anh Vu, Deputy CEO and representing Phat Dat Real Estate Development that also sponsor all construction expenses.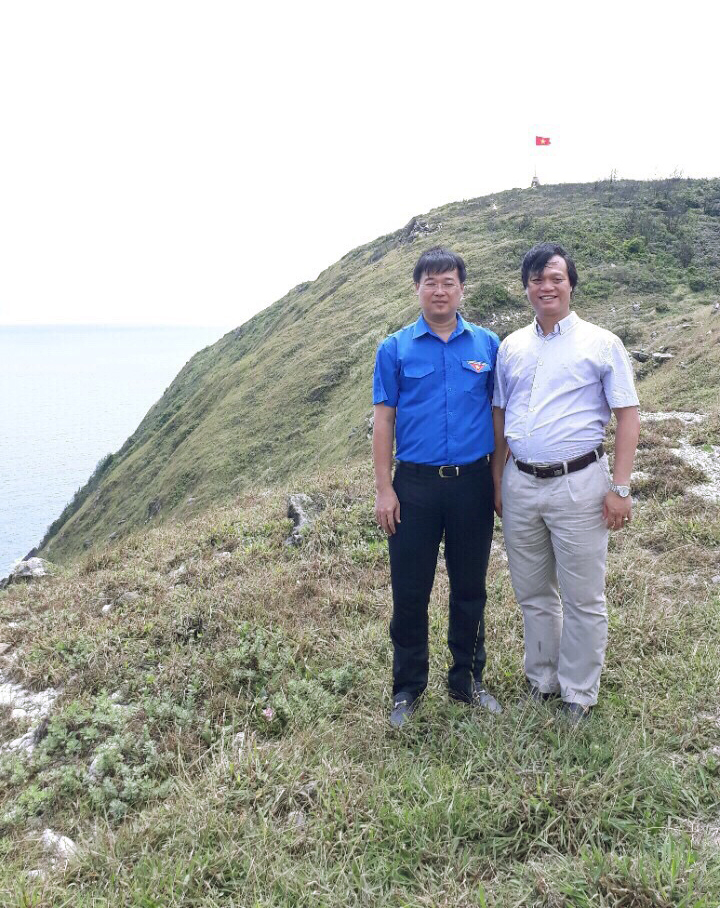 Mr. Le Quoc Phong and Mr. Bui Quang Anh Vu at the inauguration ceremony

The national flagpole is built on Hon La Island, Quang Dong Commune, Quang Trach District at a height of 22.66m and with reinforced concrete. The work covers a land area of ​​13.0m x 12.6m and the entire flagpole is decorated with natural brown and gray-white granite.
On all four sides of the flagpole facade elaborates the national emblem of a gold star, information about the island and miscellaneous made of durable, aesthetic materials suitable for the weather conditions. The two reliefs are made of reinforced concrete, finished with natural red granite tiles are engraved with the logo of Ho Chi Minh Communist Youth Union and Central Vietnam Student Association, express youthfulness and the desire for moving forward.
Organized by Ho Chi Minh Communist Youth Union and Central Vietnam Student Association, the Hon La Island flagpole is a part of the Project to build national flagpoles at the bordering islands, which impose a very important meaning as a frontier defense to protect and control the eastern flank of the country.
At the inauguration ceremony, Mr. Bui Quang Anh Vu emphasized that the construction of Hon La Island's National Flagpole is extremely important in asserting Vietnam's sovereignty over islands. At the same time, this is to promote and educate the young about national pride, patriotism and responsibility to protect Vietnam's sovereignty and territorial integrity.

Mr. Bui Quang Anh Vu – Deputy CEO of Investment (6th position from the right) cut the ribbon to inaugurate Hon La flagpole

Hon La Island's national flagpole was inaugurated on the occasion of the 43rd anniversary of Southern Liberation for National Reunification. Further, on this occasion, the delegation visited the tomb of General Vo Nguyen Giap and payed respect with gifts to the Vietnamese heroic mother, madame Do Thi Diem in and 2 young start-up companies at Khuong Ha 4 Village, Hung Trach Commune, Bo Trach District.
Phat Dat Real Estate Development has over 13 years of persistent operation in the field of real estate, in investment and development of high-end apartment projects including The EverRich Infinity, Millennium, or hospitality projects such as Marriott Hotel & Resort Hoi An and Westin Hotel & Resort Nha Trang.
Phat Dat is especially known for its The EverRich brand, which is much familiar among investors in high-end segment in Hochiminh City. Prior to that, Phat Dat has been known as a company with considerable contributions to the development of community and country.