Phat Dat donates vnd 1.5 billion for Covid-19 Vaccination
On 28th May 2021, representatives of Phat Dat Real Estate Development Corporation (Stock code: PDR) presented VND 1 billion to the program 'Cung Tuoi Tre Gop Vaccine COVID-19' (Making COVID-19 Vaccine Contributions with Tuoi Tre) launched by Tuoi Tre News to support the Government to quickly implement free inoculation for the whole population.
Sharing at the meeting with Tuoi Tre News, Ms. Nguyen Thi Hong Tham – Human Resources Director of PDR, said, along with promoting business development, Phat Dat also pays special attention to social responsibility. In the context of the complicated and unpredictable Covid-19 epidemic, collaboration between businesses and trustworthy units such as Tuoi Tre News is essential. By which, businesses have a chance to responsibly support the Government so that everyone can access the Covid-19 vaccines soon.
"Since the beginning of 2021, the Leadership of Phat Dat has worked with Vietnam Vaccines JSC (VNVC) to order Covid-19 vaccines for about 300 employees. All expenses will be deducted from the company's Welfare Fund", added the HR Director of PDR.
According to Mr. Le Xuan Trung – Deputy Editor-in-Chief of Tuoi Tre News, with the support and contributions of Phat Dat as well as other businesses, benefactors, and readers, Tuoi Tre News will coordinate with competent agencies to buy Covid-19 vaccines and distribute to groups like workers working in factories/industrial parks, laborers, people in difficult circumstances, etc., accompanying the Government in realizing the dual goal of effectively combating the epidemic and ensuring the implementation of social & economic targets.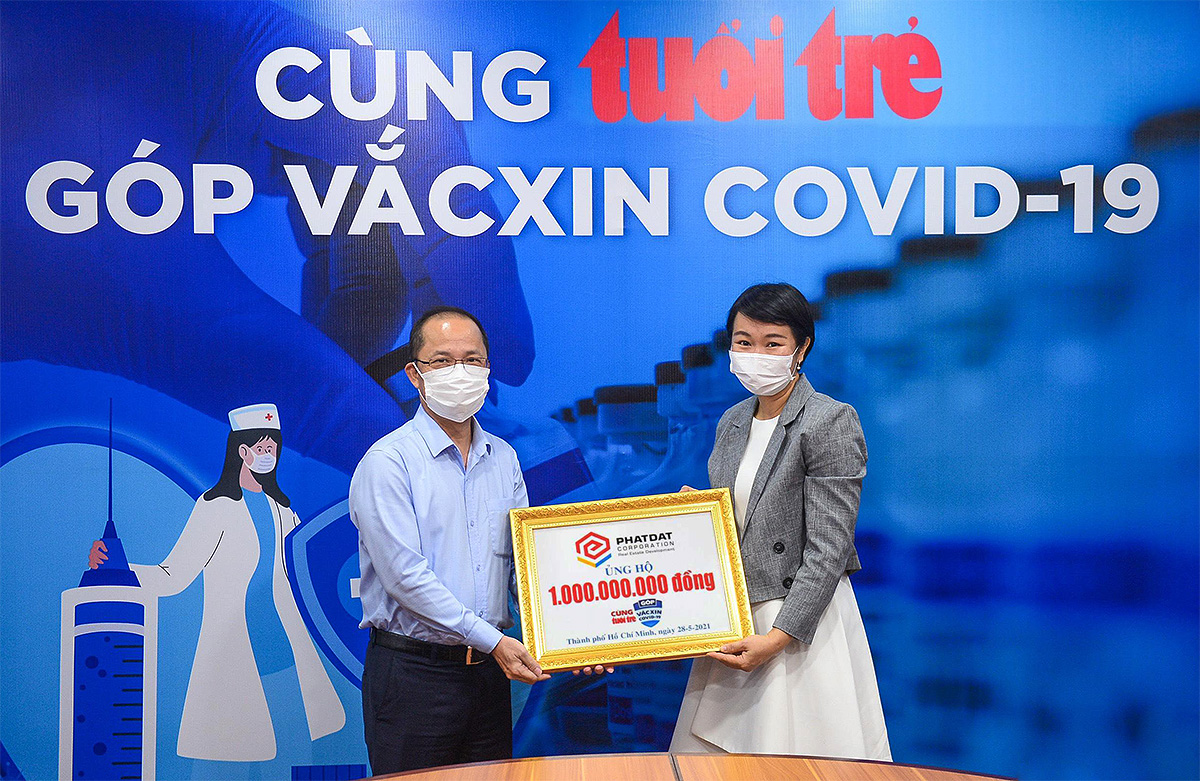 Ms. Nguyen Thi Hong Tham (on the right) – HR Director of Phat Dat, presenting VND 1 billion to Mr. Le Xuan Trung – Deputy Editor-in-Chief of Tuoi Tre News, contributing to the program 'Cung Tuoi Tre Gop Vaccine COVID-19' on 28th May – Photo by Quang Dinh.
Previously, on 27th May 2021, in Binh Dinh province, PDR's representatives presented an amount of VND 500 million to the Vietnam Fatherland Front Committee of Binh Dinh province, providing more resources for the prevention and control of Covid-19 in the province, especially for vaccinating the people and frontline forces, thus, contributing to ensuring the health and safety of people's lives and realizing the dual goals set by the Government.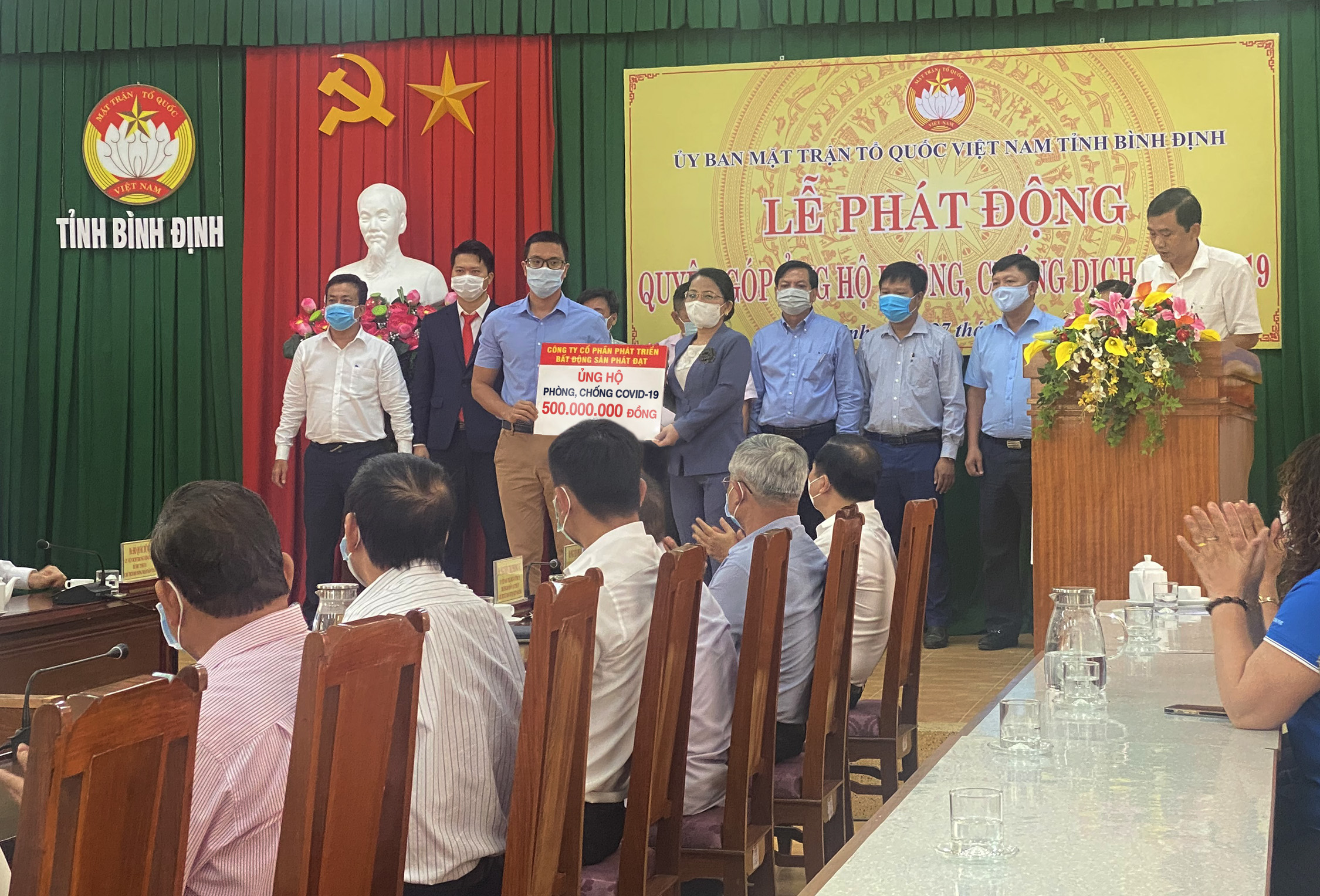 After more than a year of coping with the Covid-19 pandemic with all mobilized resources, Vietnam is in a new phase – more urgent and drastic. Hence, the V5K campaign (vaccination + 5K measures) is considered a shield to help quickly and effectively prevent the transmission of the pandemic in the community.
Although the Government issued a policy to use the State budget to inoculate the entire population, PDR's willingness to pay 100% vaccination cost for employees and donate VND 1 billion for the program 'Cung Tuoi Tre Gop Vaccine COVID-19' shows not only the responsibility to employees but also a companionship with the State, community, and society.
According to the Government's Resolution No. 21 on purchasing and using of COVID-19 vaccines, the funding for the vaccines includes the State budget, aid, sponsorship and support from domestic and foreign organizations and individuals and other lawful capital sources, including voluntary sources paid by organizations and individuals using vaccines.
As calculated by the Ministry of Health, Vietnam needs 150 million doses of Covid-19 vaccine to inoculate about 75 million people.