Phat Dat sponsors a house to a needy family in Quang Ngai
Phat Dat Real Estate Development Corporation, in collaboration with Nhan Dan Newspaper, presented a house to a family under preferential treatment policies in Pho Khanh Commune, Duc Pho Town (Quang Ngai).
In early November 2022, the house sponsored by Phat Dat Corporation for Mr. Nguyen Le's family – a family subject to preferential treatment policies in Dien Truong Village, Pho Khanh Commune, was completed and handed over to the family.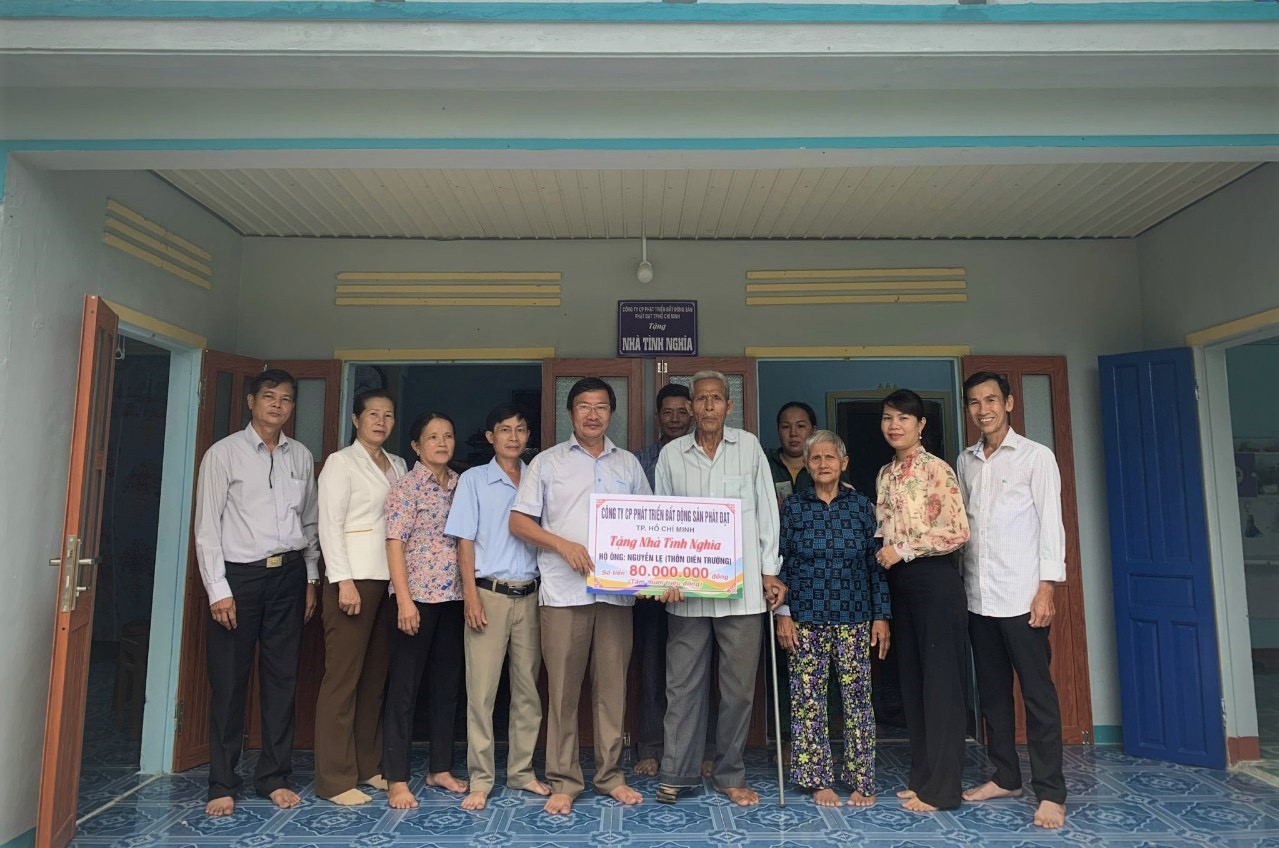 The house was given to Mr. Nguyen Le by Phat Dat Corporation.
Phat Dat Real Estate Development Corporation and other sponsors donated funds to build 5 houses in response to the call of Nhan Dan Newspaper, the Party Committee, and the government of Pho Khanh Commune for a charity campaign to help difficult families overcome hardships and provide them with decent homes to live in.
Mr. Ho Ngoc Han – Secretary of the Party Committee and Chairman of the People's Council of Pho Khanh Commune, stated that the commune has many impoverished households. With the funds from generous donors, the authorities thoroughly reviewed and selected families entitled to charitable houses, ensuring the houses would be built for the neediest families. Thus, the caring and support of donors were greatly appreciated.
Mr. Bui Quang Anh Vu – CEO of Phat Dat Real Estate Development Corporation, put in: "Phat Dat is constantly involved in assisting communities and organizations with social and philanthropic activities. It is a business's responsibility to contribute to the national economic development and take practical actions towards the underprivileged in our society."
Previously, Phat Dat also donated VND 1 billion to the fund For the Poor of Binh Dinh Province to build Solidarity Houses for disadvantaged households. As an enterprise showing a high degree of social responsibility, Phat Dat has developed several practical initiatives and measures to bring positive values to the community.