Active IR - Phat Dat confirmed the position and value of the business
More importantly, with Chairman Nguyen Van Dat, that is the top down direction of how to make IR active and transparent, thereby helping investors understand and understand enough about the strategy and value of the company. .
A sustainable business is not just a good business result, it is also responsible for promoting shareholder relations (IR), ensuring shareholder rights are always respected. head. Phat Dat Real Estate (PDR) is one such enterprise.
Why IR is important to Phat Dat?
It is not difficult to see that companies that are committed to transparent disclosure, shareholder relations and good publicity often have superior business results in the marketplace. In addition, this result is stable and grows sustainably every year.
According to PhD. Matthew Hibberd, the program director for the Master of Communication Studies program at the University of Stirling in Ho Chi Minh City, said: "As the international credit system grows, the rules and regulations of global finance become more and more similar, IR is becoming" vital "for businesses. Companies need to build an IR department in order to retain existing shareholders and attract more new shareholders. "
This suggests that most of the firms with effective IR performance have good valuations in the eyes of strategic investors, facilitating capital mobilization from existing shareholders. private organizations – individuals. Through the development of technology platforms, IR is not simply providing information to introduce businesses, but has become an effective way to influence the psychology and emotions of the home. investment, even individual customers.
Conscious of this, as a reputable real estate developer and a publicly traded company, Phat Dat understands that strengthening IR is necessary It not only creates a channel for information sharing with shareholders and investors, but also ensures the ability to quickly respond to information, to deal promptly and professionally in the disclosure of information to the public.
After a tough and challenging period, it can be said that, thanks to focusing on IR as well as building brand, brand protection, Phat Dat has achieved many achievements through business results. impressive in 2017. Specifically, in the year 2017, Phat Dat recorded total revenue of over 1.542 trillion dong, including gross profit of 519 billion dong, up 29 percent over 2016 over 403 billion dong; After-tax profit in 2017 reached nearly VND 440 billion, an increase of 81% compared to 2016 of approximately VND 243 billion. Net profit margin increased from 16.2% in 2016 to 33.1% in 2017. The trust of investors and shareholders is reflected clearly through the stock price of PDR. From the price of 13,000 dong / share (01/01/2017), PDR shares have grown extremely strongly, reaching 41,500 dong / share (April 20, 1818), recording a growth of over 219% with early 2017. Average trading volume increased sharply, reaching millions of units per session.
The focus on IR also ensures Phat Dat has a position and position in the hearts of foreign investors, which is very selective as well as high requirements for information management. So far, Phat Dat has made a strong investment from many international financial institutions such as Deutsche Bank AG London; Vietnam Holding Limited; Vietnam Enterprise Investments Limited; Amersham Industries Limited, …
Besides, Phat Dat also has regular meetings with domestic and foreign organizations and institutions to visit, explore and invest in businesses such as Swiss UBS, Standard & Poor's; HSC Securities Company, Mirae Asset … .Identify the Italian Trade Union delegation to visit and work at Phat Dat and Saca's visit to consider and reach the long-term cooperation between Phat Dat and Construction & Materials Association Construction of Ho Chi Minh City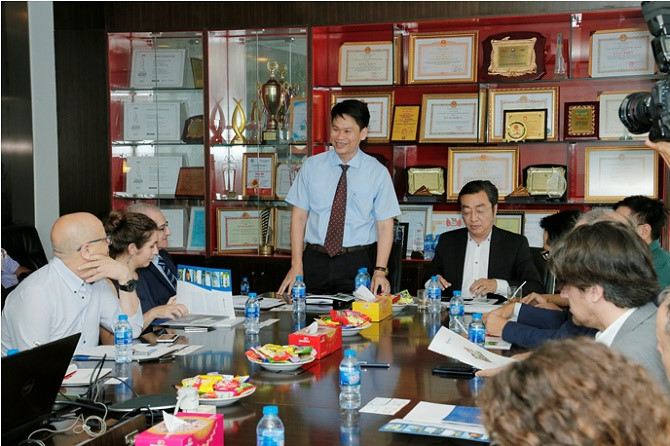 Deputy General Director of Construction – Mr. Pham Trong Hoa (standing) with the delegation at the meeting.
Will continue to professionalize the IR operation further
With the digital age, social networking, IR of Phat Dat in particular and many businesses in general are more favorable because it can timely convey information to the object of interest through many tools such as : company website, online publishing channels.
Surprisingly, the company's IR team is: stock analysis, investment brokerage, press – create unified, accurate and transparent information linkage. However, what is needed to do this is that all the above objects must understand the operation of the business, in contrast, enterprises need to share information in the fullest way.
However, it is more important to the Chairman of the Board Nguyen Van Dat that is the top down direction on how to make IR active and transparent, thereby helping investors understand properly, understand enough about strategy and value. of the company. Not only regular information disclosure, compliance with regulations, this company also develops periodic newsletters, in conjunction with the securities companies held many meetings with investors to put information. spacious, direct to the public.
In fact, in 2016, Phat Dat met some challenges due to market factors, forced to adjust the business plan. But in the face of difficulties, frankly sharing the situation with shareholders, the company has gained confidence from these investors. This has made Phat Dat not small in maintaining the value of stocks not much fluctuations, even some growth in the context of stock market fluctuations. The reason is because the core business activities of the business flourishes and these are all understandable by shareholders.
In the forthcoming strategy, Dat Dat will continue to strengthen the IR machine in the direction of professionalism. The purpose of the IR is to reach the right, fast and complete information for financial investors, existing shareholders, potential investors through traditional channels (newspaper paper, web, website …) and new interactive channels (direct investor meeting, direct interaction on website, online meeting, social networking …).
In short, this reflects the responsibility and respect of Phat Dat, the shareholders – the owners of the business. When the shareholders understand the business, they will be willing to invest and accompany the business.
With professional institutional investors – will often become big shareholders – when to find investment opportunities, Phat Dat will ensure to provide full information on the website, the forum with the most complete … They understand and trust that PDR is a worthy investment. Not only that, even with retail investors, the secondary trading via the floor, IR Department of Dat Dat is ready to answer any questions so they can be assured when investing here.