Binh Dinh's hospitality real estate segment rides a surge of investment
After being hit hard by Covid-19 outbreaks, the hospitality real estate market is on the mend and flourishing. Binh Dinh hospitality properties, in particular, draw investors thanks to robust tourism growth, improved transportation system and low initial investments.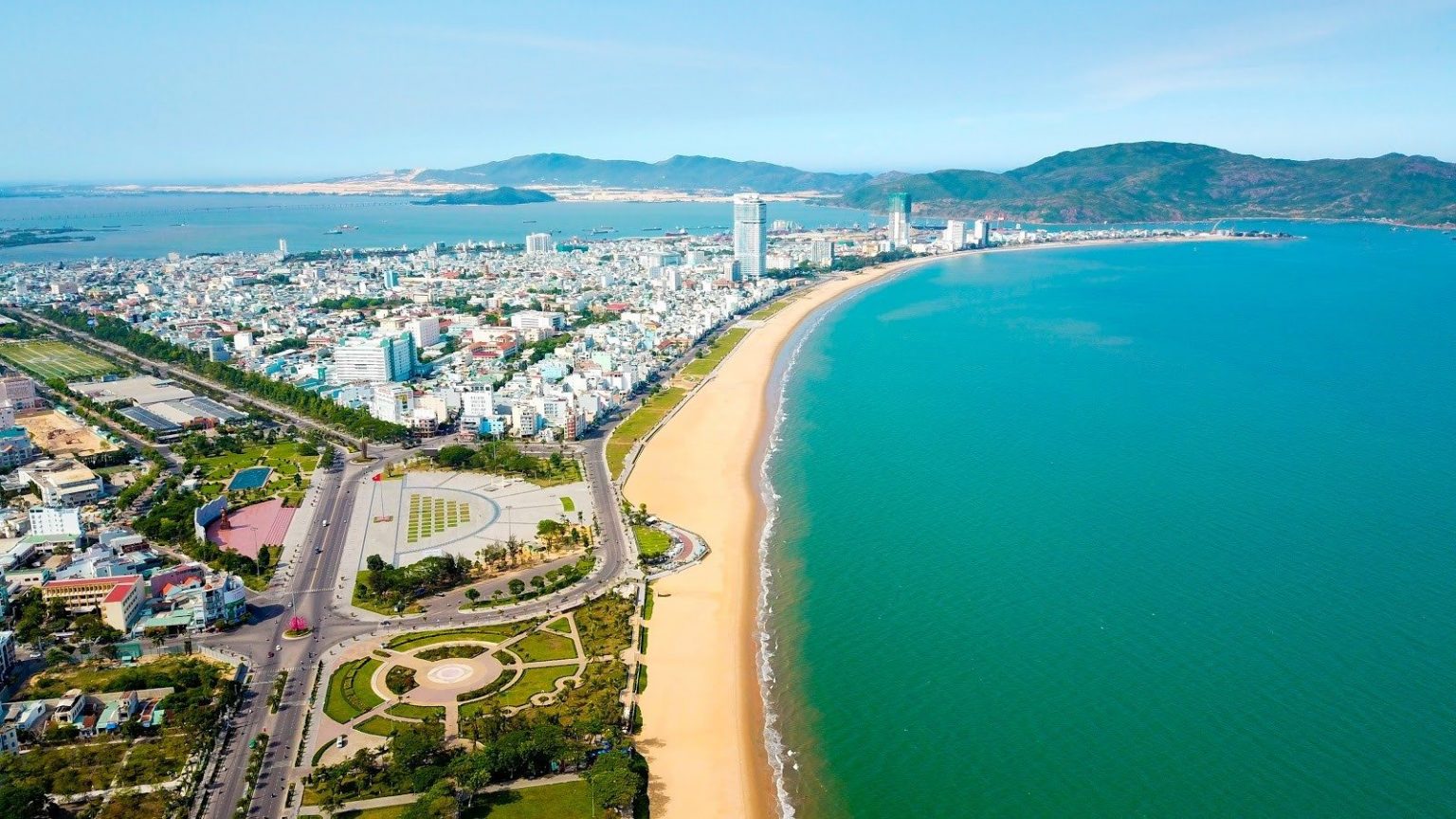 Hospitality real estate segment is vibrant again
Adjusting to the new normal, along with the last bottleneck's removal to welcome international tourists to Vietnam since 15th May, the tourism industry has quickly "returned to the race" and strongly recovered.
According to the Ministry of Construction, there were 52 ongoing hospitality property projects in 1Q2022, an increase of 98% compared to 4Q2021, providing 20,118 condotels and 7,887 resort villas. There were 5 newly-licensed projects, an increase of 83% compared to 4Q2021, adding 67 resort villas and 220 offices pairing accommodation.
A report from DKRA Vietnam also indicates a strong growth in supply and occupancy of hospitality properties in 1Q2022. Specifically, 12 resort villa projects of 1,020 units were launched for sale, up 4% over the same period in 2021. The new consumption-to-supply ratio reached 57% (about 579 units), increaseing 2.3 times over the same period in 2021.
In 1Q2022, the hospitality market welcomed 2,768 townhouses and shop-houses from 13 new projects, up 4% from the previous quarter and 12.4 times higher than the same period last year. The occupancy rate reached approximately 87% (2,408 units), 14.7 times over the same period in 2021. Condotel segment recorded 613 newly-launched units; consumption reached 199 units or 32% of new supply and 3.3 times higher than 4Q2021.
Hospitality property supply is concentrated mainly in Binh Dinh, Binh Thuan, Ba Ria-Vung Tau, Thanh Hoa, Quang Ninh, etc.
Several reasons, according to analysts, are fueling this development. First, the rapid rebound of the tourist industry supports the vacation property market substantially. Second, supply and demand are reasonable due to very few projects being deployed in the past 2 years. The last aspect attributable to the appeal of hospitality properties to investors is that their values have not increased as much as those of land lots, garden lots, townhouses, apartments, etc.
Furthermore, thanks to a boost from economic stimulus packages, the hospitality real estate segment will undoubtedly bounce back like a compressed spring after being suffocated by the epidemic. The Vietnam Association of Realtors (VARS) sees 2022 as a critical year for the hospitality real estate sector to reclaim its vibrancy.
Binh Dinh's hospitality real estate segment rides a surge of investment
According to experts, after each Covid-19 outbreak, the real estate market rises strongly. It is forecasted that investment will mainly flow into vacation properties in prominent tourist destinations, namely Quy Nhon in Binh Dinh – a "new focus" thanks to the "makeover" from infrastructure and transportation and its coastal tourism potential.
Besides, investors primarily focus on products with high business efficiency and long-term benefits in investment and exploitation. The pandemic has also changed customer tastes. Buyers are more interested in real estate with coastal advantages, aligned amenities and existing facilities.
During the holiday season of 30 April & 1 May alone, Quy Nhon-Binh Dinh surpassed Phu Quoc, Da Lat, Vung Tau, etc., to become the hottest destination with 192,000 visitors. Binh Dinh Department of Tourism noted that most 3-5 star hotels were fully booked. Not only domestic tourists, but Quy Nhon is also one of the top 10 most searched destinations by foreign tourists, according to Google Destination Insights.
A well-connected and contemporary transportation infrastructure is also necessary to entice investors to Quy Nhon-Binh Dinh hospitality properties.
In 2021, Binh Dinh province started many large-scale transport projects, such as Cat Tien – Go Boi coastal road (VND 1,084 billion) connecting Cat Tien, Cat Chanh, Phuoc Thang and Phuoc Hoa; Thi Nai 2 Bridge (VND 1,888 billion); My Thanh coastal road leading to Lai Giang bridge (VND 1,496 billion); and Dien Bien Phu route extending to Diem Van urban area (VND 1,126 billion).
Quy Nhon-Binh Dinh is drawing many "big brands" to invest in and create hospitality real estate projects, particularly large-scale and high-class developments, due to its vast tourist potential and well-developed transportation infrastructure.
Notably, the condotel tower of Ngo May Complex of commercial services and coastal hotel & condotels is located at the unique "diamond" position, a bustling intersection in the heart of Quy Nhon City.
The investor elaborated that the project was thoroughly invested and planned from the design stage to the construction and finishing stages with the involvement of leading domestic and foreign companies such as GSA (Australia), Meinhardt (Singapore), ACONS (Vietnam) and Red Design (Australia).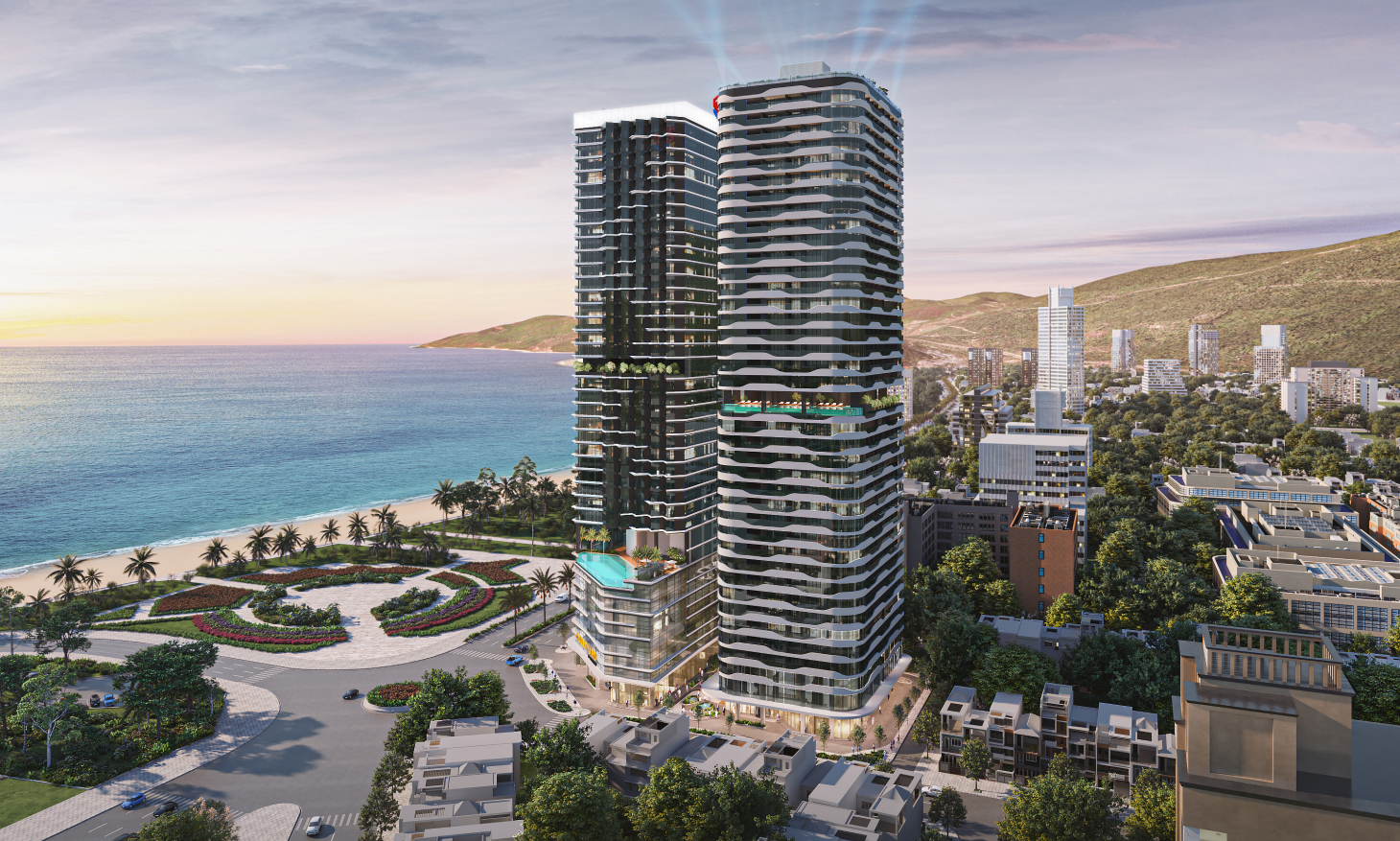 CGI of the condotel tower of Ngo May Complex of commercial services and coastal hotel & condotels
In particular, the condotel tower will be operated by Centara Hotels & Resorts – a professional hotel operator under the prominent Cental Group. Centara Hotels & Resorts's portfolio currently includes various famous hotels across Asia.
Once finished, the Ngo May Complex of Commercial Services and Coastal Hotel & Condotels will breathe new life into the luxury hospitality real estate segment, contributing to the resurgence of Quy Nhon's real estate market.