Building Vietnam: Phat Dat - A developer's lofty goal
Phat Dat Real Estate Development Corporation (HoSe: PDR) joins Vietnam in post-pandemic economic recovery.
Over the past two years, Vietnam has experienced numerous ups and downs as a result of Covid-19. Like other countries around the world, its economy has been hit by infections, domestic lockdowns, border closures, and a global slowdown.
Yet, through this period, Vietnam's real estate sector has proved to be surprisingly resilient. According to Cushmasn & Wakefields, apartment prices in Ho Chi Minh City increased by 90 per cent from 2017 to 2020, while industrial land rentals rose by 10 per cent in 2020. And the real estate sector has managed to keep a high year-on-year growth momentum, despite the challenges.
The encouraging figures come on the back of Vietnam's relatively sterling performance in the midst of a global pandemic. While many countries in the region slipped into recession, Vietnam's economy still managed to post a positive growth of more than 2 percent.
As a result, analysts are forecasting healthy growth in Vietnam even as the world slowly recovers from the Covid-19 crisis. Its GDP is expected to grow by 6 percent or so in 2022, making it one of the fastest-growing economies across Asia. Together with ongoing strong demand for both residential and industrial property, it makes the opportunities in Vietnam's real estate sector look most promising.
This is where Phat Dat Real Estate Development Corporation, an award-winning property developer, comes in. With a market capitalisation of more than US$2 billion (at end-2021), Phat Dat is part of the VN30 Large-Cap group, and it is planning to contribute to Vietnam's burgeoning economy.
Tapping its expertise in coastal real estate development and leaning on a firm belief in the strong potential of Vietnam's real estate sector, the developer is forging ahead in its strategy of investing in provinces across Vietnam, from residential and industrial to warehousing and logistics.
BUILDING UP LIVING VALUES IN VIETNAM
Demand for residential property across Vietnam – especially along the coastal regions – has been promising. In fact, shortages in supply and overwhelming demand have been reported, thanks to strong interest from both foreign investors and local citizens, and earlier delays in construction.
Whether it's affordable homes or luxury abodes, more homes are needed across Vietnam. The country's middle class is expanding rapidly as a result of economic progress; some 1.5 million to 2 million people are estimated to join this group every year, further increasing the demand for real estate.
Phat Dat is thus aiming to take advantage of urban renewal and development opportunities in emerging administration and financial centres across the country, with an eye on expanding its operating markets and diversifying its portfolio. Among other developments, it plans to build high-end apartments in Ho Chi Minh City, well-planned townships in second-tier cities, and related infrastructure in popular tourist destinations such as Da Nang, Binh Dinh, Quang Ngai, Phu Yen, Ba Ria-Vung Tau, and Phu Quoc; particularly mentioning the project at No. 223 Tran Phu Street in Da Nang City, Bac Ha Thanh Residential Area in Binh Dinh Province, Bo Bac Residential Area in Quang Ngai Province, Poulo Condor, Tropicana, and Phuoc Hai projects in Ba Ria Vung Tau Province, and Binh Duong Tower in Binh Duong Province, among others.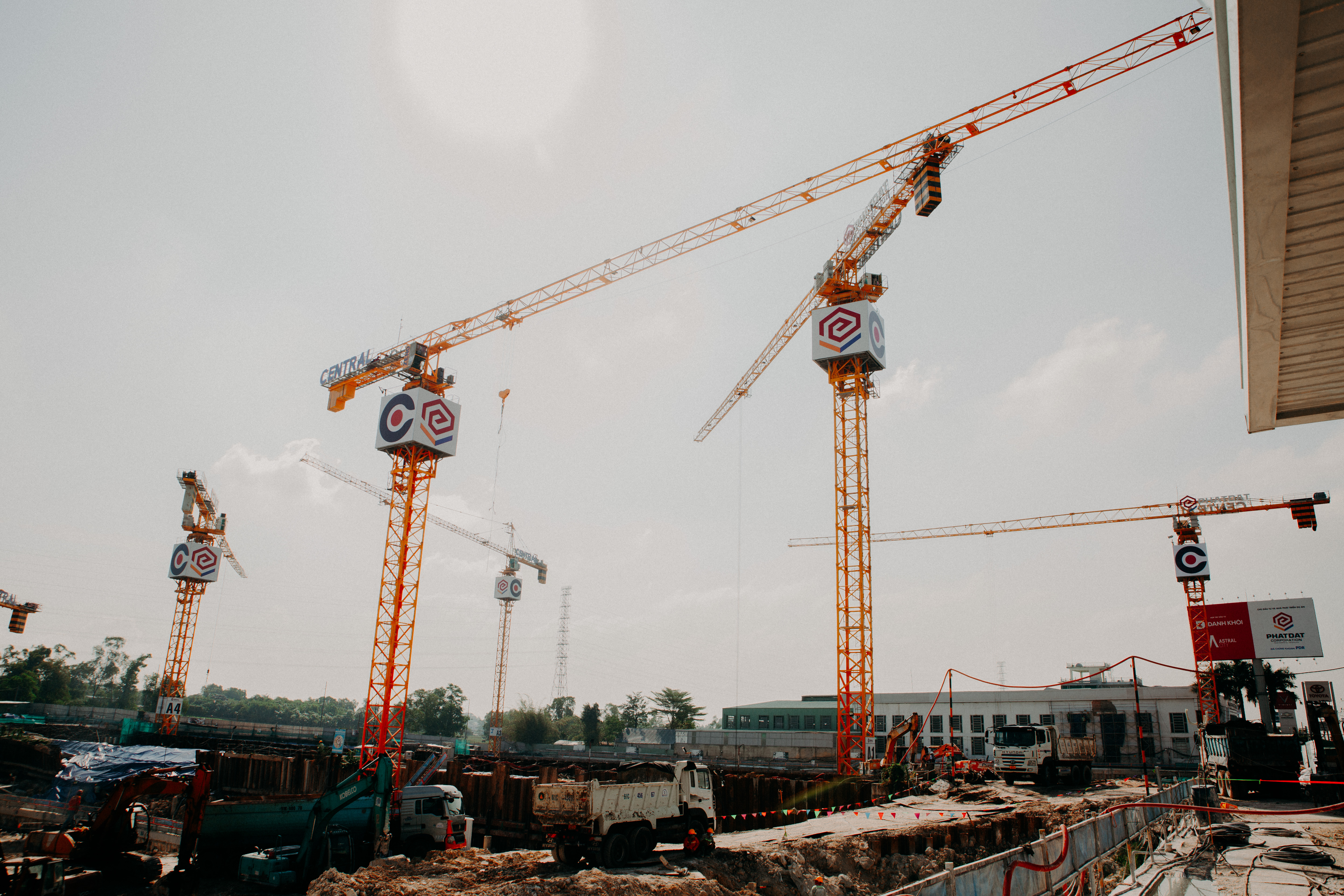 Astral City in Binh Duong
GROWING VIETNAM'S INDUSTRY
As a low-cost, high-quality alternative to countries in the region, Vietnam has become a go-to location for manufacturers. Many companies have moved their production to the country, giving a boost to the country's foreign investment as well as industrial property market. Such growth is driving a demand for industrial parks, supporting infrastructure, as well as office space in the big and coastal cities like Ho Chi Minh City, Da Nang and Hanoi.
The industrial sector will be the one of main pillars in Phat Dat's development plans over the next few years, as it seeks to capitalise on Vietnam's potential in drawing foreign investment and expanding domestic production.
At the moment, PDR already has plans to launch three industrial projects in 2023, including the Tai Tien General Warehousing, Port Logistics and Logistics Services in Ba Ria Vung Tau; the Dau Tieng Industrial Township in Binh Duong; and Cao Lanh Industrial Parks in Dong Thap. Like its other developments, these industrial parks and residential properties will feature the latest infrastructure while also balancing benefits to stakeholders with social responsibilities, ensuring that the company will contribute to Vietnam's socio-economic development in a sustainable way.
SUPPLYING VIETNAM'S WAREHOUSING AND LOGISTICS NEEDS
With the growth in manufacturing and production, quality warehousing and logistics support facilities will be sorely needed to ensure that producers, distributors and exporters are well linked to transport and trade hubs.
Anticipating such needs, Phat Dat is planning to acquire and accumulate land banks in key economic zones, especially those that are strategically located near international airports and seaports. These areas will facilitate the developer's plans to build logistics real estate of international standards that are required by international and local partners. Phat Dat's range from factory networks and warehouses to associated infrastructure that enable the running of comprehensive logistics solutions for customers and investors.
JOINTLY RECOVERING VIETNAM'S ECONOMY

With its firm foundation, broad experience and detailed plans, Phat Dat hopes to make full use of the opportunities abounding in Vietnam as the country looks forward to post-pandemic growth. Backed by its expertise in real estate business, it believes that it has a strong prospect of success and an integral part to play in boosting Vietnam's economy in the long term.