CEO of a billion-dollar real estate corporation and the story behind Phat Dat's strategy to constantly acquire new projects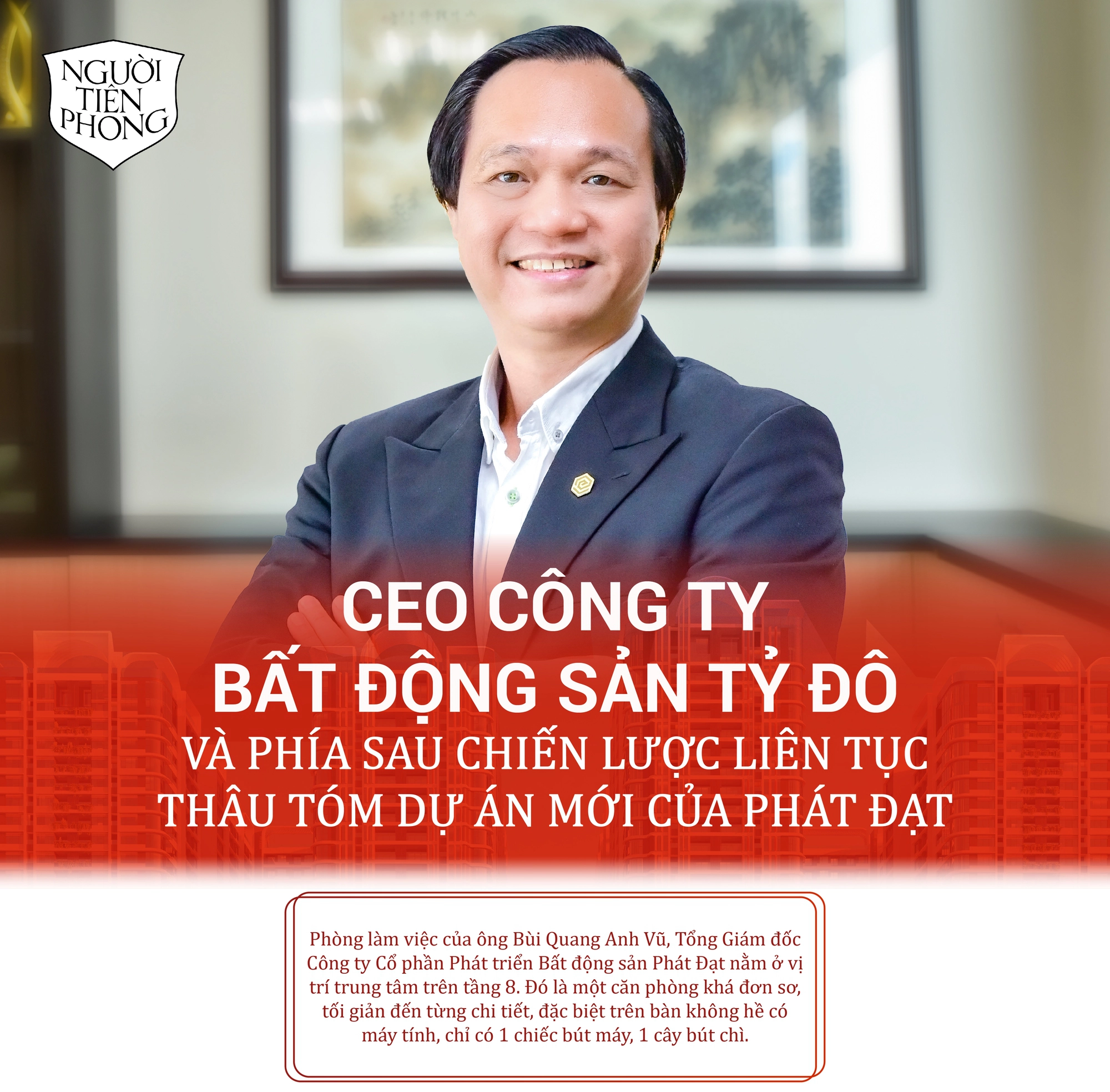 THE RESTRUCTURE OF INVESTMENT PORTFOLIO AND THE CHALLENGING TAKE-ON OF A NEW POSITION.
To carry out a management succession process, in 2020, Chairman Nguyen Van Dat appointed you as CEO of Phat Dat. Taking on this new responsibility, how did you feel back then?
Throughout Phat Dat's 16-year history, the Chairman – also the Founder, exerted his influence on every decision. In such a transition context, I found myself in a favorable situation thanks to the inherited strategic orientations from the Chairman and the determined management team.
Besides, Phat Dat has embarked on an ambitious plan for 2019-2023 to restructure our investment portfolio, targeting at trillions VND in profits or billions USD in market cap. Exceeding 50% in compound growth rate is a challenging endeavor.
Growing up inside the organization, I am enthusiastic about Phat Dat's development. My new task, which capitalizes on the past achievements and simultaneously accompanies the Chairman to write Phat Dat's further development, is really challenging.
When I received the appointment decision, many thoughts crossed my mind. I immediately related to the song "One's lifetime in his forest"; Phat Dat was a well-planted forest, and I was like an orchid plant in that dense forest. I told myself that I must live well, grow strongly, and see opportunities in adversities to strive.
Being promoted from Vice President of Investment to CEO, what did you learn from your predecessor on corporate management during restructuring?
I learned a lot from Mr. Dat: his determined, consistent and powerful characteristics, his spirit of thinking big and doing big things, and his perseverance and consistency in pursuing set goals. Mr. Dat does not find it effective to hold two guns in two hands. It must be ten guns at a time! (laugh).
Especially, perseverance and patience enable us to endure what others can't stand; yet we are not afraid because fear is the source of all worries, sorrows, and rage. No matter how difficult it is, we must devise a plan with clear goals and carry it out effectively. Only then comes success.
At Phat Dat, we are trained to be consistent in thinking, detailed in planning and stringent in evaluating results.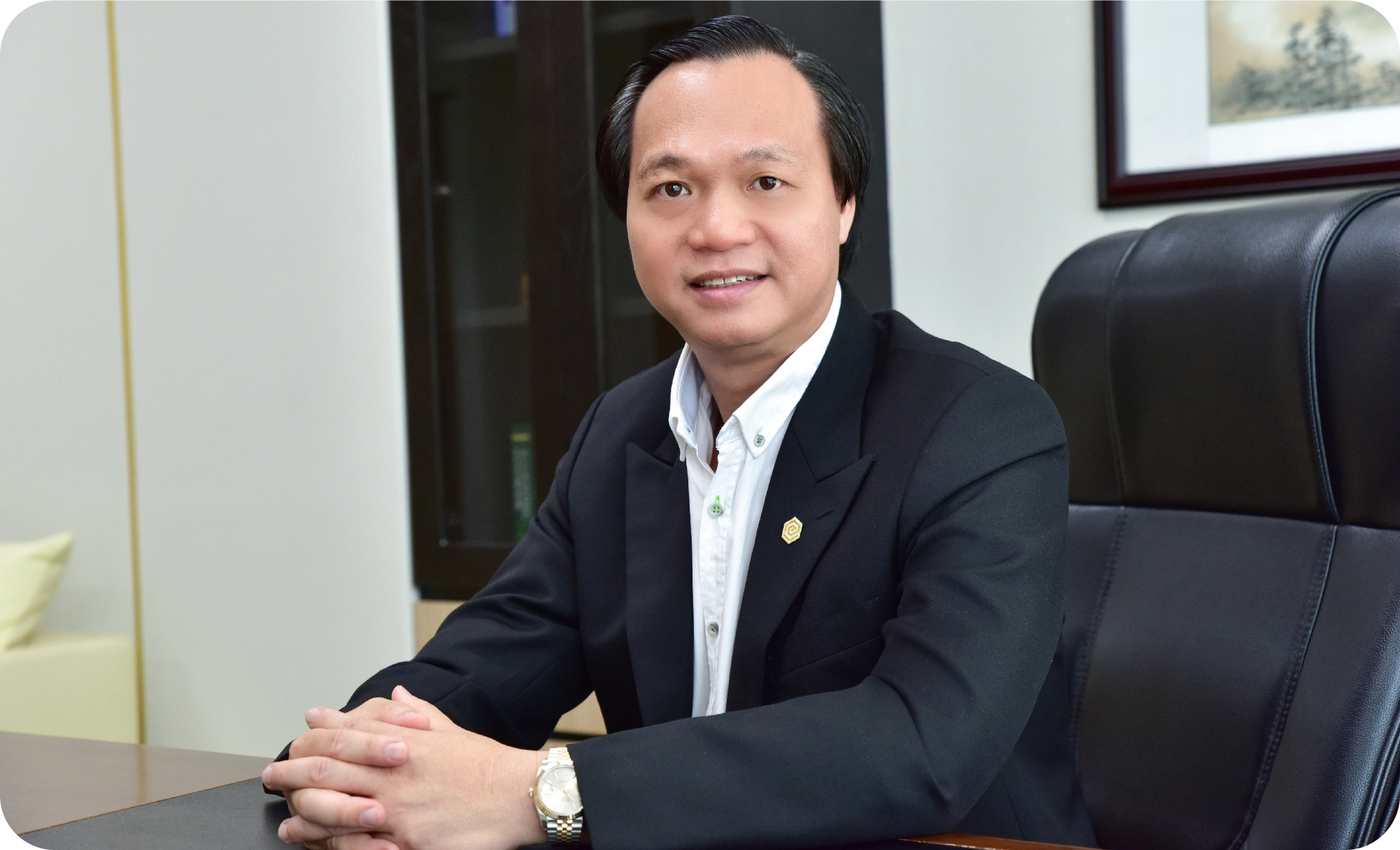 COVID-19 emerged right after you took on the CEO position. When following the restructuring strategy, how was the company's profit affected at that time?
When the pandemic broke out, production and business activities were put to a halt, and businesses were all affected. However, Phat Dat was not under much pressure because we're always proactive with measures to deal with force majeure situations. As part of its sustainable development strategy, Phat Dat has long prepared an extensive land bank and legal certainty for its projects.
Thanks to its strong financial capacity, as soon as the social distancing ended, Phat Dat quickly "accelerated" to complete the set goals. Furthermore, in 2020, the company increased the pre-tax profit set in the 5-year plan (2019-2023) from VND 11,850bn to VND 14,270bn.
RUNNING FASTER WITH A WHOLESALE APPROACH
Phat Dat changed its strategy from direct selling products to wholesale. What advantages does this bring to your business?
In the past, Phat Dat pursued quite large projects such as The EverRich 2 and The EverRich 3 (in District 7, HCMC) for a long time. At that time, developing a 10ha project in the city center was very "huge", but it would take up lots of resources, time and capital.
The Chairman and Board members, as well as the Executive Board, had a lot of discussions and concerns before switching to wholesale. Our strategy is to develop projects and sell them quickly; for example, six months to sell out. In 2019, PDR swiftly earned a big profit with the wholesale approach for projects in Nhon Hoi Ecotourism City. These successful projects established Phat Dat's presence in the Binh Dinh market and enabled the business to maintain consistent high profit growth in fiscal years 2021 and 2022.
When starting the journey to conquer the New Era (2019 -2023), PDR identified some key goals, such as reaching $1 billion in market capitalization. However, as of 2021, the Company has already reached a market capitalization of more than $2bn. At that time, Phat Dat ranked 3rd by market capitalization in the real estate industry. To achieve such results, we only choose projects with clear legal records, quick sales, and quick cash flow.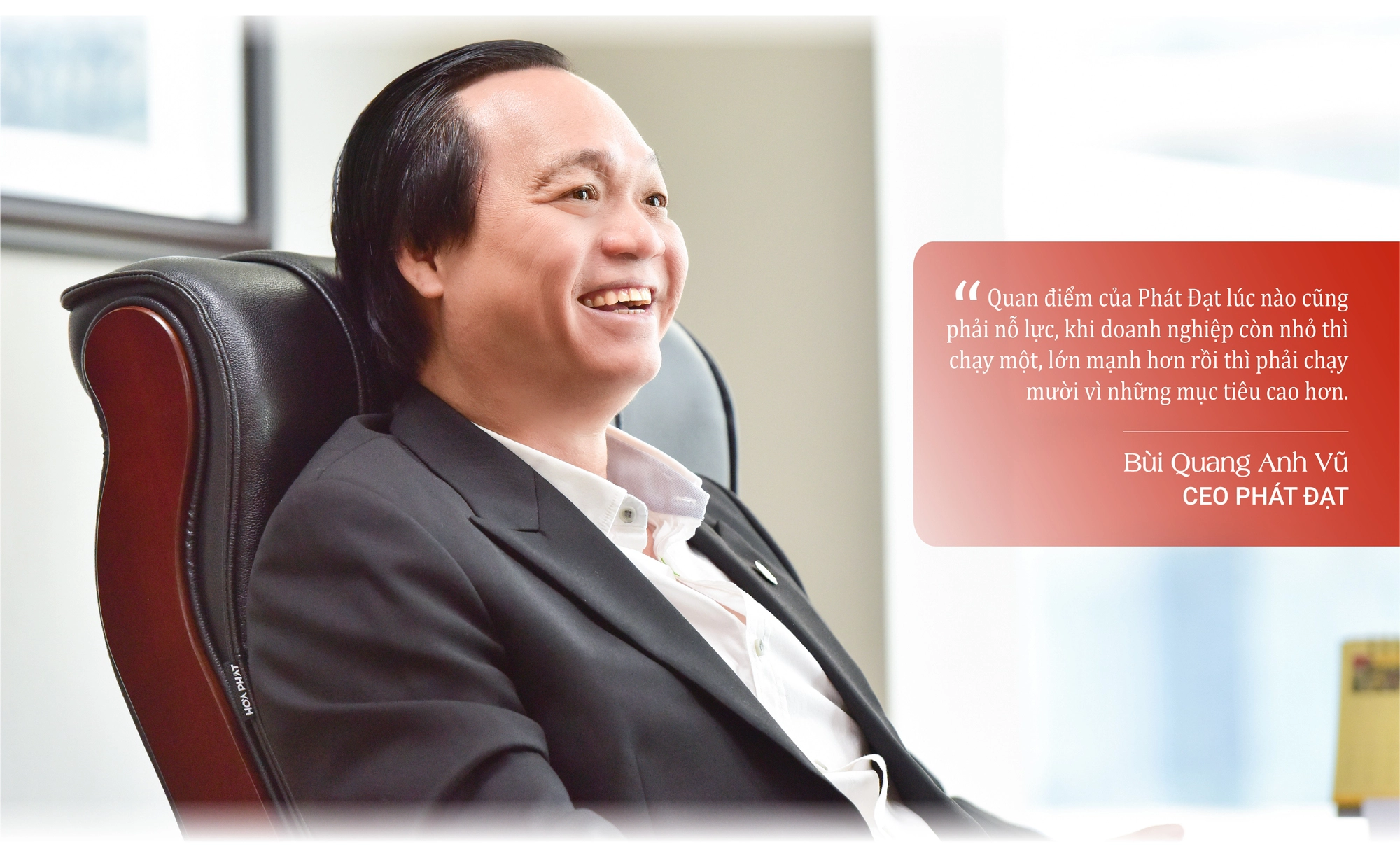 It is rare for any real estate business to wholesale its products for quick cash flows because the risk of branding is also present. Why did Phat Dat follow this direction?
We have to be different in order to be successful; it's not appropriate to follow the crowd. Phat Dat focuses on its core competencies of expanding its land bank and developing projects. After that, inflows will be generated at the highest speed by transferring all products at wholesale prices to partners. Phat Dat's way of doing business is a win-win. We share profits with our partners, and in return, we ensure capital circulation, on-track progress and a strategy that focuses on our strengths.
Of course, the strategy may be right at this time but remain uncertain in the future due to the changing market. We, therefore, have to adapt. The problem is identifying the right "friends" – to choose reliable partners and brands. In addition, we established Phat Dat Real Estate Services and Trading Company (Phat Dat Realty) in our effort to adapt to market changes and prepare for the future. Phat Dat Realty will sell property products not only from Phat Dat but also from other real estate developers, and fulfill higher goals.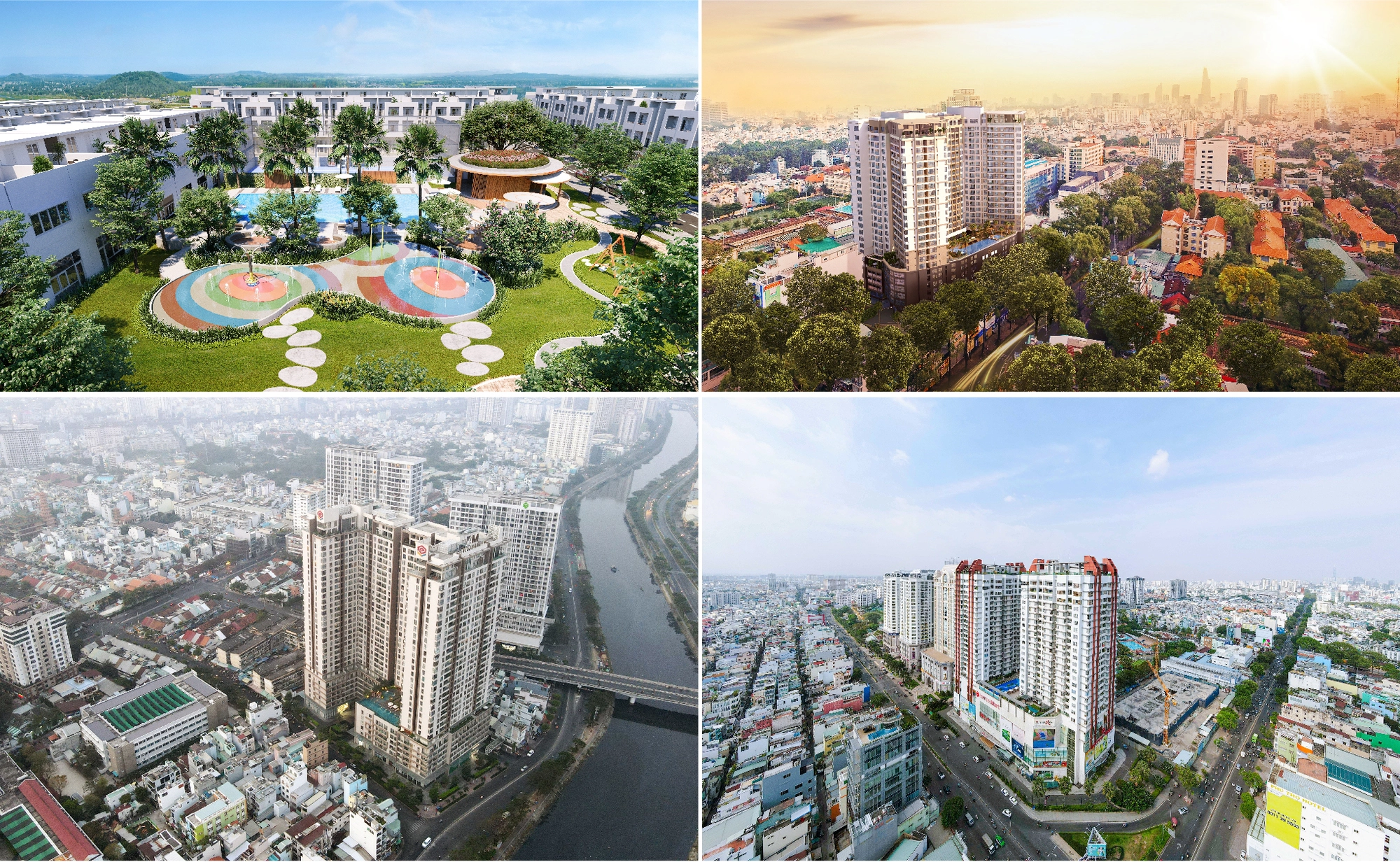 Such a wholesale approach requires a broad project portfolio for concurrent development. How did Phat Dat solve this problem?
In our development strategy, Phat Dat has plans for both long-term and short-term land banks. Short-term lands are for immediate project development and quick inflow generation to serve long-term goals. Phat Dat's principle remains sustainable and speedy development.
CONSTANTLY ACQUIRING NEW PROJECTS
Phat Dat currently owns a large land bank of over 7,500 hectares, which is sufficient for the next 10 years. Why does the company continue M&A deals for new lands but not focus on wholesale to increase profits?
Phat Dat determined that its land bank must be expanded constantly. It's not of a visionary business to have no preparation for the future but immediate plans.
We believe that a well-established corporation must know how to maximize its strengths. Phat Dat has the expertise, skills and experience to assess promising projects, and our partners possess efficient distribution networks. This harmonious combination has enabled Phat Dat with sustainable advances in the course of rapid development because each party will do better in what they're good at.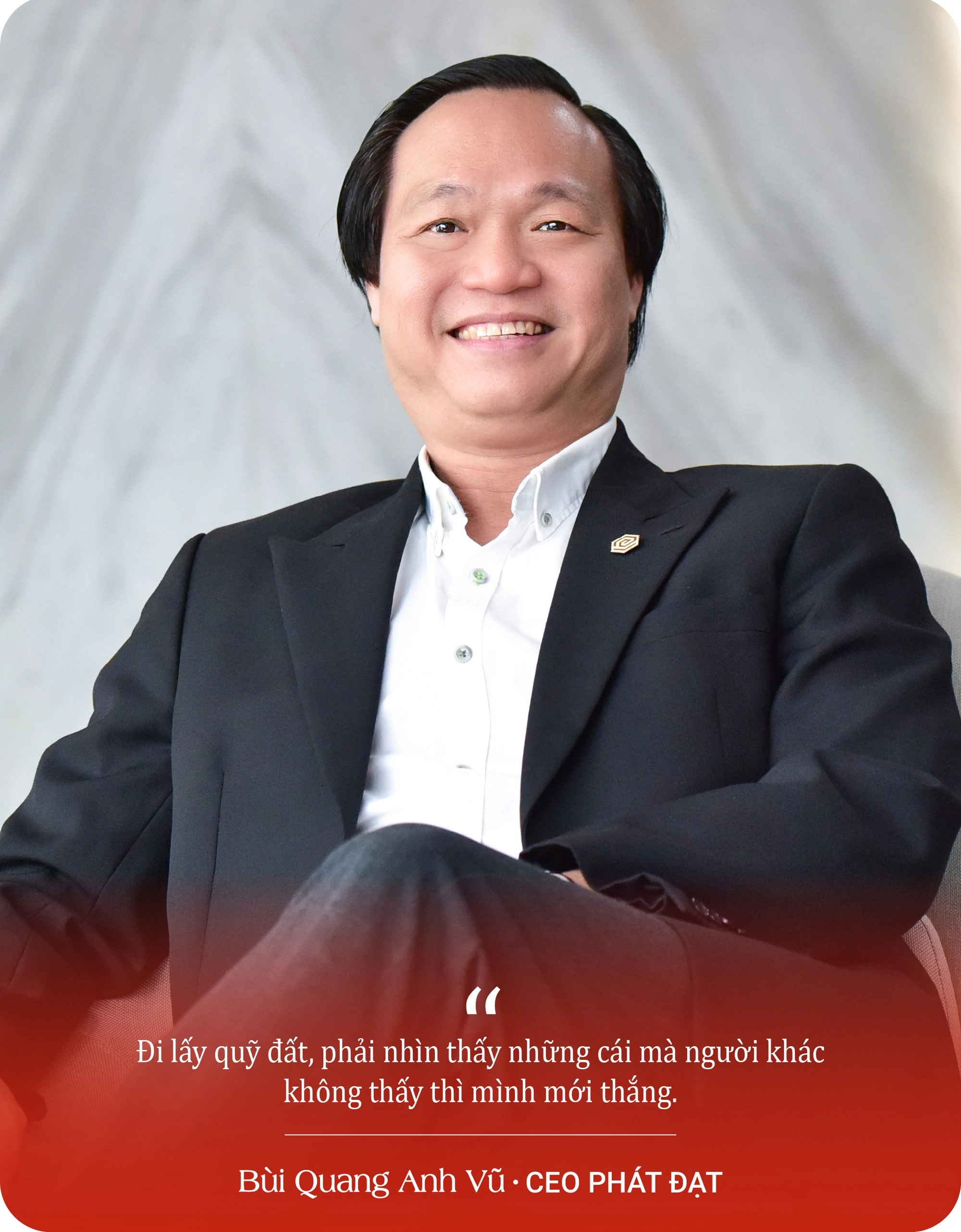 You just mentioned "skills" to assess promising projects. What "special" skills do you think Phat Dat possesses to acquire prime lands?
It is the matter of brand reputation to acquire various prime lands. When there is a site ready for development, Phat Dat quickly implements a project on it. Thanks to that, we have earned great trust of local authorities and partners. For example, Astral City in Binh Duong could have been sold to another company initially but ended up us acquiring it.
In addition, when acquiring lands, there are often problems here and there. Thus, we have to figure out how to handle those difficulties. If it meant to be a smooth deal, anyone could do it. In order to win, we have to see what others can't see.
Another critical factor is that Phat Dat's team is very astute in legal matters. They not only know how to assess the market but also understand relevant laws. These are also people with great expertise and know how to work with authorities to solve problems together. Building such an elite team is not an overnight thing; it has to be day-by-day training. I am confident that anyone from Phat Dat's Investment Department would be an excellent asset for any businesses out there.
In terms of investment, are you willing to withdraw from projects that are not as expected to invest elsewhere, sir?

I've been in Phat Dat for nearly ten years, but I haven't seen a case where we bought a project and left it halfway without developing it effectively. However, when doing M&A, it is determined that a project must be sold in its golden time, not after that. It takes a thorough and insightful evaluation to identify a project's golden time, seize that chance and make the right decision.
PHAT DAT'S FUTURE 
Wholesale and project M&A approaches have offered Phat Dat with speedy advances. Do you think at some point that Phat Dat needs to slow down a bit for more sustainable growth, sir?
At any time, when it comes to the real estate business, a project must be developed and transferred quickly to generate inflows. Being slow results in financial costs "eroding" profit. Only policy changes or market slowdown can cause liquidity on the low side.
Phat Dat's spirit is non-stop trying. When we were small, we implemented one project at a time. Now, we are growing bigger, so we develop, say, 10 projects to achieve ambitious targets. If we go slowly, we'll fall behind. Therefore, I do not uphold the concept of working hard now to rest later. In fact, we're constantly working for better "health" in the upcoming journeys. I'm not into the saying "slowly but steady" because that means going backward; we go quickly and precisely.

Available lands in Saigon are shrinking; how does Phat Dat aim to develop its land bank in the coming time?  
Indeed, an expanding land bank is essential for any real estate developer. In this context, we choose 'offshore fishing' with a consistent strategy. There are fish in the sea, but not everyone with a ship can see and catch them.
Following HCMC, Binh Duong, Vung Tau, Dong Nai and Dong Thap, Phat Dat continuously pursues projects along the central coast, such as Quang Ngai, Binh Dinh, Phu Yen, and others. Besides, Phat Dat does not choose markets from Hai Van Pass toward the North because of our strategic focus. In the same fashion as fishing, we easily identify bands of fish in a familiar sea. Otherwise, we'll need to take a different approach to penetrate unfamiliar markets.
May I ask you why the office of the CEO of a billion-dollar real estate corporation is incredibly simple, not even a computer?
I wouldn't say I like a large office, for it connotes emptiness. I also don't like having many things in my office because it's easy to get distracted. My personality is simple but by no means sloppy or careless. Besides a pen to sign when needed, there is always a pencil on my desk so that I can edit each document in detail at any time.
Phat Dat is in the digitalization process to optimize time and human resources. Specialist departments and assistants help me to keep an eye on everything. Not depending on the computer helps me to handle work flexibly anywhere. I just need a smart device to access the company's system. In addition, I also learned from Mr. Dat to keep specifics of tasks in mind. When needed, he can immediately retrieve the info without looking it up on a computer.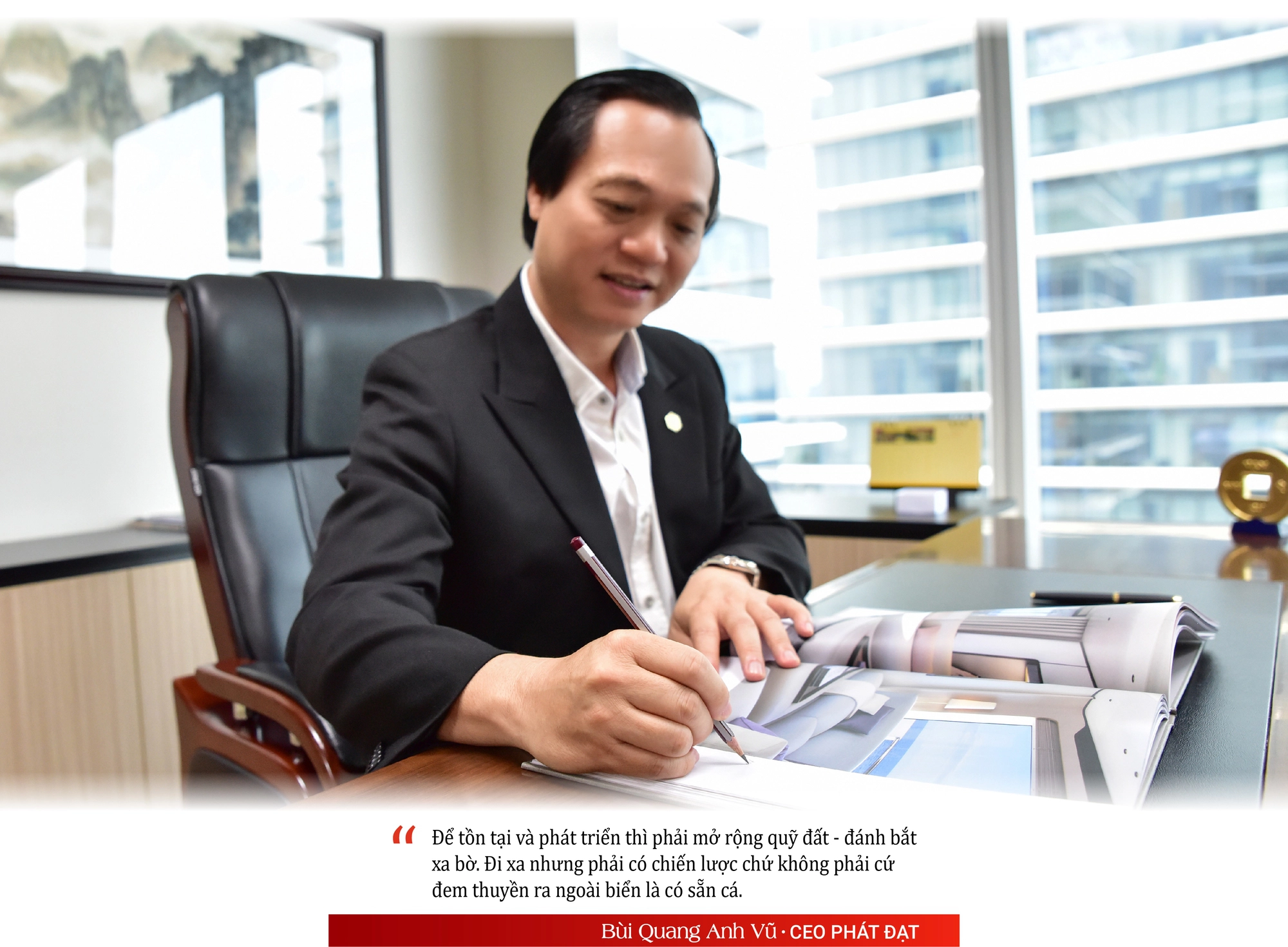 Being a CEO is busy; what are your passions and hobbies outside work?
Actually, I am passionate about my work (laughs). Also, my hobbies are playing football and piano.
I know how to play guitar too, but I prefer piano because playing the piano requires smooth movement of all 10 fingers. One hand plays the accompaniment while the other plays the notes to create perfection. In doing business, the final results must be the best.
Every time I finish playing football, I feel like going through a makeover to become a newer self because all negative energy vanishes. Playing football also equips me with many skills: from competition to teamwork and everything in between. Likewise, it is necessary to have harmonious collaboration, in-tune speed and mutual consensus to get good business results.
Thank you, Sir!
Source: CafeF