Heading to Da Nang, Phat Dat engages in developing central key economic region
Having built remarkable footprints across HCMC, Binh Duong and Binh Dinh provinces, Phat Dat Real Estate Development Corporation (Ticker: PDR – HOSE), continuously affirming its commitments with the coastal central region, heads to Da Nang. Expectedly, Phat Dat, amongst a few major enterprises, will contribute to building a new stature for this key economic area.
On the morning of 29th March, Mr. Bui Quang Anh Vu – CEO of Phat Dat, was present at the Announcement Ceremony organized by Da Nang City People's Committee announcing the Decree and Decisions of the Government and the Prime Minister on the development of Da Nang City. At the ceremony, State and City's authorities introduced: the Decree implementing the Resolution No. 119/2020 of the National Assembly on the pilot organization of urban administration in Da Nang, Decision approving the adjustments to the master plan for the City, and the Decision on investment guidelines of Lien Chieu mega-port project and approval of Da Nang City Financial Center project.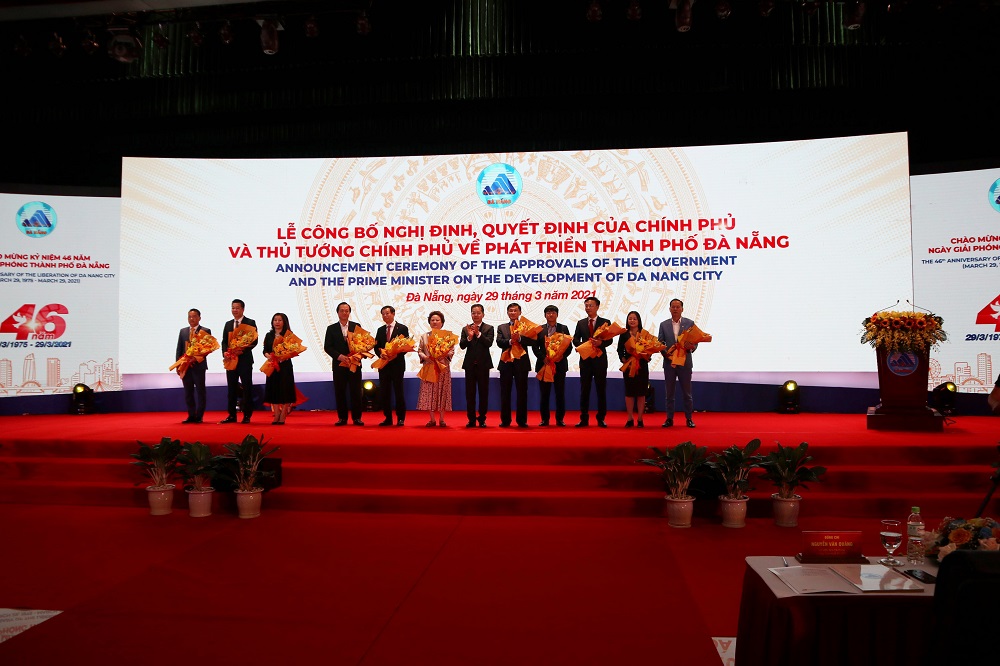 Mr. Bui Quang Anh Vu (fourth from the left) at the Announcement Ceremony of the Decisions and Resolutions of the Government and the Prime Minister on Da Nang City's development.
Also, in this event, the City People's Committee signed agreements on sponsorship with enterprises to join the project planning and conduct research on other projects under the Adjusted Master Plan. Phat Dat was amongst these enterprises.
Phat Dat's heading to Da Nang has been prepared for quite a long time, for Phat Dat's leaders always look favorably on Da Nang and highly appreciate the prospects of this city.
Being a priority market of PDR, Da Nang has all essential factors aligned with the criteria that Phat Dat has enshrined in its development strategy. To name a few, they are the vision and enthusiasm of local authorities, the readiness of socio-economic infrastructure, trading connections with other national and global economic regions, and the potential development of tourism, etc.
Elaborating on this, Phat Dat has readied ample resources to grasp and implement projects best fit the interest of Da Nang's development in terms of both civil and industrial real estate. In recent years, this business has been widely recognized for its project development capacity, efficient execution, great vision in project development, and high-value products that are practical to the market's needs and the necessity of modernization, sustainable development, etc. These have been clearly demonstrated through Phat Dat's reputation in HCMC, Quang Ngai, Binh Dinh, and most recently Binh Duong, Ba Ria – Vung Tau, etc.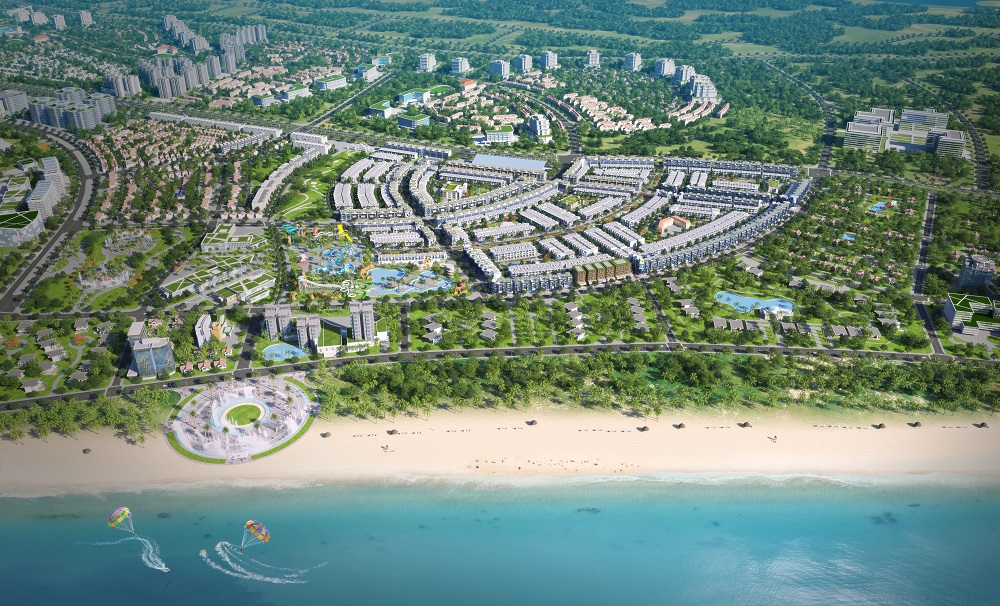 A part of Nhon Hoi Ecotourism City (Quy Nhon City, Binh Dinh Province) developed by Phat Dat.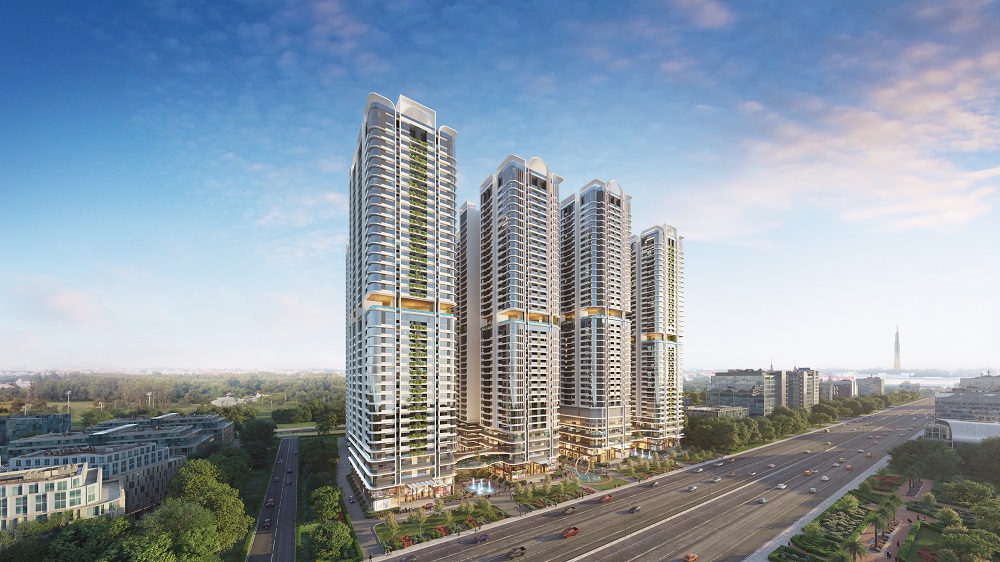 Astral City – A PDR's project as one of the focal points of the real estate market in Binh Duong.
Presently, Phat Dat is considered one of the real estate enterprises with greatest internal strengths and highest growth rates. Particularly, in 2020, Phat Dat was honored in the list of "200 Asia's Best Under A Billion" by Forbes Asia, the 6th place in Vietnam's 50 Best-performing Companies, the 24th place in TOP 500 Fastest Growing Enterprises in Vietnam, the Bronze Stevie® Award of Achievement in Growth category of the International Business Awards®, Top 10 Outstanding Property Developers 2020 by Nhip Cau Dau Tu Magazine, Top 10 Property Developers in Vietnam by BCI Asia Awards, Outstanding Progress in Corporate Governance awards jointly organized by the HCM City Stock Exchange (HOSE), the Hanoi Stock Exchange (HNX), and Vietnam Investment Review Magazine, etc.
Especially, given the considerately high growth rate and the sustainable development criteria, Phat Dat is a real estate business with great attraction to investors. As of the end of March 2021, PDR's stock price increased by 215% compared to the beginning of 2020 (adjusted stock price), bringing the company's market capitalization to about VND 27,000 billion, approximately USD 1.16 billion. On 27th March 2021, at the 2021 Annual General Meeting of Shareholders, Phat Dat officially announced the final dividend payment of 2020 at 11.7% after the 2 interim dividend payments (at 7% and 10% ratio), Thus, out of 2020's profit after tax, there are 3 dividend payments with a total rate of 28.7% per share capital at each time of implementation. If calculated on the share capital at the time of the first interim dividend payment, the total of 2020 dividends to shareholders is at the rate of 31.47% per share capital as of 9/11/2020 – the final registration date to receive the first interim dividend of 2020).
Also, at the AGM of Shareholders on 27th March 2021, Phat Dat announced its 2021 plan to reach VND 4,700 billion in net revenue, an increase of 20% over the same period, profit before tax and profit after tax to reach VND 2,335 billion and VND 1,868 billion, an increase of 52% and 53% YoY, respectively. Furthermore, becoming a professional conglomerate, Phat Dat has expanded its product ecosystem, which stems from the civil real estate sector, with the newly-deployed industrial real estate sector and under-research renewable energy sector.
Owning great development capacities and enormous potentials, Phat Dat has established a strong and close-knit cooperative network with national and international partners who are ready in terms of financial resources, landholdings, expertise, experience, etc., in the business-oriented sectors of the Company.
Therefore, Phat Dat shows great confidence in valuable contributions to the development of Da Nang and the upcoming Central key economic region.