Highlights at Phat Dat's 2022 Annual General Meeting of Shareholders
On 26th March 2022, Phat Dat Real Estate Development Corporation (HoSE: PDR) successfully held the 2022 Annual General Meeting of Shareholders (AGM). In the meeting, shareholders and investors adopted all proposals with a high consensus in favor of "Relentless aspiration," which allows the Company to continue its speedy and sustainable development in 2022. Expressly, 2022's net revenue is expected to nearly triple, and pre-tax profit is targeted at a 55% increase YoY, maintaining the constant high growth since 2019.
All contents submitted to the GMS were approved with a high consensus.
Some significant contents approved by the 2022 AGM of Shareholders include spending up to 96.2% (or VND 1,794.13 billion) of 2021 profit after tax for dividend payment. Immediately after the meeting, on 28th March 2022, the Board of Directors of PDR unanimously approved a share issuance plan to pay dividends to shareholders at a 36.3% payout ratio (shareholders owning 1,000 shares will receive 363 additional shares). The implementation time is in the second quarter of 2022, upon obtaining the approval of the State Securities Commission. Thus, PDR's charter capital is expected to increase to over VND 6,716 billion following the payout, making it the Top 3 listed real estate companies with the greatest charter capital on the stock market.
PDR's leadership continues to set lofty business targets for 2022, with net revenue from sales and rendering services reaching VND 10,700 billion, nearly 3 times higher than that in 2021. Pretax profit and after-tax profit in 2022 are set at VND 3,635 billion (+55% YoY) and VND 2,908 billion (+56% YoY), respectively.
With this plan, PDR will be in the Top 3 real estate enterprises by the largest earnings before tax on the stock market (third to Vinhomes and Novaland). According to FiinPro's summary of analytic forecasts, the real estate industry's profit growth rate will moderately reach 9.4% in 2022. In comparison, it is evident that PDR will continue to be a spotlight in the industry with an expected growth rate of 55%.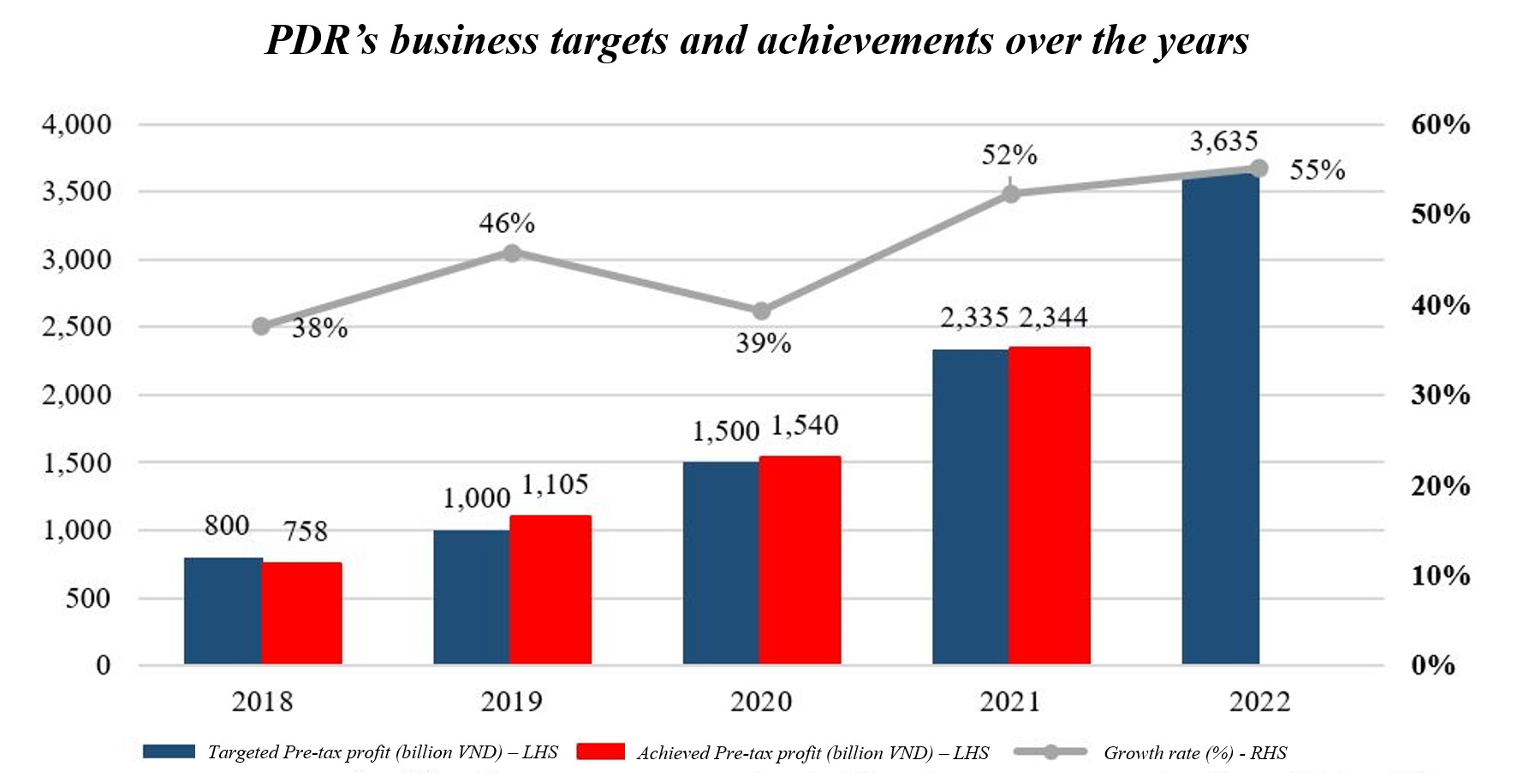 (Source: PDR's Audited Consolidated Financial Statements & Resolutions of the AGM over the years)
By far, PDR has continuously completed and exceeded the business plan set out over the years, demonstrating the leadership's ability to forecast closely with actual implementation situations and achieve the set goals. As such, shareholders and investors can confidently look forward to PDR completing and exceeding its ambitious expansion plan in 2022.
The development strategy for 2022 is oriented by the Company's Leadership to realize ambitious business goals.
At the AGM, PDR's leadership also set out several strategic development orientations for 2022, including (i) continuous investment in expanding the landholdings in Ho Chi Minh City, Da Nang and second-tier cities such as Binh Duong, Ba Ria – Vung Tau, Dong Nai, Khanh Hoa, Phu Yen, Lam Dong and Quang Ngai; (ii) parallel development of both residential and industrial real estate; (iii) promoting the Company's brand & reputation; (iv) maintaining a sound financial structure; (v) building a governance model according to modern standards; (vi) advocating a professional working environment and (vii) enhancing the value of societal contributions.
Existing projects such as Astral City, Binh Duong Tower and Phuoc Hai – Ba Ria Vung Tau are estimated to provide roughly VND 30,000 billion to capital flows. Specifically, revenue projections for 2022 are based on residential projects alone, mostly from these three projects, and do not include revenues from industrial real estate developments.
In terms of financing, the PDR continues to encourage international bond and green capital markets for their favorable interest rates. Early in 2022, the Company obtained a convertible loan from ACA Investments with a total value of USD 30 million, a duration of three years, and a fixed interest rate of 8%.
With such excellent profit growth over the years and a defined business plan for each stage and project, PDR's market price is stably growing, giving shareholders and investors tremendous confidence.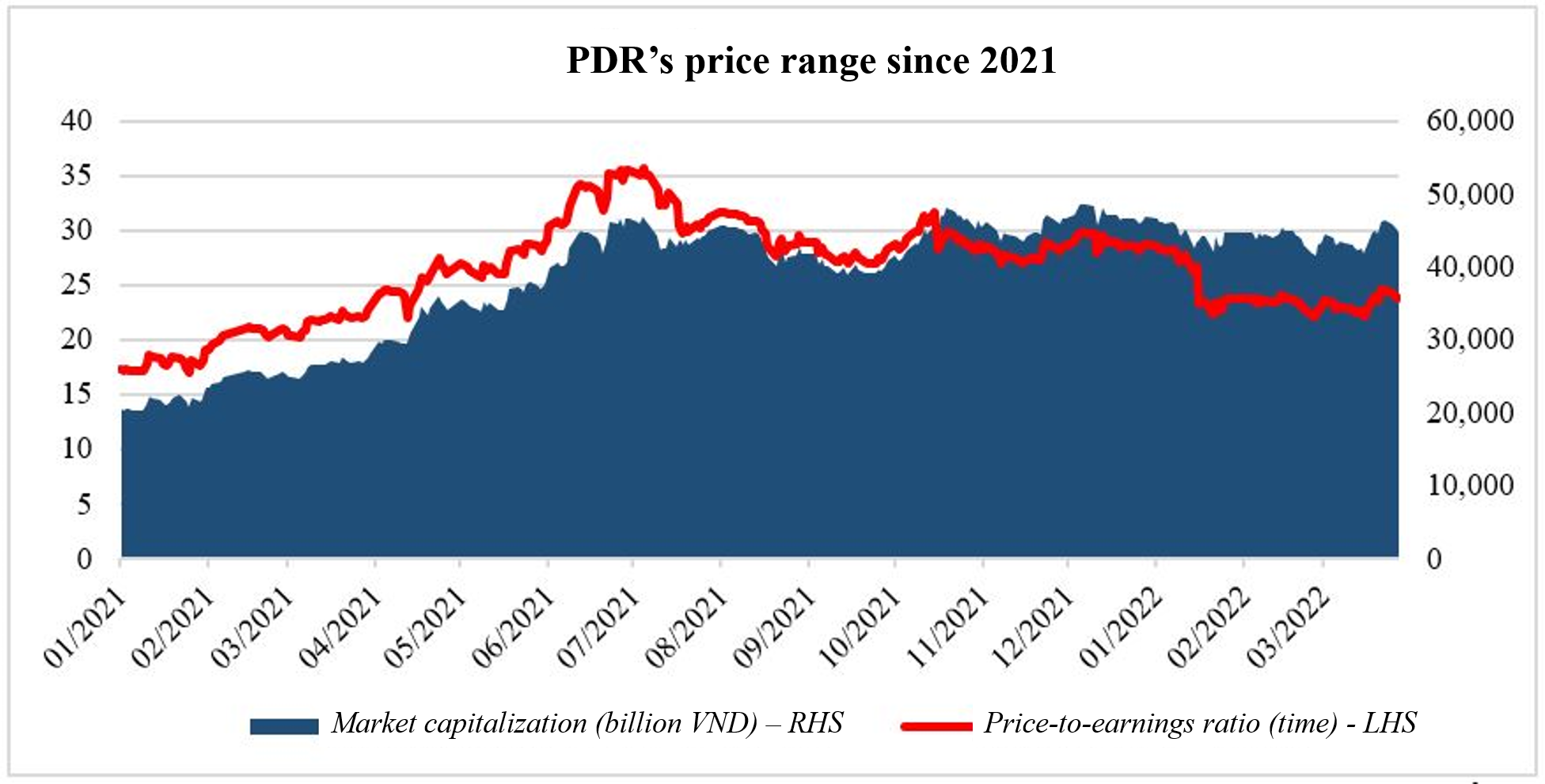 (Source: FiinPro)
The successful 2022 AGM of Shareholders reaffirmed PDR's leadership's rightful approach throughout the years, propelling the Company to the top of Vietnam's leading real estate developers. Thanks to these outcomes, the Company has steadily moved forward, despite the fact that the economy has been badly impacted by the pandemic and worldwide geopolitical upheavals. Since then, stockholders and investors have had greater confidence to accompany PDR in the future.