Hospitality real estate market in central vietnam recovers
After a hampered period due to the Covid-19 epidemic, there are many positive signs opening up a new phase for the Central real estate market. Developers are preparing for the "wave", and many investors across the country are also turning to the Central region.
Tourism and Real Estate in the Central region resume its "waves"
Entering the new normal phase with the last bottleneck removed for international travel to Vietnam, the tourism industry has quickly returned to the race. In the first 6 months of 2022, the number of tourists nationwide reached nearly 62 million, up about 2 times compared to 2021 and 1.3 times in 2019 – before the Covid-19 epidemic. Moreover, it only takes 6 months to achieve the full-year estimate of foreign tourists to Vietnam.
The Central region maintains its spotlight in the whole tourism industry. In the first half of 2022, the number of visitors to 7 tourism-cooperation provinces (including Hanoi, HCMC and 5 central provinces of Thua Thien-Hue, Da Nang, Quang Nam, Quang Ngai and Binh Dinh) doubled that of 2021, reaching nearly 33m visits; income from tourism was about VND88 trillion.
Alongside the strong recovery of the tourism industry, all types of hospitality real estate, such as villas, townhouses or shop-houses, recorded a strong increase in supply and high absorption rate compared to the same period last year. According to DKRA Vietnam, 26 projects had 2,776 villas to offer and reached 75% in absorption. In detail, the Central region accounts for 43% of the supply (1,204 units) and the highest proportion of take-ups (42.25% or 881 units).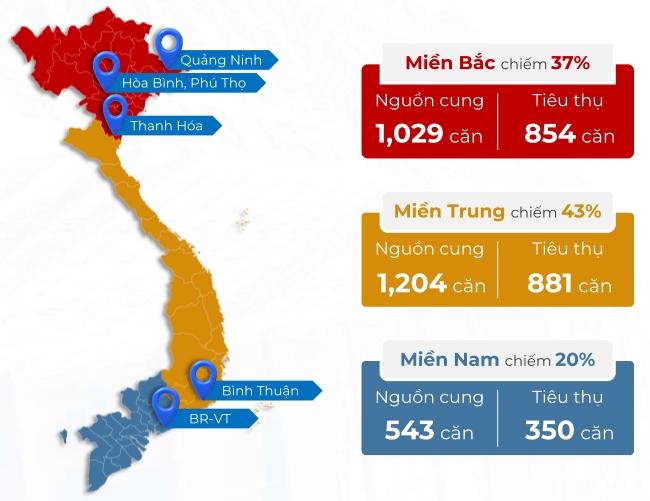 Source: DKRA Vietnam
Regarding the townhouse/shop-house segment, there were 23 developments with 5,145 units to offer nationwide. The Central region accounted for 42% (2,159 units) with 1,500 houses taken up (40% of total take-ups), also higher than the North and the South. Condotel supply declined YoY but climbed by 54% compared to the second half of 2021; supply is predicted to rise sharply by the end of 2022.
Ms. Duong Thuy Dung, Director of CBRE Vietnam, assessed the real estate potential in the next three years thanks to the following factors: the recovered tourism industry, upgraded transport system, shortages in supply, various property types and a complete regulatory framework. In particular, the growth momentum will be sustained in tier-1 markets (Da Nang, Quang Nam, Khanh Hoa) and even in tier-2 markets such as Binh Dinh, Phu Yen, Binh Thuan, Ba Ria – Vung Tau, etc.
This shift in hospitality real estate industry is in line with the current tourism trend, in which tourists and investors seek new tourist markets for a new and unique experience, such as Quy Nhon City (Binh Dinh), instead of conventional markets.
The potential of Quy Nhon
Quy Nhon was named one of the top three locations in Southeast Asia by Rough Guides, owing to its 72km magnificent coastline in the Central region, attractive tourist sites such as Ghenh Rang – Tien Sa, Ky Co – Eo Gio, Hoang Hau beach, Hon Kho, and others, and Cham Pa cultural monuments.
Statistics showed that Quy Nhon welcomed 192,000 tourists during the Independence Day holiday, higher than Da Lat, Phu Quoc, and Vung Tau. Also, during Vietnam's National Day vacation, it hailed 123,000 visitors, earning about VND 615bn (up 150% over 2019). Notably, the number of guests staying is 73,800, up 35% over the same period in 2019.
In the provincial planning proposed for 2021-2030, Phu Cat Airport will be upgraded to be an international airport. Besides, the complete transport infrastructure connecting Phu Cat Airport with economic zones and upcoming major eco-resort complexes sketches an even more vibrant picture. Currently, the province boosts the connectivity with principal transport axes, especially by constructing three routes with over VND 2,400bn investment to connect National Highway 1 with the coastline, crossing An Nhon Town, Hoai Nhon Town and Phu My District. These raise the standard of hospitality real estate in Quy Nhon.
Along with the shift in the tourism industry is the explosion of investment. By the end of July 2022, Binh Dinh attracted 44 new projects with total capital of nearly VND 10,768bn and increased investment for 9 others with a sum of VND 5,196bn investment. In Quy Nhon, trillion-worth investments are being poured into real estate projects to develop high-end hospitality properties.
Typically, the world's leading hotel group Meliá will implement Meliá Quy Nhon Beach Resort, which is expected to launch in 2025. Next, Hung Thinh and Marriott International kicked off Quy Nhon Resort & Spa inside MerryLand Quy Nhon in Hai Giang Peninsula.
The developer Phat Dat also joins the hospitality real estate market in Quy Nhon with the 4-star condotel and commercial Cadia Quy Nhon. Erected on a 5,200sqm site in front of the city's central square with a direct view of the sea, the 40-story condotel tower will be managed and operated by Centara Hotels & Resorts, while another hotel block will be run by Marriott International.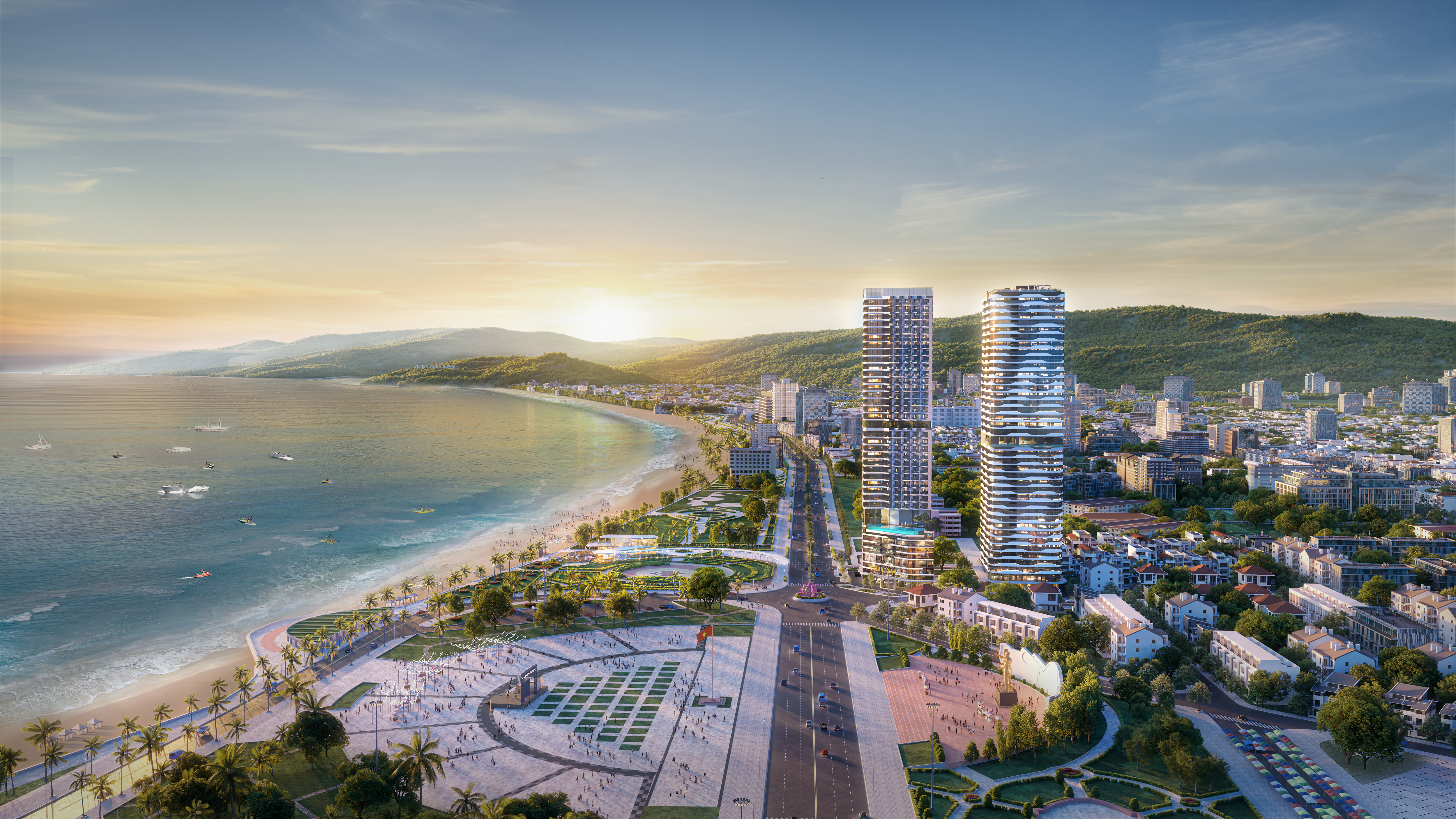 CGI of CADIA Quy Nhon
Analysts assess that the pricing of condotel units in Quy Nhon is more competitive than in other big coastal cities. In Da Nang or Nha Trang, a condotel unit on major streets is priced between VND 6bn and VND7bn per unit. In contrast, the average price is roughly VND4bn per condotel unit in Quy Nhon city, making it another attraction of the resort real estate market in the Central region.
Source: theleader.vn