PDR added into Msci Frontier Markets Index – The affirmative attraction to foreign investors
In order to be added into MSCI FM Index, PDR must fully acquire various quantitative and qualitative requirements related to liquidity and market capitalization required by MSCI. This event affirms PDR's position as one of Vietnam blue-chips and provide professional more certainty and confidence for further investment in PDR stock.
PDR enters the MSCI Frontier Markets Index by satisfying strict selection criteria
Accordingly, PDR has been promoted from the small- and medium-cap portfolio of MSCI (MSCI Frontier Markets Small Cap Index) to the basket of large-cap stocks (MSCI Frontier Markets Index). The index captures top 90 tickers across 27 Frontier Markets (FM) countries, covering about 85% of the free float-adjusted market capitalization in each country. This recognition represents the remarkable progress of PDR market capitalization and liquidity in 2021.
Criteria for the MSCI Frontier Markets Index include market capitalization, free float-adjusted market capitalization, trading liquidity, remaining foreign ownership room, minimum length of trading, etc.
As of 29 October 2021, according to MSCI report, Vietnam occupies the highest proportion in this MSCI index with 29.31%, slightly up from 29.06% in late July. The following two countries are Morocco with 11.09% and Kazakhstan with 9.01% – Source MSCI.

Amongst sectors, the real estate sector currently accounts for 9.87% of the entire index, ranked fourth after financials (37.21%), communication services (12.13%) and materials (10.03%).
Currently, many active investment funds are using MSCI Frontier Markets Index as a benchmark, typically mentioned: the Schroder ISF Frontier Markets Equity Fund ($431 million), Magna Umbrella Fund PLC – Magna New Frontiers Fund ($362 million), Templeton Frontier Markets Fund ($359 million), Barings ASEAN Frontiers Fund ($330 million), etc.
According to BIDV Securities Company' estimates, at the end of 2020, the total AUM of global investment funds tracking the MSCI Frontier Markets Index reached $3.8 billion, of which investment in Vietnamese stocks was at $463.4 million.
Attracting investment funds to increase foreign ownership
Currently, total foreign ownership at PDR is still relatively low level compared to its FOL. As of 7 November 2021, foreign investment funds hold 4.16% of PDR shares, according to Bloomberg's statistics.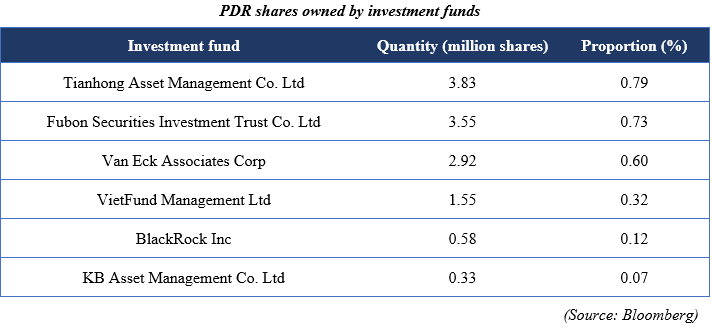 Being included in the MSCI Frontier Markets Index enhances PDR's ability to attract more foreign capital from active investment funds and ETF that tracking MSCI FM Index.
Besides the domestic indices, PDR is now in many different prominent foreign Indices, including FTSE Vietnam Index, FTSE Vietnam 30 Index, MVIS Vietnam Index (VNM ETF), Premia MSCI Vietnam Index, The MSCI Frontier 100 Index and most recently, the MSCI Frontier Markets Index.
The continuous presence in prestigious international indices has helped PDR earn higher trust and recognition from professional investment communities. Consequently, when international funds consider for additional investment in Vietnam, PDR would have higher chance to become the top picks.
Besides, once included in the MSCI Frontier Markets Index, if Vietnam is upgraded into emerging market, PDR will be in the first group of Vietnamese stocks that receive investment from EM tracking funds.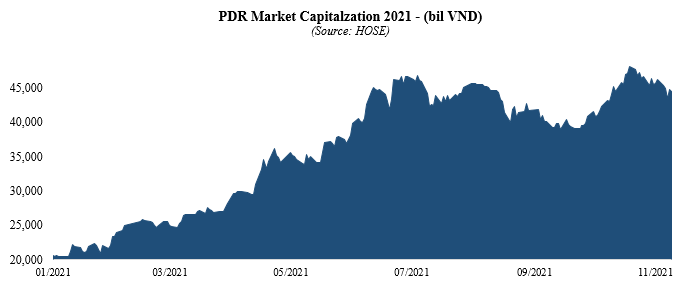 Previously in October, Fitch Ratings – one of the three largest and most reputable credit rating agencies worldwide, assigned Phat Dat's Issuer Default Rating at "B" (Outlook: Stable). This result shows that Phat Dat is thoroughly assessed on its healthy financial indicators, reflecting the position of a rapidly growing real estate developer in Vietnam. Fitch's evaluation has bolstered PDR's creditworthiness and enhanced the Company's transparency in line with international standards.
Overall, this event enhances Phat Dat's brand image and brand value, reaffirms the business and development strategy through the continuously growing market capitalization & liquidity, thereby bringing sustainable benefits to shareholders and investors of this Enterprise.