PDR continues its early redemptions of bonds worth VND 900 billion
Phat Dat Real Estate Development Corporation (HoSE: PDR) has just announced early redemptions of bonds with a total value of nearly VND 900 billion.
Five bond issues are settled in this phase, including the First, Third, Sixth, and Seventh issues in 2021 and the First issue in 2022.
It is known that the above bonds took PDR shares as collateral. With the extreme volatility of the stock market since November 2022, Phat Dat added more assets as collateral for these bond issues, including the ownership and exploitation right of the apartment project at 239 Cach Mang Thang Tam Street, Ward 4, District 3 (Site area: 3,504.1 m2). The project is owned by AKYN Trading and Service Investment JSC, a related party of Chairman Nguyen Van Dat.
Phat Dat's early redemption of these bonds is to ensure its repayment obligations to bondholders and to continue the development of the apartment project at 239 Cach Mang Thang Tam. This project, with a prime location on CMT8 Street, the center of District 3, has great potential for exploitation and development.


Previously, in 4Q2022, Phat Dat spent more than VND 1,300 billion settling bond obligations and bank loans, including the Ninth issue and a part of the Seventh issue in 2021, and loans from VietinBank and Mirae Asset Corporation (Korea). The total value of Phat Dat's debt repayment recently is quite significant although the capital market is doomed, especially for real estate businesses.
According to Phat Dat's financial statement for 4Q2022, after these bond settlements, Phat Dat's total debt is about VND 3,500 billion (compared to about 5,200 billion VND at the end of 3Q2022), including VND 1,600 billion bonds. Put in the same picture with Phat Dat's existing operating scale and assets, this debt figure would be seen as relatively safe for the Company's liquidity in 2023.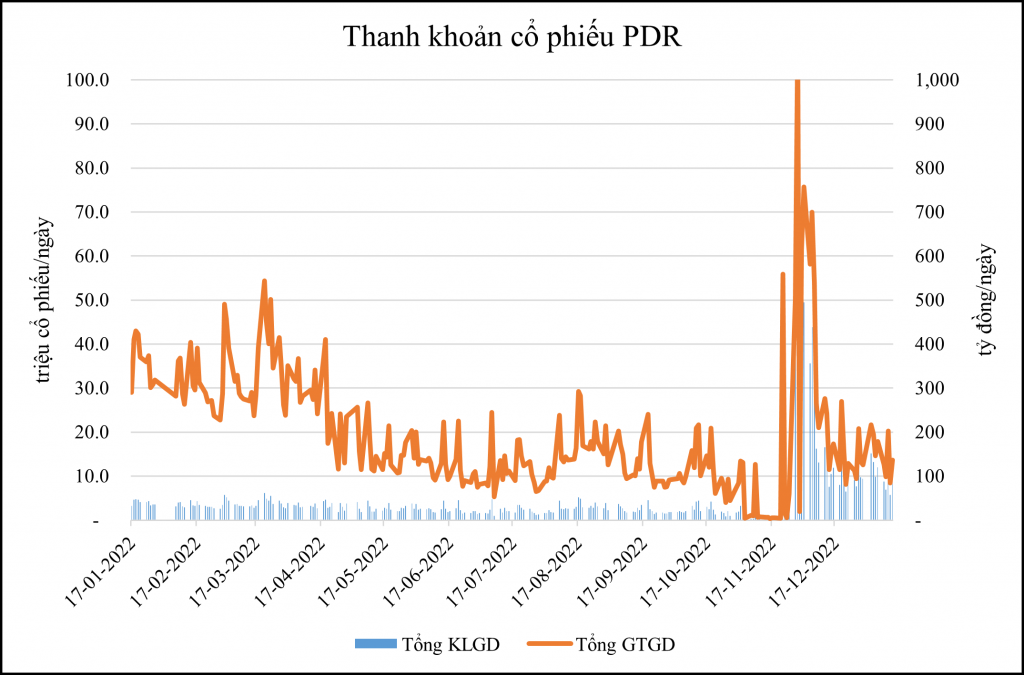 Currently, PDR stock is trading at around 14,500 VND/share. The average trading volume (from November 2022 til now) is up to nearly 18 million shares per session, equivalent to a trading value of about VND 270 billion/day, compared to the previous average liquidity of about 3 million shares per session, equal to about 190 billion dong/day. The current price range is considered "cheap" compared to the development potential of Phat Dat in the coming years.
Source: CafeF