PDR in collaboration with KPMG Vietnam on corporate management consultancy
To improve competitive edges and boost sustainable development, PDR joins partnership with KPMG – a prestigious global organization in auditing and consulting. In particular, KPMG will conduct surveys on PDR's current conditions and comprehensive operations to provide effective management solutions that are suitable for the given objectives and business strategy.
On 29th November 2021, Phat Dat Real Estate Development Corporation (HOSE: PDR) announced to choose the prominent KPMG Tax and Advisory Limited (KPMG) as the consulting firm for enhancing corporate management efficiency. The signing ceremony was carried out sucessfully.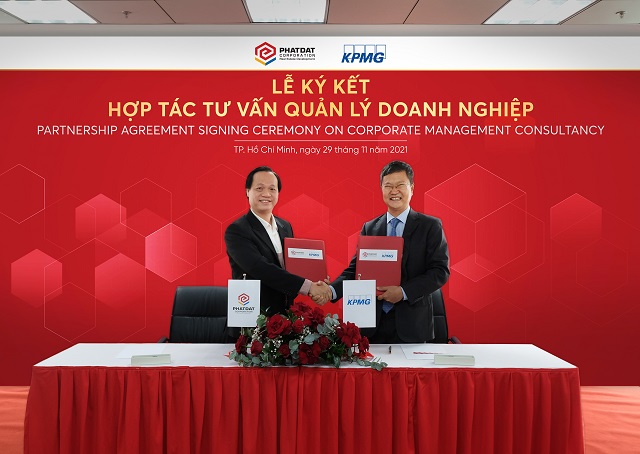 Phat Dat Real Estate Development Corporation and KPMG have successfully signed the partnership agreement on corporate management consultancy
The event is considered a crucial milestone in the collaborative relationship of the two parties, which is included in PDR's roadmap to refine and improve business management capacity by adopting the latest international management practices. As a management consulting agent, KPMG plays a supporting role in PDR's transformative process into a professional leading real estate enterprise.
Specifically, KPMG will evaluate the Operational Model with 06 layers: service delivery model, people and organization, functional processes, technology, performance insights and data, and risks control and management; and at the same time identify and address the shortfalls of PDR against international standards in each aspect of the real estate industry.
Speaking at the signing ceremony, Mr. Bui Quang Anh Vu – CEO of Phat Dat Real Estate Development Corp., said: "It's been 17 years since our establishment in 2004 with many ups and downs; PDR has overcome all and thrived toward the 'New Era.' Being one of the enterprises earning trillions of profit each year, PDR has reached over USD2 billion in market capitalization. At any given time, we all set challenging goals for our targets and business plan. Alongside the business expansion, one of the most critical requirements from the BOD Chairman is to achieve speedy development characterizing sustainability, professionalism, commitment, quality, and reliability. Therefore, we would like to work with KPMG Vietnam for their companionship in reviewing and exploring PDR's advantages and limitations for steady steps toward future development."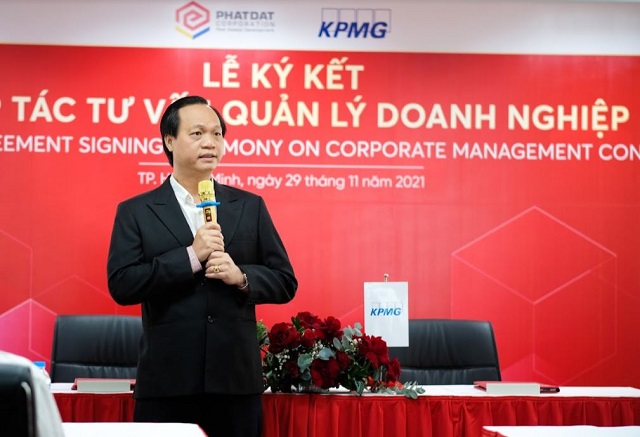 Mr. Bui Quang Anh Vu – CEO of Phat Dat, making remarks at the ceremony.
Responding to PRD's expectations, Mr. Warrick Cleine – KPMG representative, commits a team of reputable experts experienced in consulting Vietnam's leading corporations on property development. Besides its well-earned reputation, capabilities, and expertise in consulting, transforming, and improving operational efficiency for local and global major organizations, KPMG possesses personnel with an in-depth understanding of the real estate market, industry, and business management. Hence, KPMG assures a successful partnership with PDR to achieve the set goals.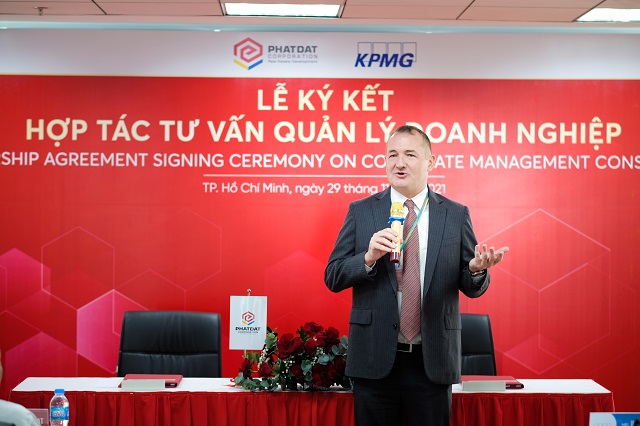 Mr. Warrick Cleine – Representative of KPMG Vietnam, sharing his thoughts at the event.
In addition to the well-built management system, the collaboration with KPMG enables PDR a more solid foundation for operations management, administration, and risk control when implementing plans and measures under the development and business strategies for future breakthroughs.
More about KPMG
KPMG is one of the world's Big Four organizations providing audit, tax, and advisory services. With over 25 years of experience, KPMG is a leading brand owning a team of experts in the real estate industry, locally and abroad. KPMG has successfully consulted on human resources, financial management, and technology solutions for many property enterprises. In 2021, KPMG was honored Consulting Firm of The Year 2020 by Asia Risk at their annual Asia Risk Awards.