PDR officially enters the VNM ETF with the highest proportion in the 2Q2021 rebalancing
Phat Dat Real Estate Development Corporation (stock code: PDR) is officially chosen by VanEck Vectors Vietnam ETF (VNM ETF) with a proportion of 2.26%, equivalent to 3,803,844 shares.
On 12th June 2021, the MVIS Vietnam Index – the benchmark index of VNM ETF, periodically announced its portfolio in 2Q2021 with 6 Vietnamese stocks out of 7 newly added holdings. Hence, the total Vietnamese weightings in the new portfolio reached 69.22%, higher than 65.22% of the previous review.
In particular, the PDR ticker accounts for the highest proportion of 2.62% among the 6 Vietnamese stocks, equivalent to 3,803,844 shares at about USD 14.4 million, expectedly. This is a token of recognition that PDR has fully satisfied the standards, quantitative and qualitative criteria, and expectations of foreign investors. Thus, PDR has constantly asserted its prestige, brand value, and influence on the stock market.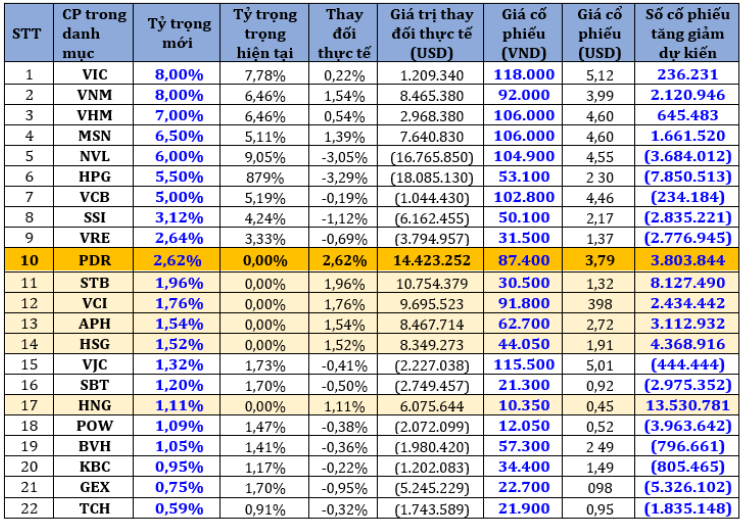 List of Vietnamese stock in VNM ETF holdings

Previously, in March 2021, PDR was added in the Fubon FTSE Vietnam ETF and FTSE Vietnam Index – the benchmark index of DB X-trackers FTSE Vietnam UCITS ETF (FTSE ETF).
Also, in February 2021, PDR was included in the VN30 Index by HOSE (the index that accounts for 80% market cap and 60% trading volume on the Vietnamese stock market). The ETF funds that are tracking VN30 include VFM VN30 ETF, SSIAM VN30 ETF, and MAFM VN30 ETF.
Besides, other foreign ETFs such as Premia MSCI Vietnam ETF, iShare MSCI Frontier 100 ETF, S&P Select Frontier ETF, etc., are holding PDR shares with their strategy of proportionally allocating investment into leading stocks in Vietnam.
As of 11th June 2021, PDR's shares were traded at VND 87.400/share, up 108% compared to the beginning of 2021 and 354% compared to that of last year (11th June 2020). As a result, PDR's market capitalization reached VND 42,543 billion or USD 1.85 billion, up over USD 700 million since February 2021.