PDR's Development Strategy Toward Professionalism, Sustainability and Efficiency
As one of the leading real estate developers in Vietnam, Phat Dat Real Estate Development Corporation (HOSE: PDR) has consistently grown in revenue and profit, pursuing the New Era Strategy 2019–2023 with an accumulated pre-tax profit of VND 14,270 billion. 
 
PDR's comprehensive, professional development  
PDR has long worked with Ernst & Young, one of the world's Big4 accounting firms, on independent auditing, assuring financial transparency and refining the business to worldwide standards. Furthermore, in order to achieve rapid and sustainable growth, PDR has chosen consulting services of the renowned KPMG for corporate restructuring strategy, business operations, and technological investment. In particular, PDR cooperated with KPMG to host a Workshop, "Reporting the present state and overall evaluation of the enterprise," at the beginning of 2Q2022, to deliver effective management solutions in line with the objectives and business plan for 2022–2025. According to KPMG's representative, this is an objectively prepared report that opens up new opportunities for PDR in implementing the New Era Strategy 2019–2023. 
PDR's operations are evaluated by KPMG on six layers: service delivery model, people and organization, functional processes, technology, performance insights and data, and risk control and management. Simultaneously, KPMG analyzes and proposes some constraints as well as alternatives for PDR to standardize its comprehensive operations following international standards. 
Cooperation with prestigious firms such as Ernst & Young and KPMG is another step forward for PDR in paving the way for comprehensive and professional growth and timely delivery of accurate and transparent financial information. 
Sustainable development orientation 
PDR affirmed a sustainable development strategy with two criteria: Sustainable business development and Sustainable product development. 
In order to develop a sustainable enterprise, PDR focuses on sustainable revenue growth. Aside from Danh Khoi, the strategic distribution agency, PDR has gradually increased its initiative in business activities to bring products closer to customers. Specifically, PDR has established PDRS – a distribution subsidiary, to flexibly yield business results with effective revenue streams. PDR is also actively extending its industrial land bank, which already totals 3,144 hectares for industrial parks and logistics industries, in anticipation of a surge of foreign manufacturing firms relocating their plants to Vietnam.
In addition, PDR is applying international green building standards like LEED and Fit Well to save energy and protect the environment and its inhabitants. These standards offer a better customer experience, environmental friendliness and operational efficiency, especially in healthy, efficient, carbon- and cost-saving green buildings of PDR.  
Maintaining business growth with high efficiency 
PDR further enhances its project development strategy for business efficiency with outstanding annual profit targets, while pre-tax profit for 2019-2023 targeting at a compound annual growth rate of 51.8%.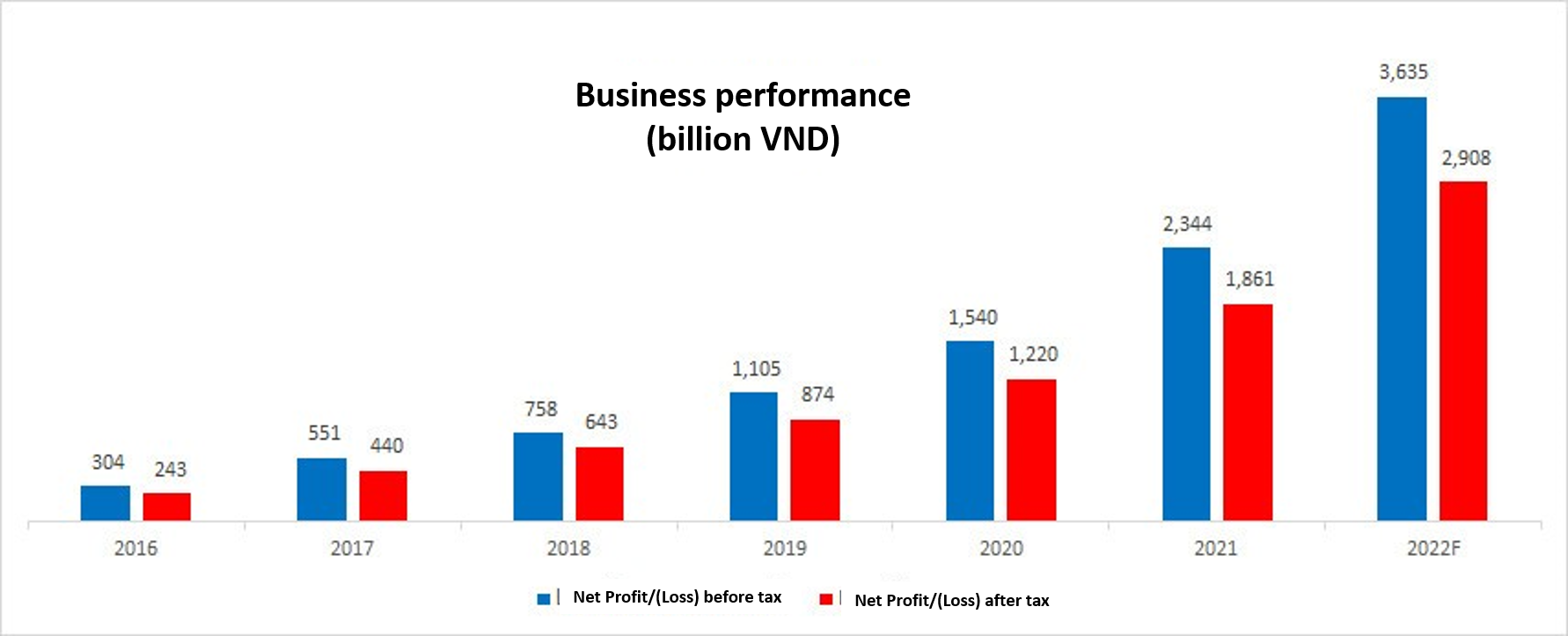 PDR's pre-tax profit (PBT) climbed steadily from VND 1,105 billion in 2019 to VND 1,540 billion in 2020, eventually reaching VND 2,344 billion in 2021. PDR forecasts a pre-tax profit of VND 3,635 billion in 2022. 
From 2019 to 2021, PDR's profitability ratio increased thanks to the improving margin and a greater return on equity than the industry's average. This proves that PDR owns a healthy financial structure and a debt/equity ratio consistently at a safe level of 0.3x-0.5x in recent years, lower than that of the real estate industry's average.
Current healthy financial indicators suggest that the New Era Strategy for 2019–2023 will reach beyond the limits. PDR forecasts VND 14,270 billion in cumulative PBT for this period. Specifically, PDR will be fully prepared in 2022 to accomplish the VND3,635 billion PBT target. Indeed, PDR has made significant investments and development in critical landholdings across HCMC, Binh Duong, Binh Dinh, Quang Ngai, Da Nang, Ba Ria – Vung Tau, Phu Quoc, and the upcoming Phu Yen, Khanh Hoa, Lam Dong and Dong Nai, for model townships with mid and high-end apartments. As announced at the General Meeting of Shareholders earlier this year, Phat Dat's total land bank for residential and industrial property development has grown to 7,404 hectares, confirming that PDR has accumulated significant space for professional, sustainable, and effective development for many years to come.
Thus, thanks to a professional, sustainable and effective development strategy, PDR is constantly in Vietnam's Top 10 Most Reputable Property Developers, Top 50 Vietnam Best Profitable Companies – PROFIT50 by Vietnam Report. Meanwhile, Fitch Ratings, the world's premier rating agency, assigned PDR a 'B' rating with a stable outlook in October 2021.