Phat Dat achieves outstanding growth of over 173% both in revenue and profit in 3Q2020
Phat Dat Real Estate Development Corporation (Ticker: PDR) recently announced 3Q2020's business results; accordingly, revenue and profit after tax had a huge surge by 3.3 times and 2.7 times over the same period last year. This achievement lays the initial fundamental for PDR to reach their 2020's targets as well as realize their recently adjusted 2019-2023 plan including the accumulated profit before tax of VND 14,270 billion and CAGR of 51%.
3Q2020 saw a remarkable rise of over 173% both in accumulated revenue and profit
3Q2020 witnessed the most severe impacts caused by the Covid-19. Thus, many businesses continue to record further losses, especially those in tourism, service, resort, transportation industries, etc. The real estate industry is also affected significantly. However, in such a challenging context, PDR recorded a remarkable rise of VND 1,315.90 billion in revenue and VND 438.93 billion in profit after tax, equivalent to 232% and 173% YoY.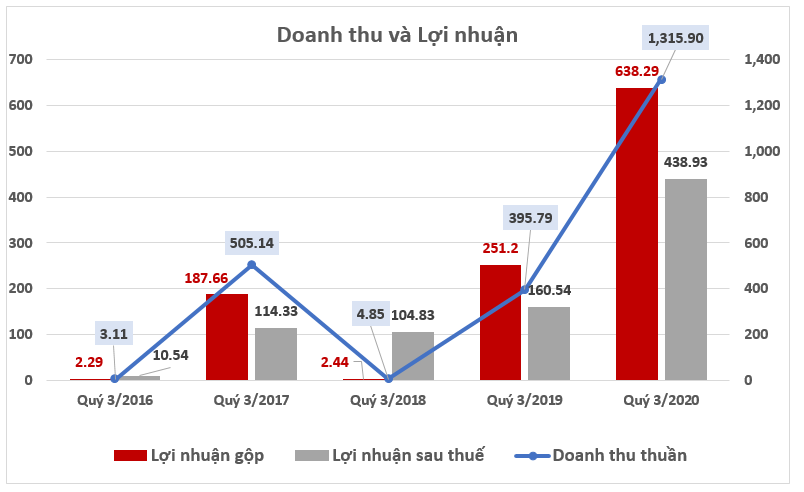 Chart shows the increase trajectory of revenue and profit after tax of PDR in recent 3Qs.
The continuous growth in revenue and profit improved PDR's financial indicators recognizably. During the quarter, trade receivables dropped 51.45% to VND 433.42 billion from over VND 892.10 billion by the end of 2019, which is because the Company accelerated the collection of debts. Furthermore, PDR also speeded up investment activities and project construction and development; hence, the advances to suppliers recorded a rise of 1,032.23 billion, equivalent to 137%, and reaching 1,787.14 billion.
Moreover, the cash flow's value from -471 billion shifted to +1,768 billion by the end of 3Q2020. The total value of inventories reached 9,780.32 billion, an increase of 22% YoY since PDR has invested in 3 new projects, namely the commercial & apartment complex project in Binh Duong Province (known as Astral City) with 621.45 billion investment, Ben Thanh Long Hai tourist complex with 1,983.56 billion investment, and the project at No.1 Ngo May Street in Quy Nhon City with 131.97 billion investment. The EverRich 2 (known as River City) and The EverRich 3 account for 46% of inventories, of which the transfer has been basically finished. The Company is accelerating the completion of legal procedures to transfer these projects by the end of 2020 officially.
In comparison with other real estate businesses, profit and revenue indicators of PDR are relatively high. After the first 9 months, PDR's accumulated revenue reached approximately VND 2,498 billion, and profit after tax reached VND 718 billion, increasing 6% and 79% YoY, respectively. Paralleled with revenue and profit, profit margin from 17% rose to 29%, a profit growth rate of 79% YoY. As in the plan targeting the revenue at 3,789 billion and profit after tax at 1,200 billion, PDR has achieved 66% of targeted revenue and 60% of the targeted profit. The outstanding business results have increased the ESP by 62% compared with the same period, reaching 1,882 billion from 1,162 billion. These results bear the worthy testament for PDR's success in strategy implementation and internal strength enhancement amidst such challenging settings.
As of 4Q2020's plan, PDR will continue to record the remaining revenue of Zone 2 and the next section in Zone 9 of Nhon Hoi Ecotourism City in Binh Dinh Province. Per real estate industry features, the fourth quarter is usually the busiest time for transactions, resulting in the highest revenue and enabling PDR a promising leap of growth in 2020, recognizably compared to last year. With the current revenue and profit growth scenario, PDR has high confidence in