Phat Dat and benefits to long-term shareholders
As one of the leading Vietnamese listed businesses, Phat Dat is consistently proactive in developing and implementing development strategies with defined business goals, allowing its business outcomes to surpass expectations and benefit shareholders. Recently, the BOD of Phat Dat Real Estate Development Corporation (PDR) announced a 36.3% share dividend payment to all shareholders. Accordingly, the share issuance is planned to be completed in the second quarter of 2022, with the date of record being 21st April 2022.
As such, PDR has implemented constant annual dividends since 2015 while ensuring the growth rate of business results and sustainable financial structure, optimizing benefits for shareholders.
Benefits from the cumulative value
As in the Resolutions of the 2022 Annual General Meeting of Shareholders, PDR will spend up to 96.2% of 2021's profit after tax to pay dividends to shareholders; the distribution value is over VND 1,794 billion. The dividend payment will be made in shares at 36.3% (shareholders owning 1,000 shares will receive 363 additional shares). PDR expects to issue 179 million shares, adding VND 1,789 million to its charter capital. After the issuance, PDR's charter capital is expected to reach over VND 6,716 billion, paving the way for entering the Top 3 real estate developers by largest charter capital on Vietnam's stock market.
Thus, since 2015, the increasing payout ratio of PDR's share dividends shows that business performance has grown steadily year by year, bringing great cumulative value to long-term shareholders.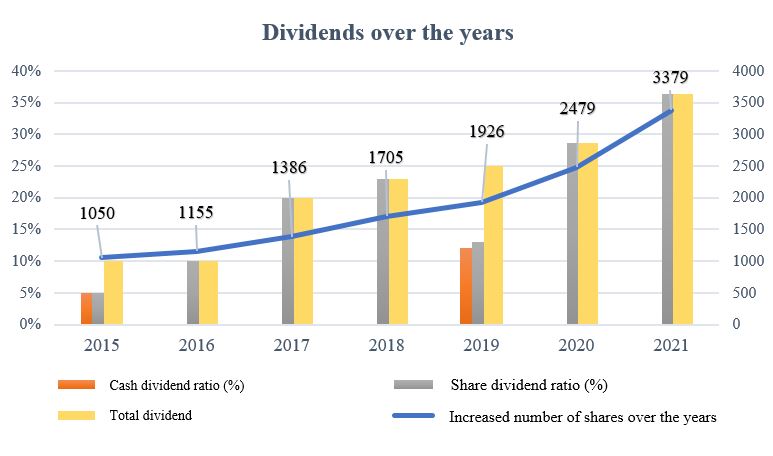 Greater benefits from share dividends
Share dividends bring a lot of advantages to shareholders of reputable, sustainable enterprises like Phat Dat because the ticker has high liquidity and has steadily and significantly risen in market price over the years. In other words, thanks to the impressive business results, shareholders have benefited from stock price movements over the years with a remarkably higher value than the case of cash dividends. For a more thorough understanding of the outstanding advantages, we assume shareholder A owns an initial 1,000 PDR shares from March 2019, as illustrated below: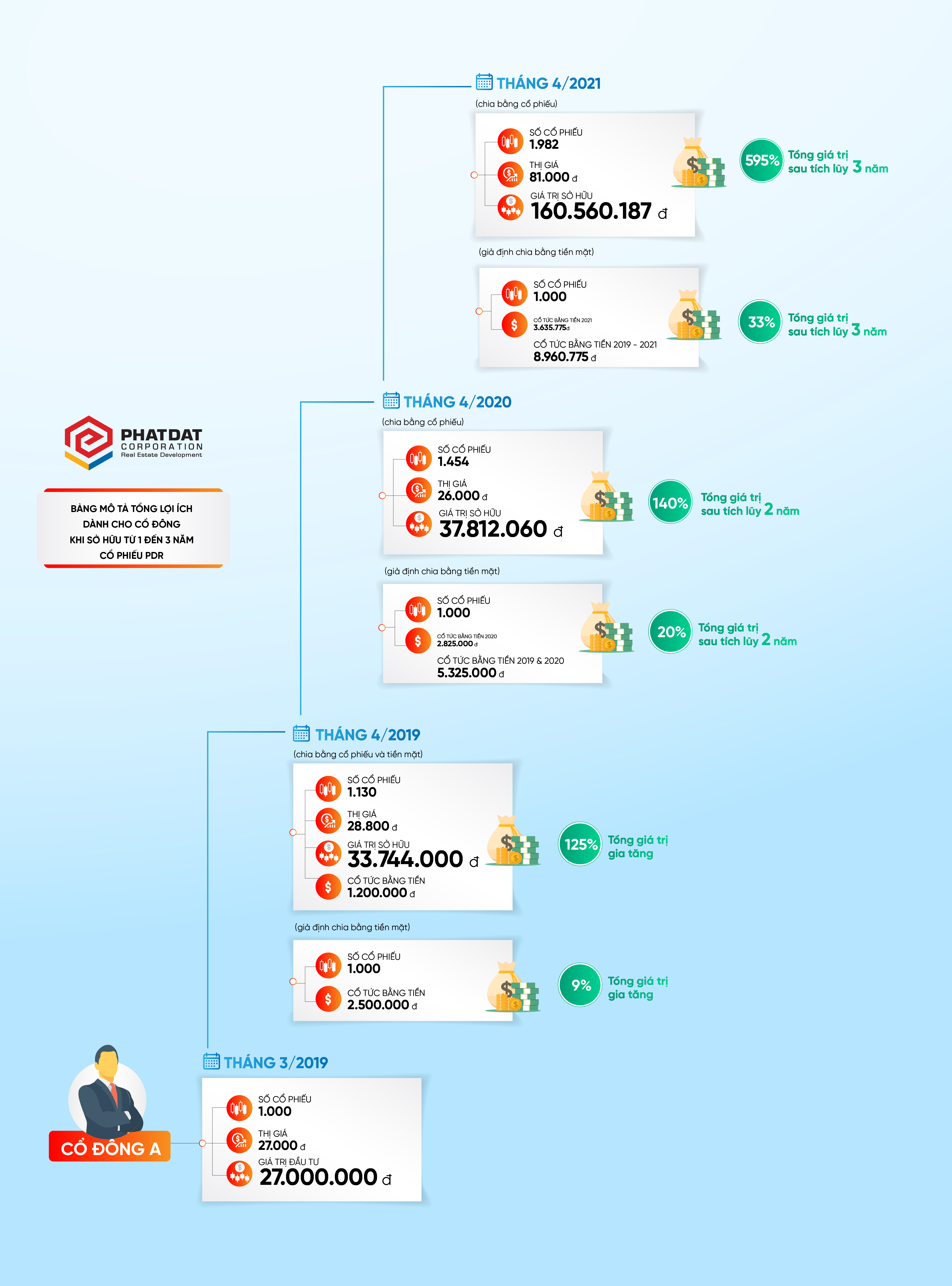 PDR's share dividends over the years
PDR's capital is continually enhanced in order to extend land banks and develop projects while still providing economic benefits to its stockholders via shares. Specifically, during the period 2015 – 2021, outstanding shares increased from 201.8 million shares to 492.7 million shares. Besides, PDR's ongoing expansion of its land banks is aided by such abundant capital. In 2021 alone, PDR's land bank increased 12 times. The quality of earnings is reflected in the EPS ratio in the period 2015 – 2021, with a CAGR of 25%.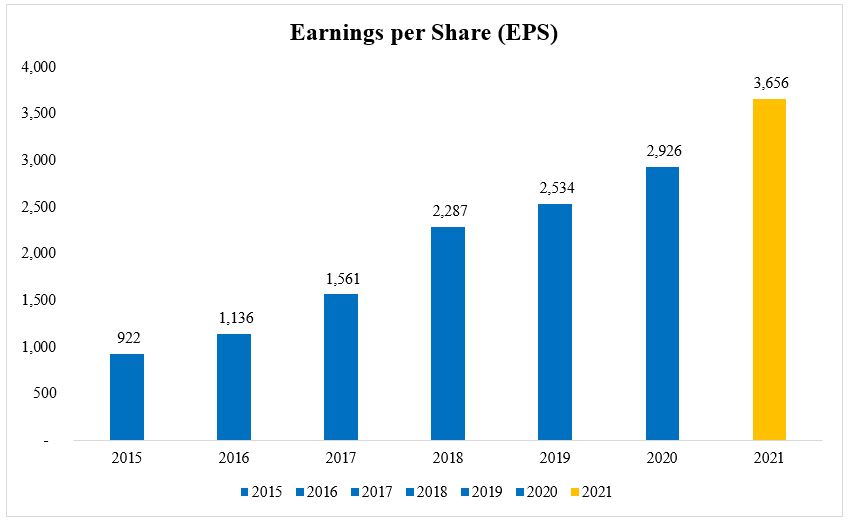 Indeed, for PDR's long-term shareholders, the dividend payment alternative is utterly superior in all aspects. In addition to creating tremendous benefits to shareholders, share issuances have allowed PDR more resources to develop lands in prime locations to add significant incomes to annual business results. Meanwhile, more excellent added value to stockholders awaits, as the BOD has set long-term profit targets toward 2025 and land bank expansion toward 2030.
PDR has had numerous triumphs in the new era, producing tremendous breakthroughs and excellent achievements, thanks to the BOD's clear directives and defined targets, as well as the team's competency in closely implementing action plans. This spectacular growth is assessed as safe and stable, as evidenced by its inclusion in VN30, MSCI Frontier Marketing Index, Fitch's credit rating at "B" for an 'outlook stable,' etc. Simultaneously, all crucial factors point to PDR as one of today's most financially sound and promising enterprises.
Phat Dat's impressive business results over the years and consistent dividend policy have enabled shareholders to accumulate assets in their investment journey and build up confidence in long-standing companionship with the Company. In addition, the Board of Directors is committed to good governance practices, sound financial indicators and stable cash flows for PDR's steady development and shareholders' cumulative long-term benefits in the coming time.