Phat Dat Company (PDR) on Top 50 The most effective company of Vietnam in 2018
On June/07/2018 at GEM Center, 8 Nguyen Binh Khiem, District 1, Hochiminh City held the ceremony to honor "TOP 50 the most effective company of Vietnam in 2018" and Discussion "Talk with CEO".
TOP 50 The most effective company of Vietnam in 2018 is an annual prestige award held by Nhip Cau Dau Tu Magazine in co-operation with Thien Viet Securities Company, in consultation with economic specialists from Harvard Business School's, referenced from the world's prestigious charts such as Bloomberg Businessweek, Fortune, and Forbes Worldwide, in order to looking for business-efficient companies in Vietnam stock market.
Entrepreneurs are awarded based on business result of the company in three years constant with three criteriars: revenue, profit, ROE and EPS. The results aimed to rating corporate governance.. This is also the first year Phat Dat Company was voted for this award.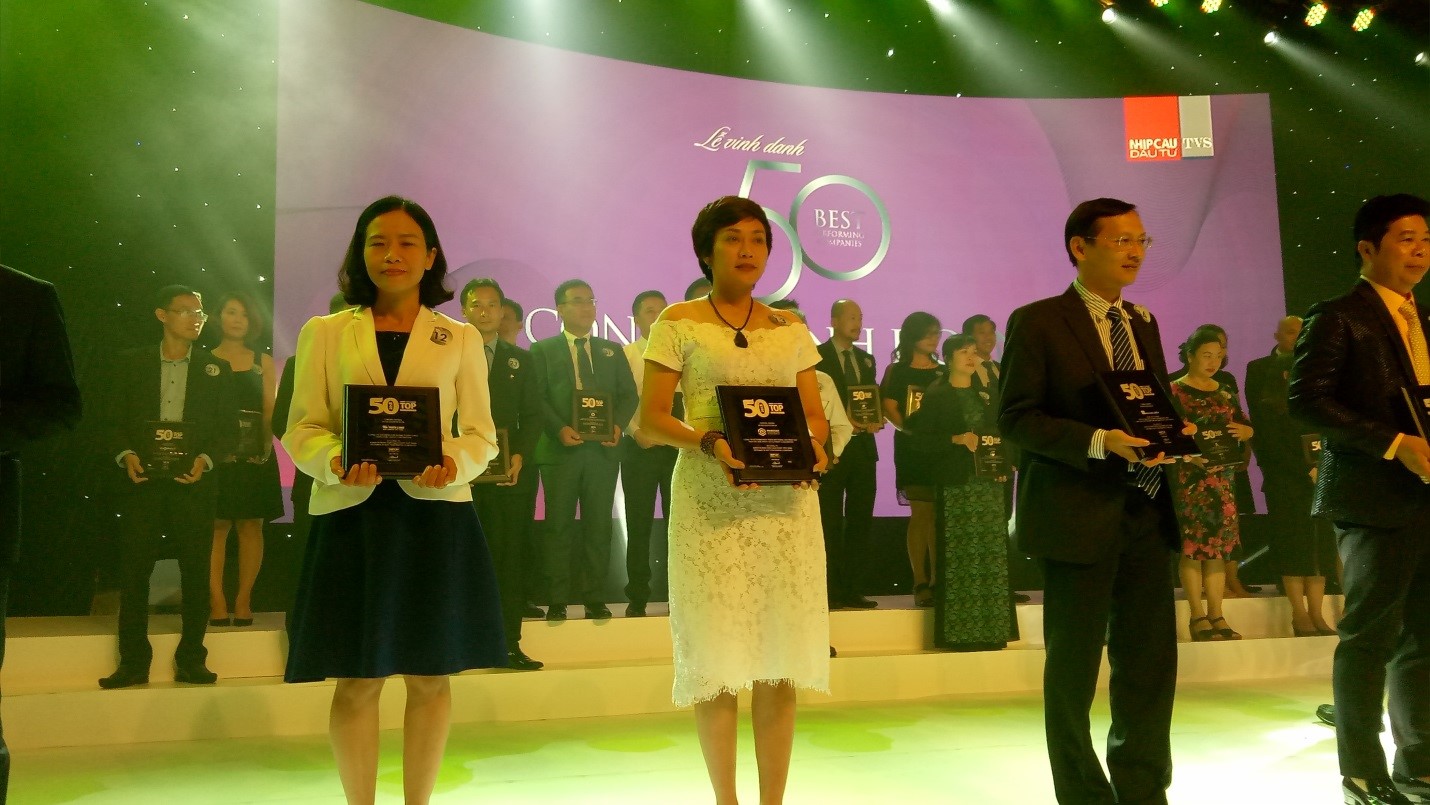 Mrs. Dang Nguyen Thuy Trang – Marketing Director of Phat Dat Corporation
In 2017, the BOD of Phat Dat Company has made great efforts to realize the objectives of the company, especially restructure existing projects: focus on complete legal procedures, investment, create new projects, medium and long-term investment opportunities, centralized public-private partnership projects (PPP projects); focus on The EverRich Infinity project and Millennium project, quickly completed on sales, bringing revenue to the company. By 2017, the company has completed approximately 97% on sale of total 764 apartments and officetel at The EverRich Infinity project, about 85% of total 1,057.
As a result, PDR achieved net sales of VND1,327 billion in 2017, despite slightly lower than the previous year. However, gross margin improved significantly. Net profit was nearly 440 billion dong, growing more than 80% compared to 2016, recording the highest level since establish. Compared with the target set for 2017 (336 billion dong), PDR exceeded 31% of target.
From the beginning of 2017, PDR shares started to increase. From the price of 11,840 dong / share, PDR shares have gone up despite the dificultlity of the market. On April 12, PDR shares reached 40,600 VND / share, recording a growth rate of over 240% compared to the beginning of 2017. The average trading volume increased sharply to reach millions of units per session.
In addition to the success in 2017, PDR has been prepared to continue to grow in 2018 and beyond. The business plan for 2018 assigned by PDR is 2,000 billion dong, pre tax profit of 800 billion dong and net profit of 640 billion dong.
2018 is the beginning year in the development period of 2018-2020, so PDR will focus on solutions to boost business growth. Specifically, PDR will expand its network of partners, suppliers, distributors. Develop HR strategies, finance, land funds. Development of medium scale projects, products meet market need for quick revenue.
After experiencing difficult period, PDR has gained experience so in the coming pẻiod, the Company will increase its owner equity, limit the use of loan, carry out financial restructuring to invest in the development of The project is mainly funded by the Company's owner equity.