Phat Dat Corporation Officially Commences Phuoc Hai Project
This morning, on 23 March 2022, the Leadership of Phat Dat Real Estate Development Corporation (HoSE: PDR) joined the groundbreaking ceremony for a large-scale project of about VND 3,500 billion in investment in Phuoc Hai Town. Backed up by PDR's renowned reputation for high-quality products, the project is expected to bring outstanding values to investors and tourists amid shortages of high-quality hospitable products in Ba Ria–Vung Tau Province (BR-VT).
Groundbreaking ceremony of Phuoc Hai project 
Phat Dat expands into hospitality real estate 
PDR makes every effort to extend advantageous land banks, in addition to its core competencies of developing real estate projects. After years of protracted closure due to the epidemic, PDR is ready to diversify product lines with hospitality real estate, capitalizing on the growing demand for tourism development. 
PDR has maintained its project research and implementation despite the recent market stagnation, thanks to visionary leadership and prudent planning. When things began to normalize, Phat Dat launched its first hospitality project in BR-VT – a growing hotspot in recent times. 
The enhanced infrastructure has given BR-VT a strategic location that is accessible by a variety of connections and forms of transportation. As a result, BR-VT is one of the most popular vacation spots. According to the provincial Department of Tourism, BR-VT welcomed more than 420,000 tourists over the 2022 Lunar New Year (from January 1 to February 6, 2022), a rise of 81% YoY and the second-highest number nationwide. In just four days, up to 90% of the resort and hotel rooms were booked, with a 97% occupancy rate for 3-5 star accommodations. During the holiday, resorts and hotels along the beach quickly filled up and maintained high occupancy rates. 
With the available infrastructure, favorable location, and natural harmony, BR-VT is well suited for tourism development after being under constraints of the prolonged covid-19 epidemic. BR-VT possesses the necessary capacity to serve all types of domestic and foreign tourists, which many other localities lack. 
The first hospitality project of Phat Dat 
Phat Dat is ready to launch a big project in Phuoc Hai, taking advantage of market opportunities. Not only has the best beachfront position, just a stone's throw away from the sea, the project also possess another advantage with a frontage on Vo Thi Sau Street. From there, travelers can reach HCMC via National Highway 51 or Ba Ria, Vung Tau, Binh Chau (Xuyen Moc, BR-VT) or Lagi (Binh Thuan) via National Highway 55.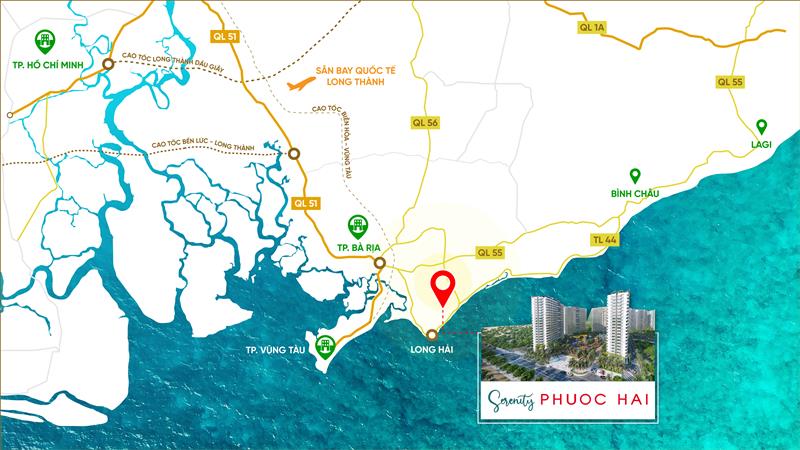 Map of Phuoc Hai project 
With a target to welcome 8.6 million visitors by 2025, Ba Ria – Vung Tau will need roughly 4,000 more 4 – 5 stars rooms. In addition, Ba Ria – Vung Tau also needs to develop more recreational facilities and lodging establishments run by multinational operators in order to generate a comprehensive tourism ecosystem that will attract global tourists and investors.  
PDR plans to develop the Phuoc Hai project into a complex, offering various products such as tourist apartments, shophouses, hotels, resort villas, and a rich array of utilities to meet multiple customer needs. It is expected that the project will include a Hillside villa and hotel with an exploitation area of over 55,569 m2. In addition, PDR also created a system of entertainment and recreational facilities, clubhouses, and high-class hotels of international standards to improve the quality of tourist accommodation establishments in Ba Ria – Vung Tau province. 
The Phuoc Hai project, according to a PDR representative, is a fantastic investment highlight in the region's hospitality real estate market, providing a desirable tourist destination and offering unique products to investors.