Phat Dat finalizes the last registration date for 2020's third dividend; proximity to usd 1.5 billion in market cap
Phat Dat Real Estate Development Corporation (Stock code: PDR) pays the third share dividend payment in 2020 with the last registration date on 27th April 2021 and the ex-dividend date on 26th April 2021.
PDR's shareholders receive the third dividend in 2020 at an 11.7% rate in share – each 1000 shares will receive 117 additional shares. The total value of the share issuance is VND 510 billion at par value, tapping from 2020's undistributed profit after tax as in the audited 2020 financial statements.
Hence, PDR offered 3 dividend payments in 2020 with the total rate at 28.7%, including 7%, 10%, and 11.7% respectively for the first, second, and last payouts, reflecting the BOD and BOM's commitments to shareholders' highest benefits.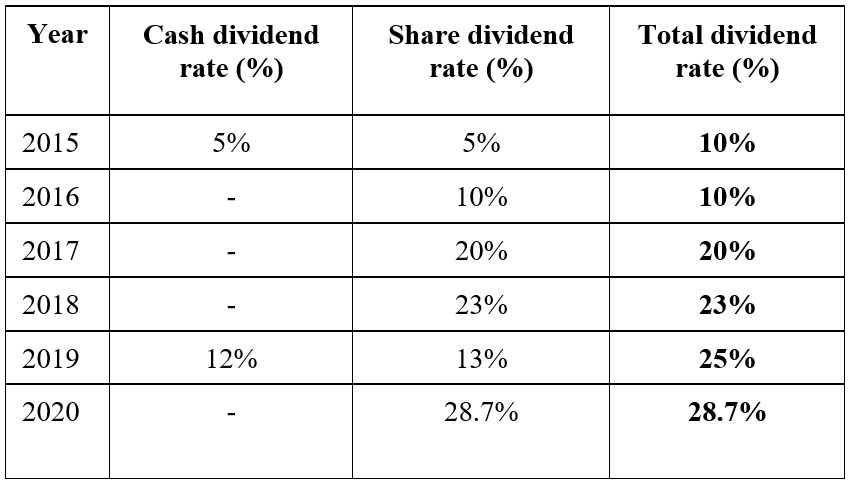 Dividend payment rate from 2015 to 2020.
In 2020, the national economy and the real estate market had gone through harshness caused by the Covid-19. However, Phat Dat, with clear objectives and strategic direction, achieved and exceeded all business targets earlier than planned.
Particularly, PDR's net revenue reached 3,911.21 billion (up 15% YoY); profit before tax and profit after tax reached 1,540.22 billion and 1,220.25 billion, up 39.3 % and 39.6% YoY, respectively.
From 2020 to the first quarter of 2021, Phat Dat's share price constantly rose and made many breakthroughs. As of 23rd April 2021, PDR's adjusted share price reached VND 78,500/share, resulting in a current market cap at VND 34,000 billion, approx. USD 1.5 billion.