Phat Dat focuses resources on developing high-end hospitality real estate
Phat Dat (HOSE: PDR) is focusing its resources on developing high-end hospitality real estate for the 2022-2025 period, anticipating the recovery of the tourism industry after 2 years of the pandemic.
2022-2025: Phat Dat focuses on developing hospitality real estate
From 2022 to 2025, Phat Dat focuses its resources on developing hospitality properties in markets with tourism development potential by owning various landholdings with clear legal status, preparing legalities and financial resources, and collaborating with international brands in design, construction management and operation.
As of 2Q2022, Phat Dat has around 7,500 hectares of land in key markets such as HCMC, Ba Ria – Vung Tau, Phu Quoc, Binh Duong, Binh Dinh, Quang Ngai, Da Nang, and others. In particular, lands for hospitality developments are mainly in tier-2 coastal cities (Binh Dinh, Ba Ria – Vung Tau, Phu Quoc, etc.). These markets have great potential for developing tourism thanks to their well-established technical and transport infrastructure.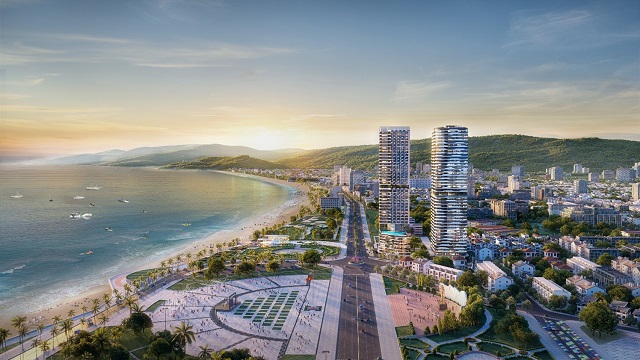 Cadia Quy Nhon in Ngo May Complex of commercial and beach hotel and condotel in Quy Nhon City.
In 3Q2022, Phat Dat officially announced the worldwide 4-star service and commercial complex Cadia Quy Nhon (No. 1 Ngo May Street, Quy Nhon City), in Binh Dinh Province – the emerging tourism destination of the Central Coast. The complex resides on a 5,245 m2 land site right in the city center square with a direct sea view, accommodating a 40-story beach-front condotel tower managed by Centara Hotels & Resorts and a hotel tower managed by Marriott International.
Also in Binh Dinh market, Phat Dat started Nhon Hoi Ecotourism City in 2019 – a key project with an area of over 116.1 hectares, adjacent to National Highway 19B and only 5 minutes away to tourist attractions such as Eo Gio, Ky Co, etc. This project has contributed to changing the face of Nhon Hoi Economic Zone.
As for Ba Ria-Vung Tau province, in 2022, Phat Dat also announced three developments, Serenity Phuoc Hai (5.56ha), Ben Thanh – Long Hai (Tropicana, 10ha), and Poulo Condor (12ha), offering various hospitality product lines such as condotel, shop-house, hotel and villa. The advantages of beach-front locations, full legality and aligned infrastructure, all three projects are expected to provide high-end hospitality products from 2025. According to the Department of Tourism, with a target of 8.6 million staycation visitors, the province needs about 4,000 more rooms of 4-5 stars.
Phat Dat and its strategy to develop world-class hospitality real estate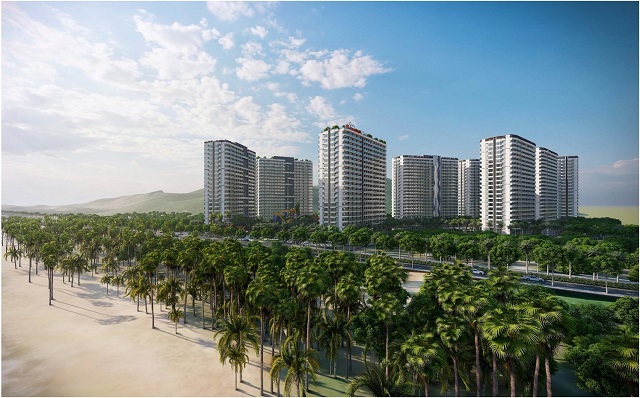 The 5.56ha Serenity Phuoc Hai in Ba Ria – Vung Tau.
Over the years, Phat Dat successfully built its reputation as a high-class residential property developer in HCMC through The EverRich 1 (District 11), The EverRich Infinity (District 5), and Millenium (Ben Van Don, District 4). Recently, Phat Dat has shifted to develop large-scale urban projects in emergent markets, including the 7.71ha Bau Ca residential area (Quang Ngai), Nhon Hoi Ecotourism City with its trade name as Nhon Hoi New City or Ky Co Gateway (Binh Dinh), etc.
As part of the development strategy and with a well-established foundation, Phat Dat will focus its resources on developing hospitality real estate projects in the coming period. Indeed, Phat Dat has acquired an extensive land bank in markets with tourism potential, such as Binh Dinh, Ba Ria – Vung Tau, Da Nang, etc. Phat Dat's projects are all in prime locations, namely CADIA Quy Nhon in the heart of Quy Nhon coastal city (No. 1 Ngo May, Quy Nhon City, Binh Dinh) or Serenity Phuoc Hai and Ben Thanh-Long Hai with long and beautiful coastlines in Ba Ria – Vung Tau, etc.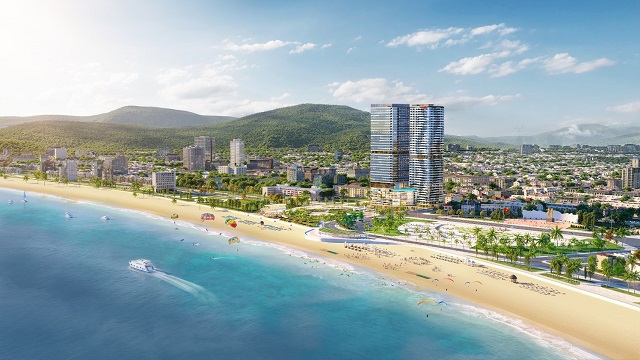 CADIA Quy Nhon (No. 1 Ngo May Street), with an area of more than 5,245 m2, has a direct view of the sea and the central square of Quy Nhon city.
Mr. Bui Quang Anh Vu – CEO of Phat Dat Real Estate Development Corporation, said that the Company has been well-prepared for the legality and set high standards in design, construction, and operation management to penetrate target markets and be attractive to investors. In particular, Phat Dat aims to offer international standard products when cooperating with famous global firms, bringing high-class experiences and increasing investment value for customers.
Typically, for CADIA Quy Nhon, Phat Dat cooperates with renowned international partners in architectural design, construction and operation: Centara Hotels & Resorts – Thailand's famous hotel management and operator, GSA – Australia's leading architectural firm, Meinhardt – Construction consulting company from Singapore, and Red Design – Australian design company. These names ensure not only the standard of the project but also the increasing profit value over time for investors. Such a combination of leading brands in many fields demonstrates Phat Dat's good preparation and enthusiasm in developing world-class hospitality properties. Additionally, it clearly shows Phat Dat's ambition for the hospitality real estate industry in anticipation of the recovery of Vietnam's tourism.