Phat Dat organizes analyst meeting "PDR – REACHING NEW HEIGHTS"
On 14th January 2021 in HCMC, Phat Dat Real Estate Development Corporation (Ticker: PDR), in tandem with Mirae Asset Vietnam and Savills Vietnam, successfully organized an Analyst Meeting called "PDR – Reaching New Heights," welcoming up to 200 guests. As an annual event, the meeting aims to provide investors with 2021's market assessments and trends in the real estate industry, as well as PDR's prospects to continue developing in "The New Era."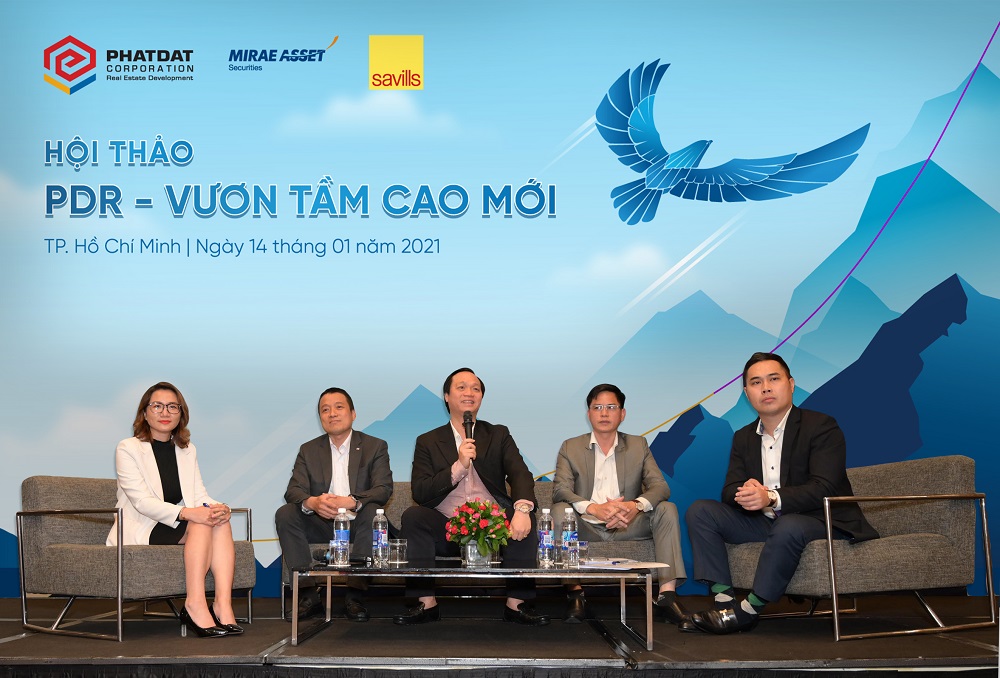 Mr. Bui Quang Anh Vu – Member of the Board cum CEO, chairing the meeting
2020 witnessed severe impacts caused by the Covid-19 pandemic on the world's and Vietnam's economy. Inevitably, the real estate sector was negatively affected. The resulting struggling growth manifested itself through a drop in supply and delays in introducing new projects due to the strict licensing procedure in Hanoi & HCMC and the investors' cautious approach to making property transactions.
Amidst these challenges, 2020 held a special meaning to PDR. The Company celebrated 16 years of establishment, and the PDR ticker enjoyed its 10 years listing on HOSE with remarkable financial indicators. Overcoming the epidemic's difficulties, Phat Dat ended the third quarter of 2020 by announcing a leap in growth, including the revenue reaching VND 1,315.90 billion and the profit after tax reaching VND 438.93 billion, equivalent to 3.7 times and 2.7 times Y-o-Y accordingly. As such, Phat Dat is confident in achieving the targets of VND 3,798 billion in revenue and VND 1,500 billion in profit before tax set for 2020 by the Annual General Meeting of Shareholders in April 2020.
Moreover, PDR's landholdings increased dramatically in 2020, up to 450 ha across HCMC and other potential emergent cities such as Quang Ngai, Da Nang, Binh Duong, Long Hai, etc.
These accomplishments are derived from the flexible strategy, firm management foundation, abundant financial capability, high-quality human resources, and thorough market monitoring & evaluation to put forward the best development plans.
In 2020, while most businesses narrowed down their operation and reduced staff numbers, Phat Dat affirmatively enhanced its core power by recruiting more qualified personnel to satisfy the criterion of speedy development. Particularly, besides the number of employees increased by 41% Y-o-Y, there was special care to further experienced specialists and experts' quality. PDR's determination to enhance core power also manifested itself in implementing the Enterprise Resource Planning system (SAP S/4HANA) in August 2020 with an investment of USD 2 billion. The program is expectedly put into operation in the first quarter of 2021, which will refine operational procedures, improve effective corporate governance performance, and generate PDR's competitive advantages in the market.
Additionally, the official venture into the industrial real estate sector in October 2020 demonstrated another strategic move to diversify revenue sources and generate another stable income, serving PDR's future plan. In details, the Company started with a 24-ha site in Cai Mep Port (Ba Ria – Vung Tau Province) with a total estimated investment of VND 1,136 billion.
Considering the capability of developing projects to be the "core power" that has established Phat Dat's brand name among the real estate market, the Company continued making another breakthrough by introducing Astral City – a mix-used project with over 4,000 apartments in 8 forty-story towers. As the highest building complex in Binh Duong Province, upon completion, the project will represent the image of an industrial city in the South. Until now, the project is on schedule and expected to be handed over by the first quarter of 2023.
With these 2020's impressive results, at the meeting, Mr. Bui Quang Anh Vu – PDR's CEO elaborated: "It's our pleasure to meet and provide Investors with efficient information in today's meeting. Indeed, the previous year's achievements have nurtured our confidence in the PDR's prospects of exceptional development in the years to come. In 2021, we will continue reaching beyond limits and bring PDR soaring and reaching new heights."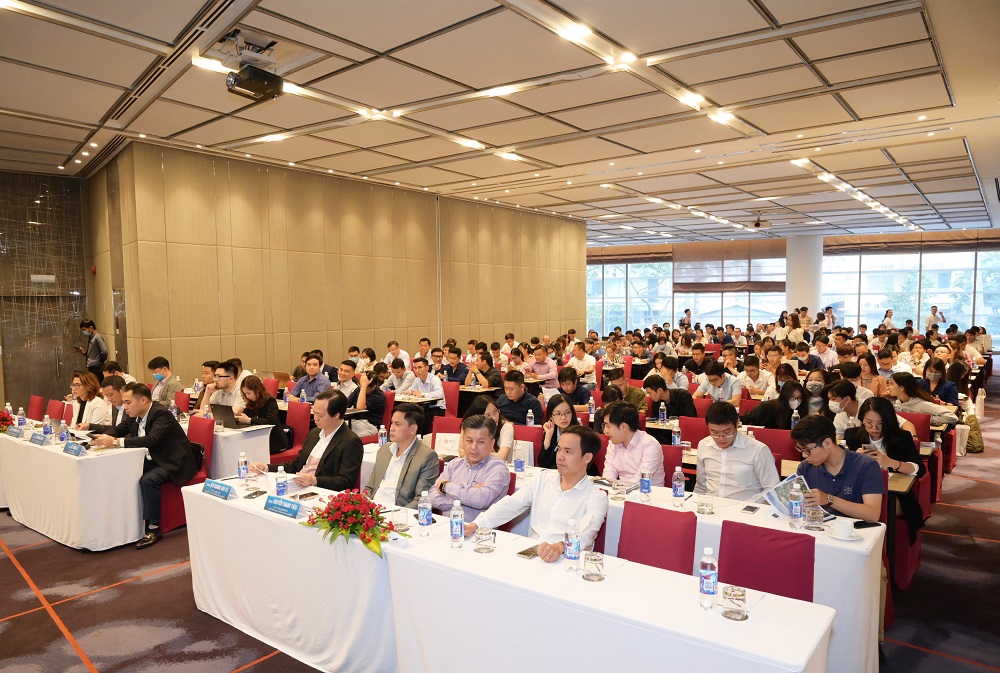 A huge number of investors and press agencies attending the event
PDR's highlights:
Established in 2004, Phat Dat Real Estate Development Corporation envisioned to become "the leading real estate corporation in Vietnam." The vision has been gradually realized and expanded along the journey of 16 years of development. Phat Dat has become an influential brand on the real estate market, owning a land bank of 450 hectares across potential and emergent cities.
2020, the second year of "the New Era," marks a big milestone, as Phat Dat celebrated 10 years of public listing on HOSE with impressive growth indicators. Alongside with business achievements, Phat Dat's efforts in refining corporate governance (CG) was recognized with the Outstanding Progress Award in CG category by HCM City Stock Exchange (HOSE), the Hanoi Stock Exchange (HNX), Vietnam Investment Review Magazine, and the Rating Committee. Previously, the Company was also honored by prestigious national and international rankings such as Top 10 Outstanding Property Developers 2020 by Nhip Cau Dau Tu Magazine, the 6th place in TOP50 – Vietnam's 50 Best-Performing Companies 2019, Top 10 Listed Reputation Awards 2019 by Vietnam Report, the Bronze Stevie® Award of Achievement in Growth category of the International Business Awards®, etc.