Phat Dat promoted investment and development of a series of large scale projects
In addition to the resort property projects in Phu Quoc and HCMC, two residential areas are planned to launch in Quang Ngai.
To ensure revenues and growth for the next 5-year development plan, PDR (ticker: PDR) will promote a series of new projects onto the market. Noteworthy, a 40.6 ha Vung Bau Ecotourism area project in Phu Quoc, directly invested and developed by the Company. Currently, PDR is applying for approval for the project's 1/500 scale plan and other projects such as Ham Ninh trade village residential area and communal center (79.7 ha) and Ham Ninh handicraft village (59.2 ha).
HCMC also houses the Ba Sang Island Project, located in District 9 – an 23.94 ha ecotourism area combined with entertainment facilities. Land handover is expected to be fullfilled in a near future.
In addition to the hospitality developements, urban properties remain the key products to be developed in the PDR portfolio. The Bau Ca Residential area Project in Quang Ngai City, covering an area of 7.7 hectares, is in full progress with 90% of the infrastructure completed, such as water and electricity systems as well as 80% of landscaping completed. Another project, i.e., The Northern Residential Area, a 42-ha residential area combined with urban renovation was also launched.
The ongoing projects will be built and launched by 2020 as scheduled, ensuring steady revenues inflows and growth during the mid-section of the 5 years plan.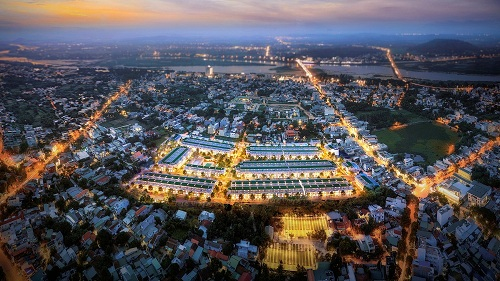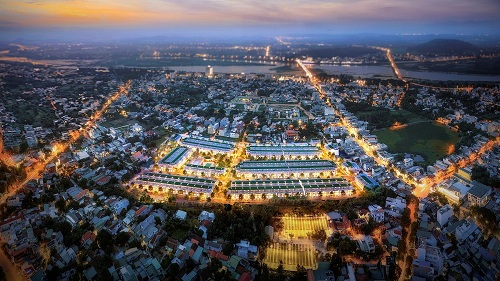 Perspectives of Phat Dat – Bau Ca REsidential Area Project in Quang Ngai
With new projects being planned for, current projects's progress will also be accelerated. Large scale projects in Ho Chi Minh City such as the Everrich 1, the Everrich Infinity were successfully completed and put into operation. By the end of Q3, 88% of Millennium apartments (District 4) are to be handed over to the customers and the children's entertainment area will be assembled to serve for the local residents.
2018 witnessed PDR's breakthroughs in market expansion and product diversification strategy. In addition to the development of apartment projects under The Everrich brand in Ho Chi Minh City, other prospective markets have been penetrated for a long time. Particularly, major investments have been poured into hospitality projects such as Marriott Hotels & Resorts Hoi An, Westin Hotels Resorts & Spa Cam Ranh.
Upon nearly 14 years of operation in the real estate market, PDR's chartered capital has reached VND 2,664 billion. The Company's business performance for the first 9 months of 2018 hit the optimistic growth figure with pre-tax profit and after-tax profit of VND 389 billion and VND 346 billion, respectively, marking a 44% y-o-y growth.
In addition to the profit obtained from the last delivery phase of The EverRich Infinity, the remaining profit mainly originates from the investment cooperation contract on development of the Millennium Project.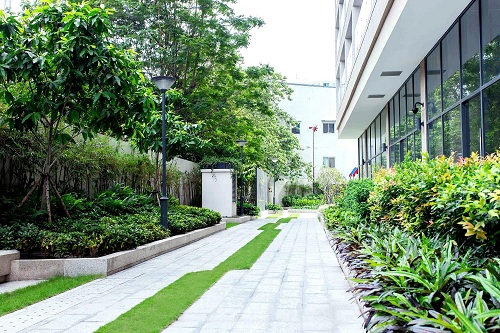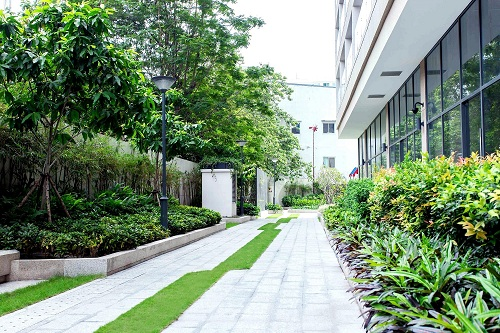 Green landscaping of The EverRich Infinity project.
In addition to the business performance, great efforts is invested into corporate culture and human resources development. Training courses on a weekly basis for soft skills and management system platform were held for the employees. Moreover, employee meetingd are organized quarterly to build communications between employer and employees. Moreover, the team building program is annually organized with meaningful contents and interesting entertainment activities to build team spirit.
Since long, PDR has acknowledges the importance of engagement in social and community activities. As a company, PDR has made great efforts to launch society and community-oriented initiatives, especially in Quang Ngai City.
"A successful enterprise not only thinks about business performance and employees, but it needs to also recognizes its share of social responsibilities", shared by Mr. Nguyen Van Dat, Chairman of Board of Directors cum Chief Executive Officer.