Phat Dat purchases 24-ha land, officially implementing the project of General warehousing, port logistics and logistics services near Cai Mep Port
Since the beginning of October, Phat Dat Industrial Park Investment and Development Company (Ticker: PDR) has implemented its first industrial real estate project of logistic warehousing and services at the southern economic zone's emerging gateway. This act was only over a month after the strategy's announcement expanding into the industrial real estate market. In this sector, Phat Dat aims at developing industry–urban–service complexes with high contribution value to the market and, thus, creating more sources of cash flow and revenue, constantly and stably.
From the market's perspective, according to market reports, by the end of 2Q2020, there was a shortage of industrial properties within the whole country, especially in southern provinces. Current industrial zones are fully occupied; thus, the rental fee has been pushed up. The insufficiency is predicted to get more intense when the economy recovers and the demand is up. Specifically, instead of land to place businesses, many tenants seek industrial–urban–service zones offering comprehensive services from healthcare, education, amenities, and a healthy living environment to ensure the quality of life for their experts and employees.
In response to these changes, thorough research, evaluation, and preparation were included when formulating PDR's industrial property development strategy. Announcing the establishment of Phat Dat Industrial Investment and Development company, Mr. Nguyen Van Dat – Chairman of the BOD of Phat Dat Corp. – the parent company, has affirmed that instead of seizing immediate opportunities, the Company is entering this sector with professionalism and a long-term vision. Pursuing this spirit, Phat Dat aims at projects with true potentials and shakes hand with partners with strong resources and profound experience, which guarantees the criteria of effectiveness, speedy, and sustainability in developing industrial–urban–services zones contributing high values to the market.
Phat Dat's project is located at the center of Cai Mep – Thi Vai port complex
Updating on the new project, Phat Dat has completed all required legal procedures and is ready to implement the project of General warehousing, port logistics, and logistics services at Cai Mep port (Ba Ria – Vung Tau) with a total estimated investment of 1,136 billion. PDR designates the 24-ha project as a container warehouse for rent, a center to collect and distribute goods and provide port logistic services.
One major advantage of this project is its location inside Thi Vai – Cai Mep Port complex. This is one of the top landward seaport clusters with favorable locations in ASEAN to receive freight ships up to 100,000 DWT. According to the Vietnam Maritime Administration, the estimated volume of goods passing by the port accounts for at least 50% of that passing by all country seaports. The whole area is developing at an extremely high speed.
Furthermore, the central location inside the area provides easy access to Cai Mep Port, other provincial industrial zones, HCMC (55km), Long Thanh Airport (30km), big industrial zones in Dong Nai and Binh Duong provinces, etc.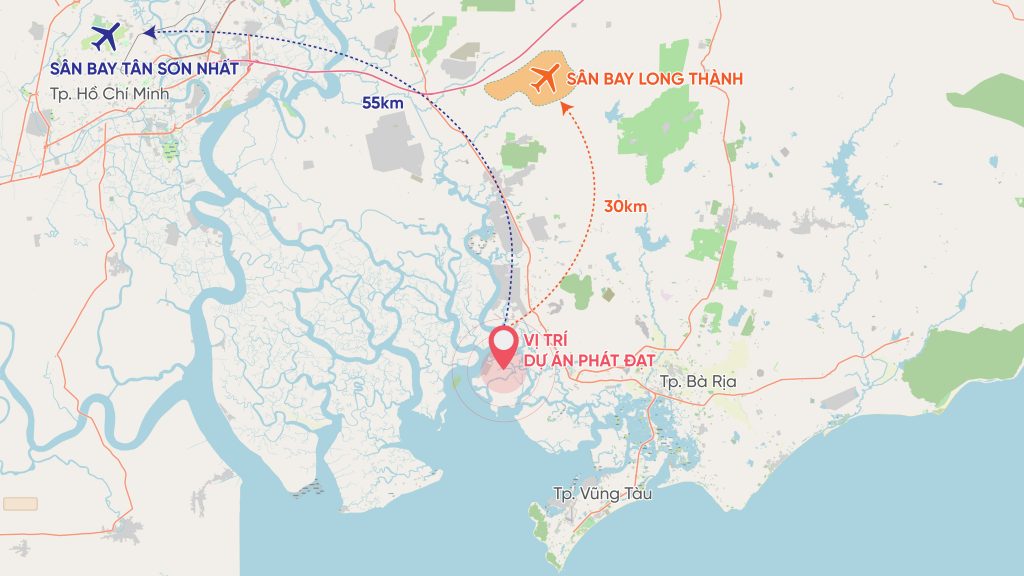 The project is accessible from international airports and biggest cities in the South.
Adding to the prime location, in preparation for implementing this and other industrial real estate projects, Phat Dat is in co-operation with the best partners, both national and international, especially Japanese partners specializing in developing industrial zones.
Generally speaking, Phat Dat started industrial real estate development with a project that met all the required conditions. Expectedly, this logistic warehousing and service zone will be put into operation in the second half of next year. Accordingly, Phat Dạt will have another income source of industrial properties, constantly and stably, starting from the end of 2021. This enterprise also elaborated on the ongoing effort to acquire landholdings for other industrial real estate projects, focusing on southern key provinces such as Binh Duong, Dong Nai, Ba Ria-Vung Tau, etc., targeting about 300,000-square-meter logistic warehousing to meet the growing demand of the e-commerce industry.
Expanding into the industrial real estate sector is a strategic move included in PDR's product diversification strategy to create new revenue and cash flow sources, enhance financial health, and enable breakthrough development in the 2019-2023 period. New business activities in the industrial property sector and the constant growth for the last 3 years have further enhanced Phat Dat's prestige and investment attractiveness amongst the top leading real estate enterprises in Vietnam.