Phat Dat Real Estate Corporation - 14 years of persistent "farsighted viewpoint, sustainable development"
Located in the bustling center of District 5, HCMC, the first strong impression of Phat Dat's (HOSE: PDR) prominent The EverRich Infinity on an early morning may be deeply imprinted in the hearts of any visitors. It is the spacious green lush coupled with the smart office design with panoramic glass exteriors, enhancing natural light to shed light onto the sophisticated decoration of elegant color tones making it a scenery by itself. It is not difficult to realize the eye-catching senses of an extensively experienced developer who is famous for luxury property projects, converging the unparalleled design quintessence which cannot be mixed with other projects
14 years for improving living standard through outstanding projects
Phat Dat is always mentioned as a prestigious and knowledgeable developer in the high-end segment through apartment projects such as The EverRich Infinity, Millennium, or resorts such as Marriott Hotels & Resorts Hoi An, Westin Hotels Resorts & Spa Cam Ranh. Furthermore, the success of The EverRich brand cannot be neglected, being so popular among high-end projects in HCM Center.
So, what is the key to success of the projects by Phat Dat? Firstly, it is originated from the profound business philosophy set by the Management – Farsighted viewpoint, sustainable development. Prudent and reliable steps are always taken for each project, striving towards being a "sustainable development" to provide customers best value and the Company a long-term and stable profitability. This is the PDR philosophy.
As a result, projects are not only developed to be great urban areas but also create true values. A project's true value is measured by living environment quality and resident satisfaction. Therefore, the construction quality of each project is meticulously designed to obtain a modern and sustainable life. Selection of professional consultants, designers, construction contractors and manager is carefully considered by Phat Dat. In addition, Phat Dat projects are always located in favorable locations with complete infrastructure and meticulously designed with facilities and landscaping blending in together, creating a unified prosperity beyond the meanings of a traditional urban area.
Corporate culture is internal force for breakthrough
Monday mornings are no longer an obsession for Phat Dat staff. At 7.30 o'clock, all employees and Leaders gather to enjoy a common breakfast, openly exchange and talk. The breakfast on Monday mornings is recorded as a special trait at Phat Dat, attracting a great concern and response when being widely referred to by newspapers. The Monday morning breakfasts are attended by the top leaders (Mr. Nguyen Van Dat – Chairman of Board of Directors cum Chief Executive Officer). This trait is rarely found in any powerful companies. "I not only want to remember the faces but also create a chance to talk with all members regardless of their positions", shared in an interview by Mr. Dat.
Corporate culture development is always identified as one of the most important objectives to be pursued by Phat Dat Management. It should be persistently invested and supported by specific implementation plan and method. The further development will be achieved by the Group thanks to its qualified human resources and dynamic corporate culture. Particularly, in a business field with various fluctuations and challenges like property investment, people's engagement is regarded as a contributing factor to success. It is also the internal force for the enterprise to create breakthroughs and mark its future development milestones
"Where there is a good land, the birds will come and settle"
A broad-minded and open work environment is identified as critical by Phat Dat. This is clearly demonstrated in the four core values outlined by the Management: CREATIVITY, COMMITMENT, EQUALITY, RESPECT. Phat Dat is known as a good place where every member is heard, respected and shared for further development.
With attractive salary, bonus and treatment policies, opportunities are always offered to encourage young members to perform and develop their personal capabilities. Phat Dat members are paid with competitive remunerations packages, corresponding to their capabilities, position and performance. The bonus and awards will be annually considered by the Management in accordance with the Corporation's business performance and the members' contribution. Moreover, the welfare regulations are also implemented for members such as: Annual vacation; birthday gifts; awards to the Member's children with high grades; support to funerals and weddings, etc. The training and coaching programs for employees at all levels are planned in accordance with the long-term strategies and objectives, are to be regularly and consistently launched.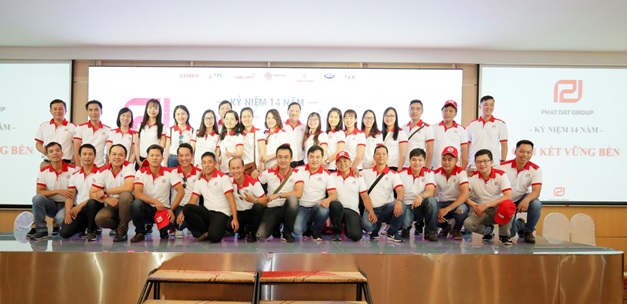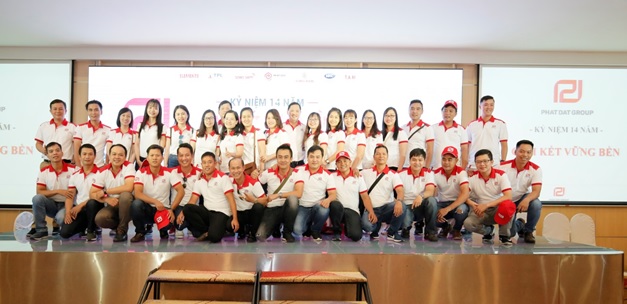 Annual Team Building Program is well prepared in terms of contents
"Where there is a good land, the birds will come and settle" – Thanks to the Management's compassionate philosophy and the staff's commitment and energy, Phat Dat is known as the "good place" for young people who desire personal development, committing to a developer with the ideology of sustainable growth, engaging in the mission to improve the community's living quality persistently pursued by Phat Dat during its 14 years of victory.
Source Vietstock