Phat Dat Real Estate Development wins "double" of prestigious Investor Relations awards in 2019
Phat Dat Real Estate Development (ticker: PDR) received "double" prestigious award: Top 10 Best Listed Companies in 2019 and TOP 3 Listed Companies with best IR activities (Investor Relations) in the Mid-cap segment. The awards are highly appreciated by financial institutions and shows that investors have reasons to put their full faith in Phat Dat.  What are the improvements Phat Dat has made to achieve a breakthrough and become a leading company in the industry and claimed a position equal to other prestigious "names"?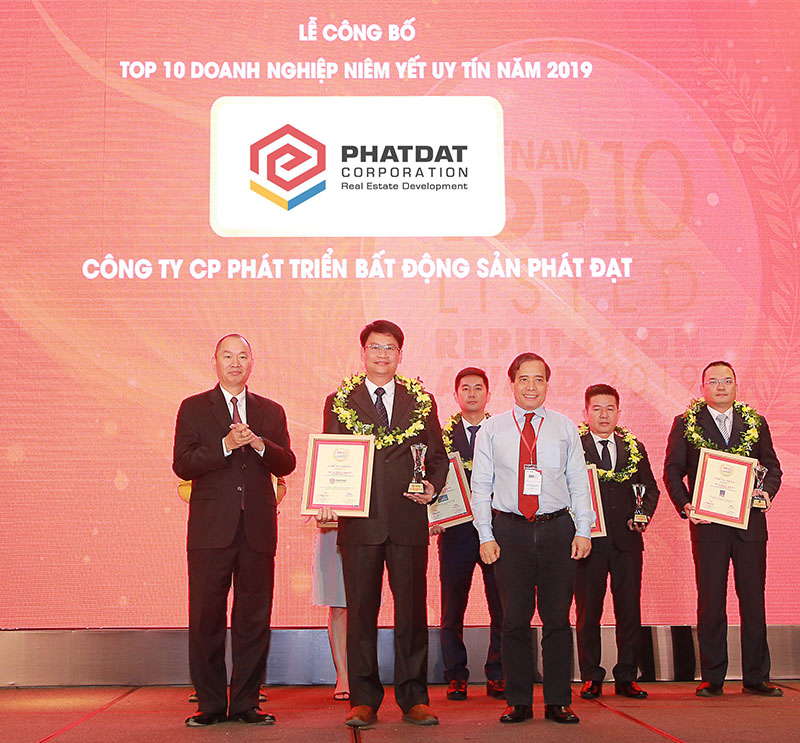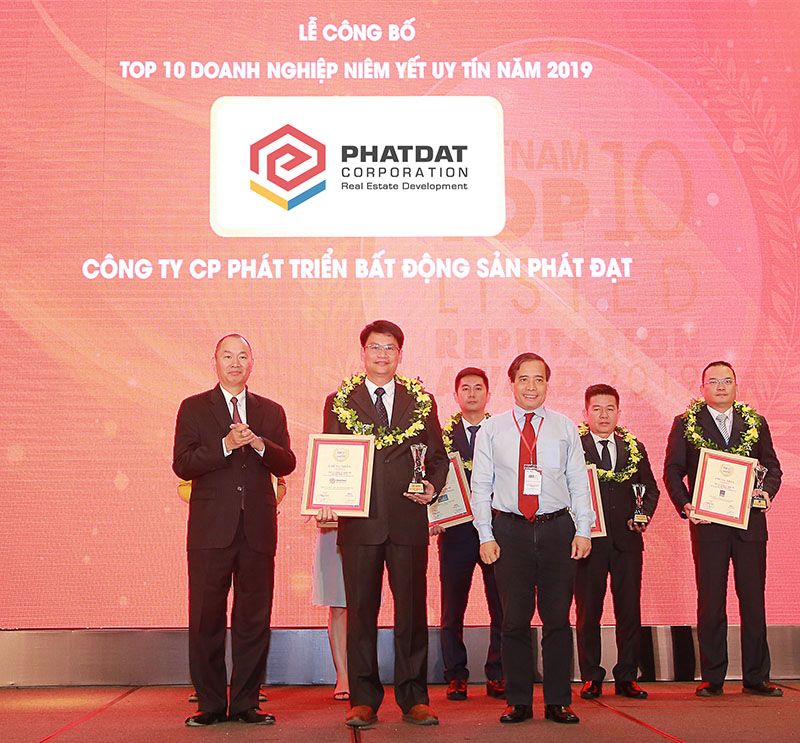 Mr. Pham Trong Hoa – Deputy CEO of Construction receiving the award of Top 10 Best Listed Companies – 2019
Improvement in financial indicators
Prior to 2016, financial problems were still a lingering problem at Phat Dat Real Estate Development (ticker: PDR). However, by the end of 2017, this picture has changed dramatically when the Company has completely settled all of its debts and interests, arisen at banks. This marks a crucial milestone: PDR being one of the very few real estate companies at the time having no bank debts.
Leveraging on the growth momentum in 2018, Phat Dat promptly completed the sales operation of the "The EverRich Infinity" project as well as pink book hand-over to buyers, resulting in significant revenue generation for the Company. 2018 was also a successful year for PDR, achieving highest growth since establishment 14 years ago. Accordingly, net revenue reached nearly VND 2,148 billion, an increase by 62% compared to 2017. Pre-tax profit increased to VND 758 billion, a growth of 38% compared to 2017, same period.
With that ashtonishing growth, PDR is expected to reach a pre-tax profit of VND 1,100 billion in the fiscal year of 2019 (an increase of nearly 50% compared to 2018). The accumulated performance indicators in the first 6 months of 2019 are very positive; specifically, the revenue is recorded at VND 1,968 billion – four times higher than the figure in the same period of 2018.  This will help the company to exceed the profit plan of 2019 set forth at the Annual General Shareholders Meeting.
This success of exceeding the profit target owns to the early completion of infrastructure construction and the sale of 100% of low-rise products under the project No. 4 – Nhon Hoi Urban Ecotourism Area, Binh Dinh as well as the successful sales of 335 land plots of the Phat Dat Bau Ca Residential project in the center of Quang Ngai. Considerable improved financial indicators have contributed to the accelerated cash flow as well as faster capital recovering, helping PDR stabilize financial resources secure capital for the period of 2021 – 2022, without being too dependent on bank loans.
Transparent, proactive and complete information
One of the significant improvements in Phat Dat's reputation in its nearly 10-year history being listed, is the proactive role of the IR and communication department in terms of information disclosure, carried out in modern, standardized and transparent fashion, thereby, gaining trust from investors and shareholders.  With policies oof information disclosure in consensus from the leadership level to specialized departments, financial reports and annual reports are carefully prepared into high-quality newsletters, and periodic meetings are held to provide information as well as create a multidimensional information flow so that investors can grasp the most insightful and comprehensive information.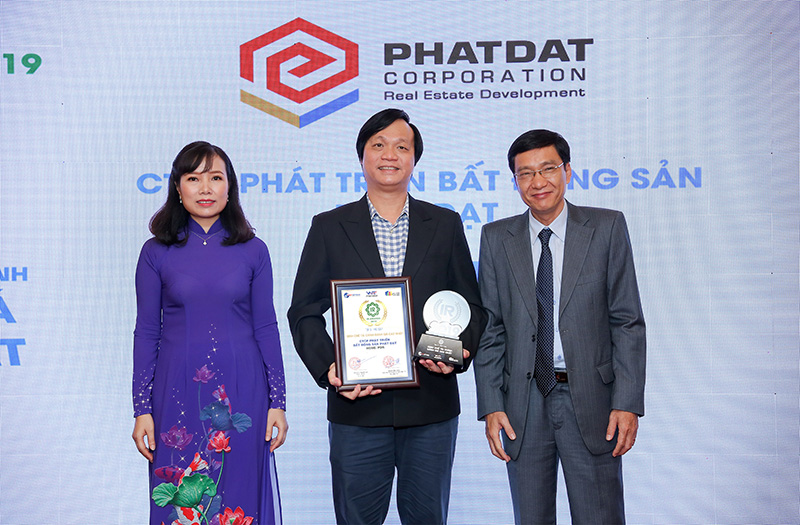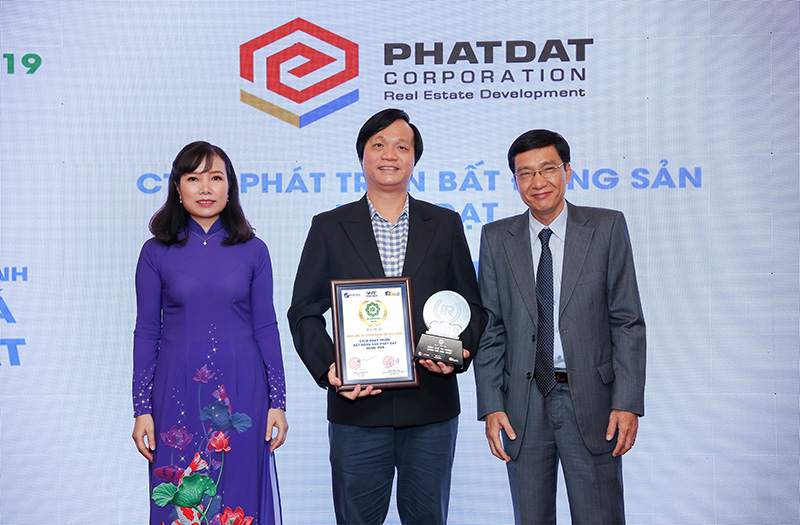 Mr. Bui Quang Anh Vu – Deputy CEO receiving TOP 3 Listed Companies IR Award – Mid-Cap 
In addition, through Vietnam Report's independent research data conducted during the period from May 2018 to May 2019 and Media Coding methodology, based on objective and scientific principles, regarding companies and the media affecting the operation and prestige of leaders, information about PDR is always ranked in the top tier of most read and appreciated and has considerable analytical values.
It can be said that 2019 marks the milestone of Phat Dat's 15-year establishment with continuous development and remarkable business results shown via impressive figures. In addition to internal resources available, information transparency to investor community has also created a special strength towards international investors in the past few years.