Phat Dat sets compound profit growth rate (CAGR) target of 38% per annum from 2019
Phat Dat (HoSE: PDR) organized the first meeting with investors and shareholders in Hanoi, themed "The New Era – Growth Prospects for 2019 – 2023" to inform and discuss the business strategic direction in the next 5 years. Accordingly, the cumulative target profit before tax is set at VND 11,850 billion with an average compound annual growth rate (CAGR) of 38% per year.
The company informs the total land fund owned currently surpasses 420 hectares in Ho Chi Minh City and other coastal provinces and cities across the country such as Phu Quoc, Da Nang, Quang Ngai, Binh Dinh… With this land fund, Phat Dat will be developing a total of 10 real estate projects during 2019 – 2023, focusing on coastal cities, type-2 urban areas where prompt urbanized tourism is expected to occur.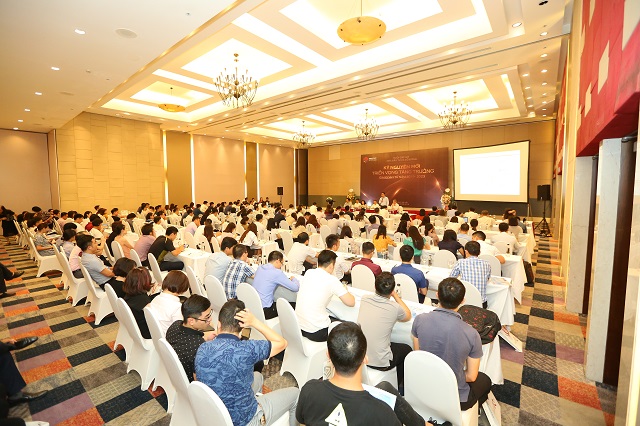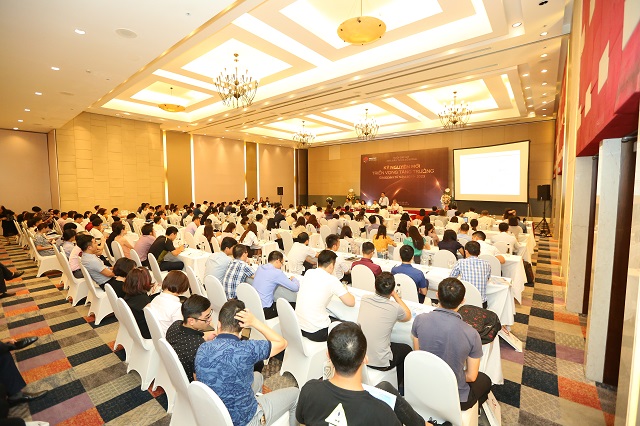 Phat Dat met investors and shareholders in Hanoi. Photo: PDR
The firm's representative states its outstanding project development capability, including legal procedure implementation, prompt infrastructure construction speed, financial management capability and wide network of product distribution partners, Phat Dat is completely confident of on-schedule completion of projects. This will ensure Phat Dat's stable cash flow in the short term and with high profitability.
In 2018, Phat Dat achieved the highest growth after 14 years since establishment. Accordingly, net revenue was nearly VND 2,148 billion, up by 62% compared to last year and profit before tax was VND 758 billion, up by 38%. For this year, Phat Dat expects to reach VND 1,100 billion in profit before tax, increasing by nearly 50%.
According to accumulated business results for the first 6 months, Phat Dat recorded VND 1,968 billion in revenue, VND 308.3 billion in profit before tax. The company sold 94% of land lots of Phat Dat Bau Ca Residential project, located on Quang Trung street, in the center of Quang Ngai City and 100% of low-rise products of Nhon Hoi Urban Eco-tourism Area project – Zone 4, Binh Dinh Province.
Recently, Phat Dat also received prominent awards such as Vietnam Property Awards 2017; 50 Best Performing Companies in 2017 & 2018; Best Developer in Hochiminh 2019 awarded by Dot Property Vietnam Awards 2019; Top 10 Best Listed Companies in 2019.