Phat Dat successfully hosts the webinar "1H2021 Earning Call: PDR"
On 12th August 2021, Phat Dat Real Estate Development Corporation (Stock code: PDR), in collaboration with SSI Securities, successfully cohosted the webinar "1H2021 Earning Call: PDR". This event is to update on the Company's business results for the second quarter of 2021 as well as development directions in the coming time.
The webinar "1H2021 Earning Call: PDR" has drawn attention from many prestigious national and international institutions and investment funds in real estate, insurance, banking, securities, and construction. Especially, the event welcomed major foreign investment funds such as Hansabay Pte Ltd (Singapore), PYN Elite Fund (Finland), and Daiwa AM (Singaporean branch).
At the webinar, Phat Dat Real Estate Development Corporation relayed its business overview along with the prospects and developmental directions in its primary business sectors.
Continuing the growth momentum
It's the severe COVID-19 impacts that the entire Vietnamese economy has undergone many struggles during the first half of 2021. Yet, thanks to the adaptability to new situations, Phat Dat recorded impressive growth.
The Company's accumulated revenue for 1H2021 reached VND 1,123.8 billion, pre-tax profit reached VND 637 billion (+82% YoY), and profit after tax reached VND 502 billion (+80% YoY). Thereby, Phat Dat has completed 27.2% of 2021's pre-tax profit target, following the plan set by the 2021 AGM.
According to the announced plan for long-term growth, Phat Dat targets at VND 14,729 billion in cumulative pre-tax profit for the New Era period (2019-2023), resulting in the 51% CAGR. As far as the plan goes, in 2019 and 2020, PDR recorded pre-tax profit at VND 1,105.3 billion and VND 1,539.1 billion, respectively, exceeding the given targets of VND 1,100 billion and VND 1,500 billion.
Diversified products, flexible capital flows
Also, within the event framework, the Company's representatives elaborated on the strategy of developing landbank, markets, and products. From 2021 to 2025, the Company aims to climb up the Top 5 leading real estate developers in Vietnam, focusing on residential and industrial real estate (including industrial township and warehouses/logistics).
During the next course, PDR will focus on developing projects on landholdings across coastal cities and provinces with high development speed and great investment potentials such as Da Nang, Quang Ngai, Binh Dinh, HCMC, Dong Nai, Binh Duong, and Ba Ria – Vung Tau.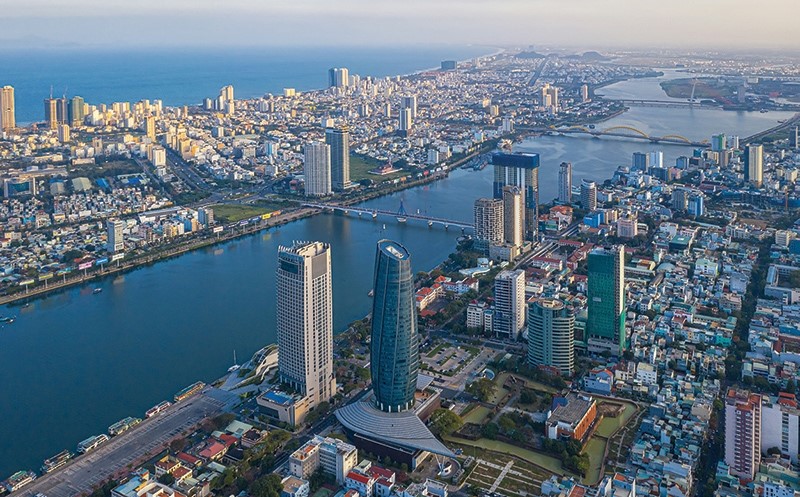 PDR is completing an M&A deal for a "diamond" land in the heart of Da Nang City
In addition to the steady development of residential projects, PDR's venture into the industrial real estate sector with a 24-hectare land near Cai Mep International Terminal (Ba Ria – Vung Tau) with an estimated investment of VND 1,136 billion, as well as setting a target to acquire about 6,000-hectare industrial landbank in Quang Ngai, Binh Duong, Dong Nai, Ba Ria – Vung Tau, and Da Nang, clearly demonstrates a flexible strategic move to diversify revenue streams and generate sustainable cash flows & stable financial sources for Phat Dat's plans.
A solid stepping stone for the 5-year journey from 2021 towards 2025
To fuel strong growth, the Company always pays attention to financial health through restructuring capital sources, shifting to medium and long-term structure, improving cash flow and financial indicators with long-term capital mobilizing plans. The effective capital allocation enables PDR a proactive position in modifying capital circulation for project investment and development as well as improving the Company's creditworthiness among credit financial institutions.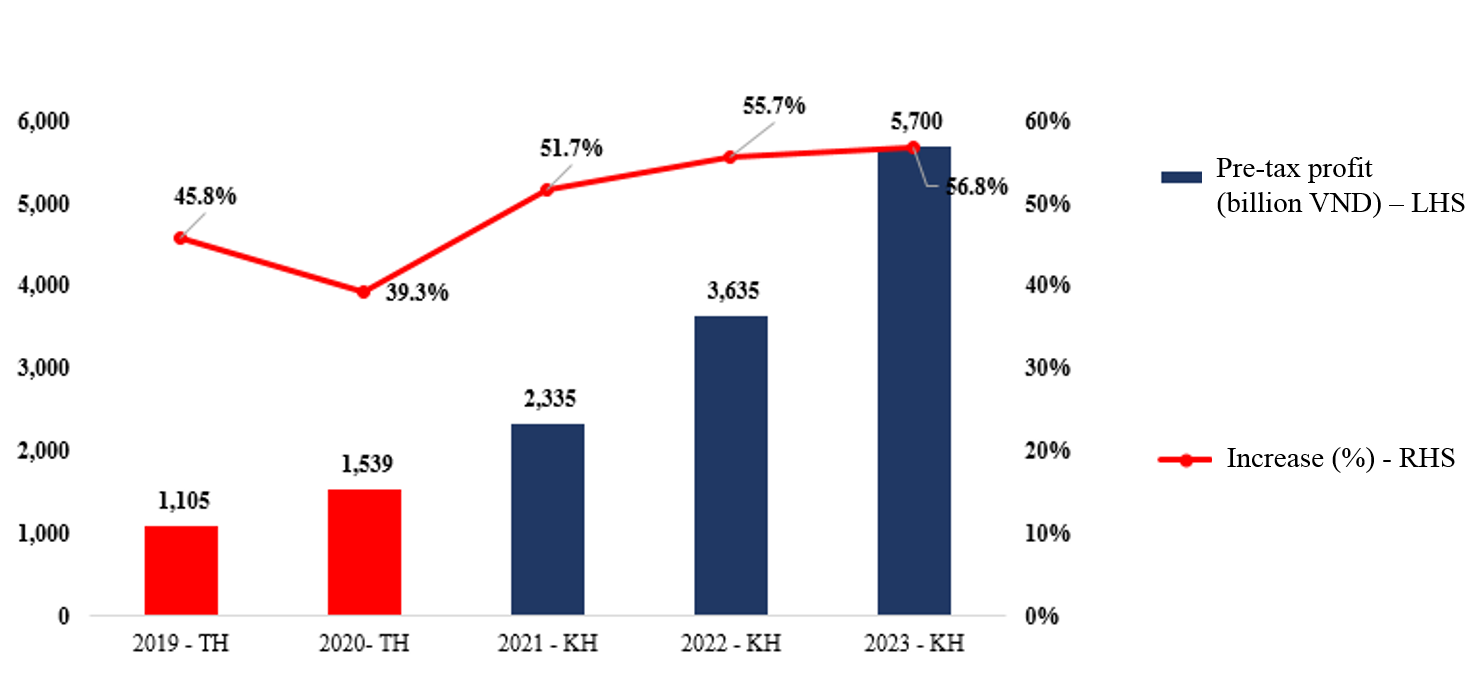 Pre-tax profit from 2019 – 2020 and targeted pre-tax profit for 2021-2023 (source: PDR's financial statements)
The achievements from flexible business strategy, excellent governance, healthy financial capacity, and qualified human resources, along with the ability to thoroughly analyze market movements, have formed the solid foundation for further breakthroughs, fulfilling the profit target set out from 2021 to 2025 and conquering new heights.
After the sharing from the panelists, investors highly appreciated PDR's competitive edges in terms of current financial strategy and land bank development strategy. In the context of the government's efforts to effectively control the epidemic, Vietnam is highly recommended as a safe destination for investors, which lays premises for long-term cooperation between the Company and future investors.