Phat Dat won the auction for land use rights of Nhon Hoi Ecotourism Urban Area - Zone No. 2, Binh Dinh
Following the 2019 Annual General Shareholders' Meeting, Phat Dat, again, won the bidding for land use rights (LUR) of the Zone No. 2 of 36.1 ha in Nhon Hoi Ecotourism Urban Area, Binh Dinh.
Binh Dinh – eventful real estate market
Since 2016, Binh Dinh has become somewhat of an epicenter for planning and construction of infrastructural projects, new urban areas as well as new modern township areas to develop the local economy and tourism services. The Binh Dinh real estate market has been significantly boosted by such activities, especially the real estate properties within hospitality in the region are gaining impressive price increase, confidently amongst the highest in Vietnam currently.
Figures released by the market research companies unveiled that the land price in the coastal areas of Quy Nhon surged over 100% in the past 12 months. The newly developed coastal areas such as Nhon Ly and Nhon Hoi were characterized by price escalation of nearly 4-5 compared to 2014 – 2015. However, such escalation is still expected to occur as the supporting infrastructure completes and hospitality projects are in operation. The real estate price escalation was caused by mismatch in supply – demand whereas demand tipped the scale, giving massive motivation to real estate "giants" in Vietnam to be present, especially large developers from Hanoi and Ho Chi Minh City. As of this very moment, Binh Dinh is housing more than 70 ongoing real estate projects within hospitality, residential area and urban area developments.
Phat Dat continues winning auction of land use rights in Binh Dinh
Grasping the market shift, Phat Dat had invested great efforts at recent auction for land use rights and development of residential area projects in Binh Dinh. On 1 April 2019, Phat Dat and 3 other real estate players joined the auction for the land use rights (LUR) of the 36.1 hectares Zone No. 2 of the Nhon Hoi Ecotourism Urban Area.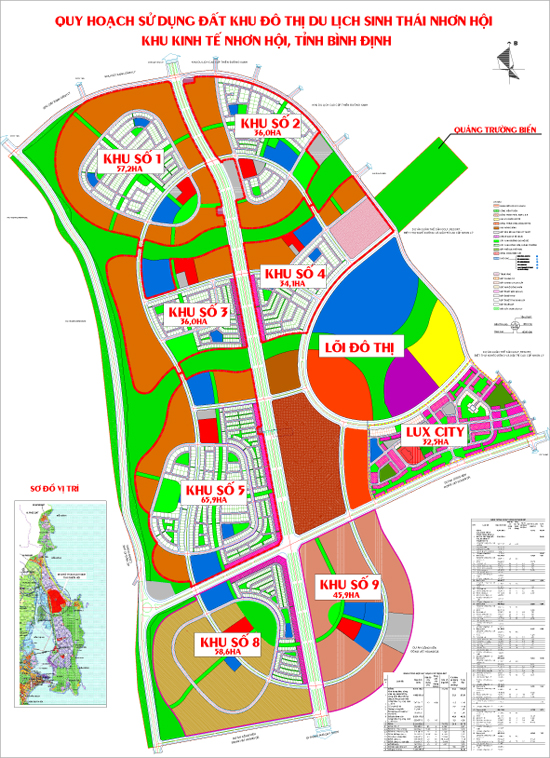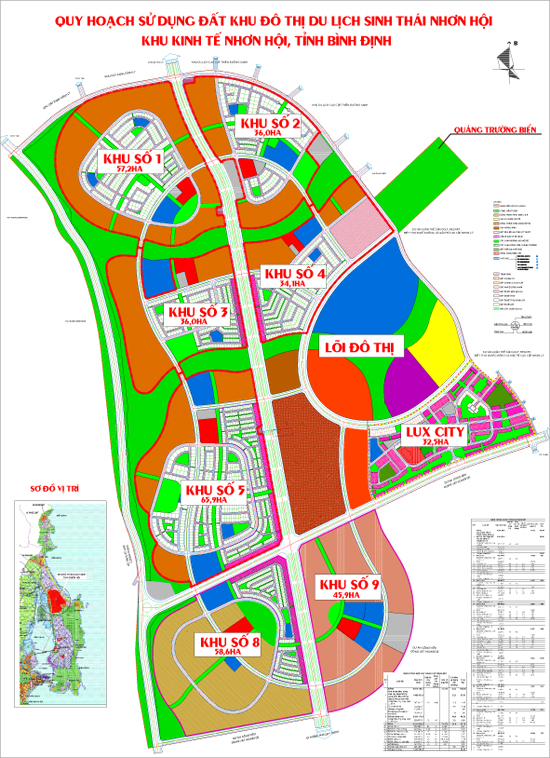 According to the approved detailed 1/500 scale plan of Nhon Hoi Ecotourism Urban Area, Zone No. 2 is planned for residentials, including 20.8 hectares for detached villas and attached residences, condominiums and 2.7 hectare land for supporting services. All and all, coupled with a construction density of 50-60%, depending on the actual land category. Total investment is expected to be approximately VND 7,970 billion.
The auction was concluded by indirectly voting with the highest bid, Phat Dat exceeded "heavy" competitors such as Vinaconex  (ticker: VCG) at several direct auction rounds and officially won the auction of land use rights for the urban development investment projects in Zone No. 2, worth approximately VND 1,100 billion.
Project development strategy in key non-HCMC markets
Winning auction of land use rights for Zone No. 2 of Nhon Hoi Ecotourism Urban Area Project was the next step to enhance Phat Dat's powerful presence in Binh Dinh. Previously, at the beginning of 2019, Phat Dat was awarded the land use rights of 34.1-hectare Zone No. 4 of the same Project and selected as the investor to develop Bac Ha Thanh Residential Area Project, covering an area of 55.7 hectares. Phat Dat currently own a total of 120 hectares land bank in Binh Dinh region.
Coupled with prompt development of the Binh Dinh projects, Phat Dat is deploying similar projects in Quang Ngai and Phu Quoc. Among the 426 hectares of land bank to be developed in 2019 by PDR, up to nearly 400 hectares account for non-HCMC residential area and urban area projects. This unveils that PDR's clear, solid and focused strategy to develop projects with land plots as main products in strategic non-HCMC key real estate markets.
Feasibility for the 2019 revenue and profit objectives
Changes in land bank development strategy and continuous successful biddings of residential areas and urban areas development project in key markets enhance Phat Dat to be much ambitious in business objectives in 2019. At the Annual General Shareholders' Meeting, a target of VND 9,000 billion in revenue was approved. Accordingly, the revenue from the non-HCMC residential area and urban area projects made up approximately VND 2,000 billion. The 2019 pre-tax profit plan of VND 1,000 billion was approved, significantly up by 32% compared to 2018.
"The profit growth rate of 20-25% can certainly be maintained" as shared by Mr. Nguyen Van Dat, Chairman cum CEO.
The stock market's positive responses to the changes in land bank development strategic as well as PDR's projects, clearly indicated a trust to Phat D at's 2019 plan whichc is shown through stock price (ticker: PDR) that surged over 13% in Q1/2019 with average transaction volume of approximately 1 million shares. Meanwhile, majority of other real estate share price remained unchanged or decreased.