Phat Dat works proactively to reduce debts
Thanks to constant growing business performance, Phat Dat Real Estate Development Corporation (Stock Code: PDR) is positively restructuring its capital, including continuous loan settlements. As a result, short-term and long-term debts is expected to narrow down to VND 1,018.9 billion by the end of July 2021.
Phat Dat showcases its impressive speedy development and sustainable internal resources in all business aspects, especially in the first 3 years of implementing the New Era strategy (2019-2023). Typically, in 2019, PDR's net revenue exceeded VND 3,400 billion, and pre-tax profit reached over VND 1,105 billion, up 45.8% YoY. In 2020, despite the economy and market greatly affected by the Covid-19, net revenue was over VND 3,911 billion, and pre-tax profit was at VND 1,540.22 billion, increasing by 15% and 39.3% YoY, respectively.
At the end of 1Q2021, Phat Dat remained in the Top 15 most profitable real estate enterprises in the quarter with net revenue of VND 586.1 billion. Profit before tax and profit after tax reached VND 314.93 billion and VND 251.07 billion, respectively, equivalent to an increase of over 60% YoY.  Simultaneously, the PDR ticker, as well as PDR's market capitalization, also continually thrived, becoming a positive contributor to the overall gain of the VN-Index. As of 14th June 2021, PDR shares were traded at VND 91,400/share, up 118% compared to the beginning of 2021, elevating PDR's market cap to more than VND 44,490 billion or USD 1.93 billion.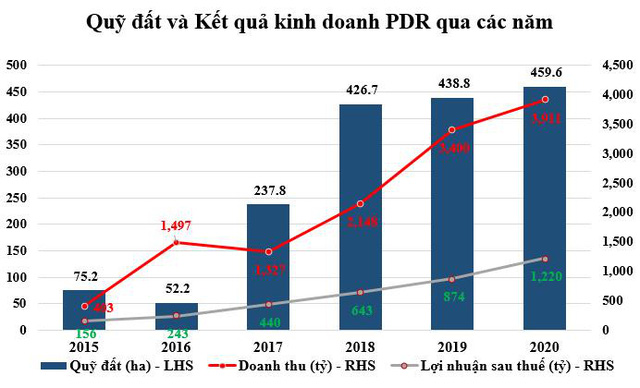 PDR's Landholdings and business performance over the years
The strong cash flow with such impressive revenue and profit performance has enabled Phat Dat to restructure its loans, and expectedly, the total debts will be at about VND 1,000 billion by late July 2021.
Specifically, as of 31st March 2021, PDR's short-term loans stood at VND 1,303.6 billion. In April and May 2021, PDR paid off VND 878.55 billion of bank loans (205 billion VND) and loans from Vietnam New Urban Center LP Fund (521.55 billion VND). It is expected that in June and July 2021, PDR will continue to settle a total of VND 411.122 billion of bonds issued in 2020; resulting in short-term loans by 31st July 2021 will be only VND 114 billion.
As for long-term loans, the outstanding balance as of 31st March 2021 is standing at VND 874.94 billion. On 15th April 2021, PDR paid VND 250 billion of bond issued in 2019 before maturity. Following, Phat Dat issued 2021's second bond of VND 150 billion in April and 2021's third bond of VND 130 billion in May. Therefore, PDR's total long-term debt is estimated at about VND 904.9 billion at the end of July 2021.
The largest proportion of PDR's long-term payables is recorded under The EverRich 2 and The EverRich 3 projects with a total value of VND 5,547.43 billion. In fact, this is not a debt account because having transferred these two projects, PDR received the amount and handed over all responsibilities and benefits to partners in 2019. Upon completing legal procedures in accordance with the laws, this amount will be recognized in revenue, and The EverRich 2 and The EverRich 3 will no longer be included in the inventory and liability accounts.
Thus, it is estimated that the total actual debt obligations of PDR will be only VND 1,018.9 billion by the end of July 2021.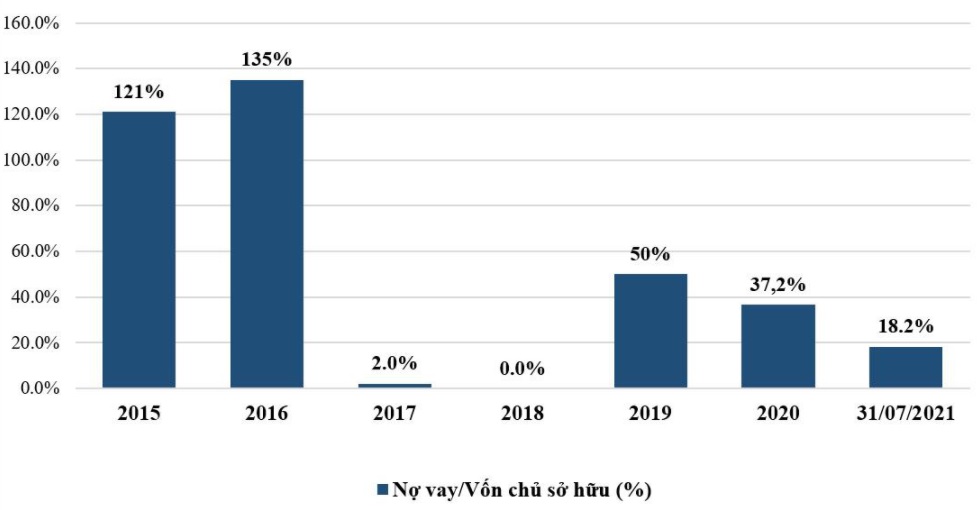 PDR's liability structure over the years and estimated by 31/07/2021.
Meanwhile, PDR's equity is estimated at VND 7,119.34 billion at the end of July 2021. When subtracting the minority interest, the remaining equity is VND 5,575.24 billion; thus, the estimated debt-to-equity (D/E) ratio at 18.2% is well below the average 77.2% D/E of same-scale businesses in the real estate industry.
With a high reputation in the market and such a low D/E ratio, Phat Dat is proactive in mobilizing new funding sources and increasing its total debts to finance projects that bring about high profitability and stable cash flows in the coming time.
Theo https://cafef.vn/
https://cafef.vn/bat-dong-san-phat-dat-tich-cuc-giam-cac-khoan-no-vay-20210616183704596.chn