Phat Dat's gross profit margin increased sharply to 84.1% in Q12022
Phat Dat Real Estate Development Corporation (stock code: PDR) recently released its 1Q2022 quarterly financial results, with net revenue and profit after tax both increasing by 6.7 percent and 11.3 percent YOY, respectively. The Company's gross profit margin improved significantly from 65.7% in the first quarter to 84.1% in the second quarter of 2022. As a result, it has maintained a consistent growth rate while aggressively pursuing the goals set forth in its business strategy.
Profit margin increased to 84.1% in 1Q2022
On 20th April, Phat Dat published its consolidated financial statements for 1Q2022. Accordingly, net revenue reached VND 625.5 billion (slightly increased by 6.7% over the same period in 2020). Indeed, the Company handed over high-rise products in Zone 4 (accounting for nearly 96% of total consolidated revenue) and the remaining of Zone 2 of Nhon Hoi Ecotourism City – Binh Dinh and the Bau Ca project in Quang Ngai. The cost of goods sold in the period fell sharply by 50.6% YoY, bringing PDR's gross profit margin to 84.1% in 1Q2022 (65.7% in 1Q2021). Gross profit in the period was VND 526.1 billion (+36.7% YoY).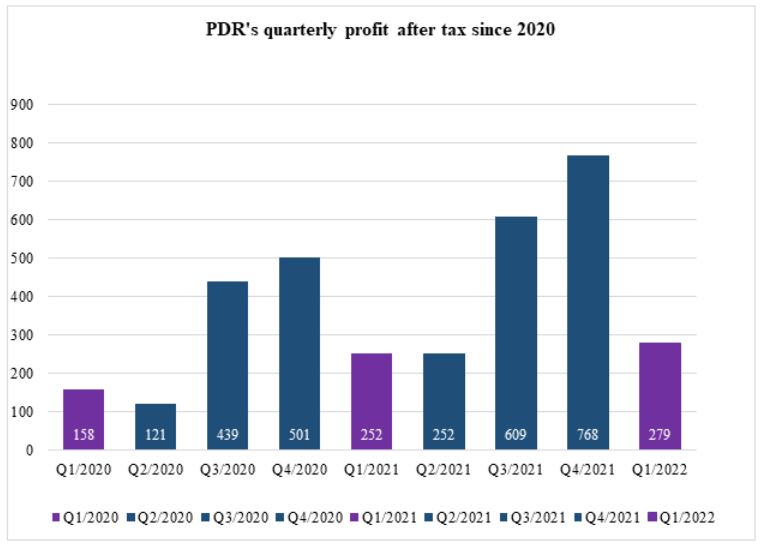 (Source: PDR's consolidated financial statements) 
Selling expenses climbed by 27.1% YoY to VND5.3 billion due to higher brokerage expenses. General and administrative expenses reached VND 60.1 billion or up 39.4% YoY, owing to the increased salary and outsourced services. In 1Q2022, total net operational profit was VND 355.1 billion (+12.2% YoY). 
In terms of profit, PDR recorded a minus VND1.4 billion in another profit, less severe than the minus VND 1.7 billion of 1Q2021. The Company's total pre-tax accounting profit reached VND 353.6 billion (+12.3% YoY), and net PAT reached VND 279.4 billion (+11.3% YoY). ESP reached 552 VND/share, equivalent to the same period in 2021. 
Financial structure remains safe & healthy 
In terms of asset structure, as of 31st March 2022, PDR's total assets grew by 4.8% YTD to VND 21,535.5 billion. In which, cash and cash equivalents reached nearly VND350 billion or 1.6% of total assets structure. Short-term investment remained unchanged from the end of 2021 at VND 21.6 billion. 
Short-term receivables rose by 34.0% YTD to VND3,368.7 billion, mainly from short-term advances to vendors (VND 1,584.7 billion or 2.13 times higher than the same period last year). These are the amounts that PDR advances to contractors to ensure committed schedules. Short-term trade receivables fell substantially from VND 664.4 billion at the end of 2021 to nearly VND 400 billion by the end of March, indicating that the Company's debt collection is doing rather successfully. Other short-term receivables rose marginally, and the provision for doubtful short-term receivables remained the same as in 2021. In the period, PDR's inventory remained unchanged at VND 12,225 billion. 
As for long-term assets, long-term receivables increased by 11.7% YTD to VND 2,046.2 billion, owing mostly to a VND 221.4 billion increase in long-term trade receivables. Fixed assets fell slightly by 1.8% to VND 137.3 billion, while investment properties fell slightly to VND 67.5 billion. Construction in progress rose slightly by 2.5% to VND 984.0 billion due to an increase from the Company's office building at 39 Pham Ngoc Thach (District 3) and the technical infrastructure construction in Co Dai Area (District 9.)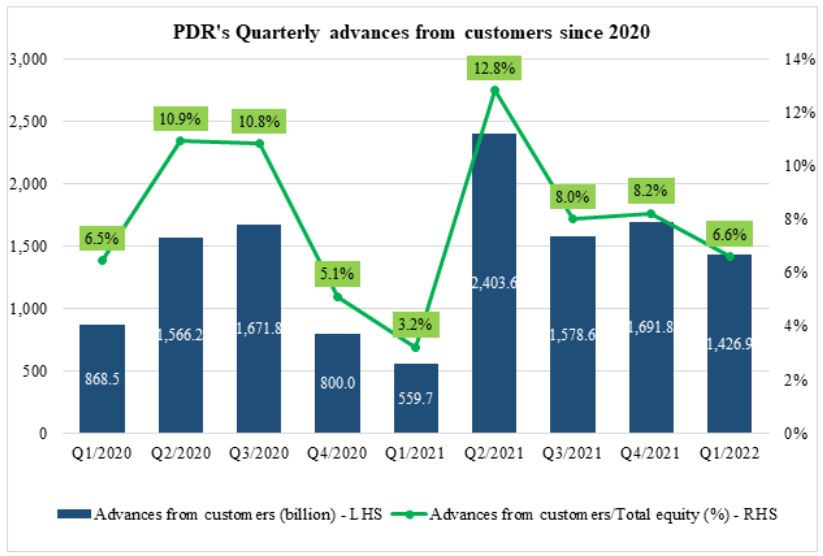 (Source: PDR's consolidated financial statements)
PDR's total liabilities as of 31st March 2022 reached VND 13,147.1 billion, up 6% from the start of the year. In which, short-term trade payables were lower at VND 139.3 billion. Short-term advances from customers plummeted by 15.7% to VND1,426.9 billion, mainly due to the handover of high-rise products in Nhon Hoi Ecotourism City. Statutory obligations, payables to employees, short-term accrued expenses and other short-term payables altered slightly compared to 2021. 
Short-term loans increased by VND 415.7 billion compared to the beginning of the year, mainly due to matured long-term loans. Long-term loans increased by VND 973.3 billion to VND 3,593.4 billion because PDR concluded the 10th bond issuance in 2021 with a total value of VND 500 billion to finance its projects and subsidiaries. In addition, on 1st April 2022, PDR completed a bond issue worth VND 300 billion with a 2-year term. Especially on 24 March 2022, PDR signed an investment cooperation agreement with ACA Investments, a fund manager of Daiwa Securities Group Incorporation in Japan. Accordingly, ACA made an initial investment of USD 30 million in PDR through an unsecured loan with the right to convert into ordinary shares via private placement. The convertible loan has a 3-year term, a preferential interest rate of 8%year and a conversion price of VND 120,000/share, equivalent to a market cap of VND 60,000 billion. Thanks to the partnership with ACA and the stable outlook 'B' credit rating from Fitch Ratings – the world's leading prestigious credit rating agency, PDR has proven its ability to comply with strict regulation of international investment funds in all issues of collateral, commitments and the capability to implement and execute the proposed plans.
Solid and stable growth over the years 
Since 2017, PDR's market capitalization and market value have constantly improved as a result of growing business operations, a well-maintained sustainable financial structure and outstanding profitability. (PDR's net revenue grew by 2.73 times with a CAGR of 28.5%; profit after tax attributable to the parent company grew by 6.51 times with a CAGR of 59.8%; and basic earnings per share grew 1.98 times with a CAGR of 18.6%.)
PDR has set a 5-year compound profit growth rate (CAGR) of 51% for the period from 2019 to 2023, which is higher than the 5-year period from 2016 to 2020, demonstrating the Company's prospects and determination to improve its value, image, and stature while also benefiting shareholders and investors.
Furthermore, while PDR's market capitalization and enterprise value have expanded by more than 2.2 times since 2017, the company's price-to-earnings (P/E) ratio has declined from 46.64 to 23.55, the lowest in the whole period, along with lower price-to-book (P/B) and price-per-share (P/S) ratios. This demonstrates that PDR's growth rate is larger than the share price's growth rate, making the Company's value very appealing to investors.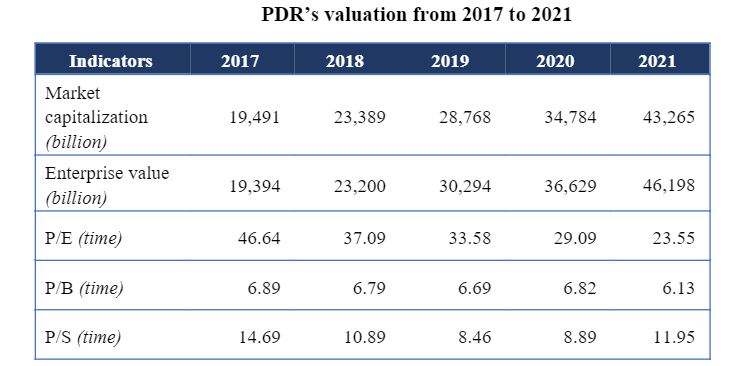 (Source: Fiinpro, data based on the closing price on 18 April 2022) 
Business results in the first quarter of 2022 continued to grow positively, bolstering PDR's confidence in completing the 2022 business plan with the revenue target tripling and profit after tax increasing by more than 55% compared to 2021. A stable and high growth rate will help strengthen Phat Dat's brand value. Primarily, the Company consistently fulfills the committed targets as well as achieves the given plan, bringing increasing outstanding values to shareholders in the future.