Press release: 2022 Annual General Meeting of Phat Dat Real Estate Development Corporation
HCM City – On 26th March 2022, Phat Dat Real Estate Development Corporation (Stock code: PDR), hereinafter referred to as "the Company" or "Phat Dat", organized the 2022 Annual General Meeting of Shareholders (AGM) at Nikko Saigon Hotel. 
This year, Phat Dat features the theme "Relentless aspiration." This theme highlights Phat Dat's will and ambition – one of the most important motivations behind Phat Dat's outstanding strength. Accordingly, very ambitious targets are set early on and relentlessly pursued even in the face of intense challenges. Upon completing these goals, Phat Dat would reach for higher aspirations with bigger targets, refusing to let complacency stop or slow it down. Daring to have big dreams and nurturing them into strong aspirations are the desirable attitudes that PDR seeks to instill in its employees and companions.
Main content of the 2022 AGM
1. BUSINESS RESULTS IN 2021
In 2021, Vietnam's economy, society and real estate market were heavily affected by the Covid-19 pandemic. However, with a consistent roadmap, clear goals, flexible business strategies, and outstanding management and operating capabilities, Phat Dat exceeded the profit targets approved at the 2021 AGM.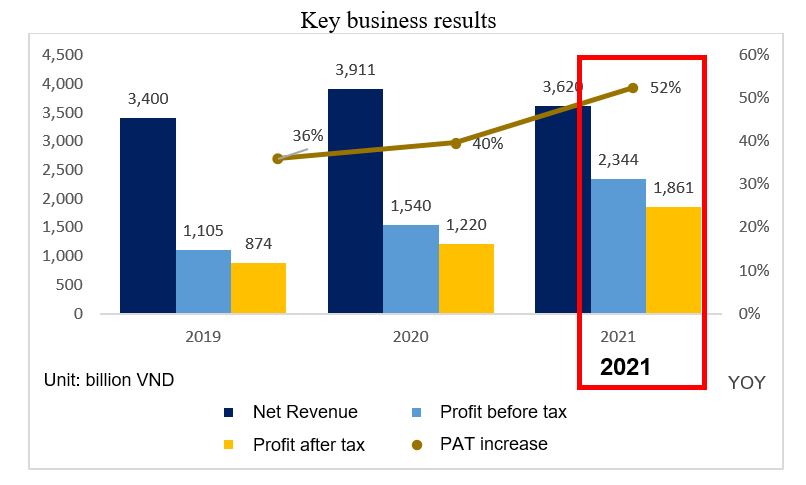 Following the success of previous years, Phat Dat continued its vigorous growth in 2021. The Company's net revenue in the past year reached VND 3,620 billion, gross profit reached VND 2,763 billion (up 51% YoY), pre-tax profit reached VND 2,344 billion (up 52% YoY), and profit after tax reached VND 1,861 billion (up 53% YoY). Business efficiency also increased significantly, with 2021's gross profit margin at 76% and net profit margin at 51%. As a result, PDR completed 100% of the PBT target approved at the 2021 AGM.
In 2021, PDR reached USD2.1 billion in market capitalization. Corporate reputation has pervaded on a large scale with positive recognition from the community, investors, and customers. Fitch Ratings, the world's leading credit rating agency, has affirmed PDR's IDR at 'B' for an "outlook stable." The ticker PDR is present in VN30 Index – top large-cap stocks with high liquidity, and other major international indices such as MSCI Frontier Market Index. With efforts to reach beyond the limits, PDR has achieved leaps and bounds in many aspects, creating a profound success with a new position among leading real estate enterprises as well as top listed companies in the Vietnam stock market. In addition, Phat Dat won the first prize in the Top 10 large-cap Best Annual Reports, jointly organized by HOSE, HNX and Vietnam Investment Review, and entered the three leading companies of the Top 50 Vietnam's best growth enterprises by Vietnam Report.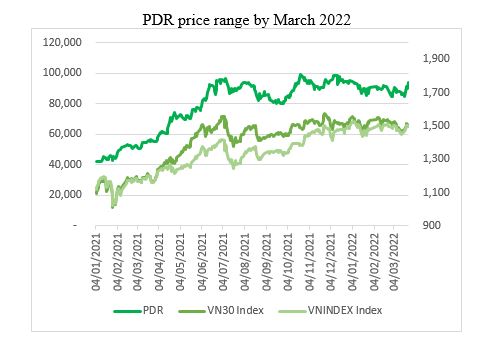 2021 was also a successful year for Phat Dat's shareholders as the ticker continuously made leaps. From the beginning of 2021 to 18th February 2022, PDR stock recorded a cumulative price increase of 116.32% after adjustment, completely outperforming the returns of VN-INDEX (34.30%) and VN30 (40.26%), which reflects a marked improvement in its intrinsic values. The market cap peaked at $2.12 billion on 22nd October 2021.
2. 2021 DIVIDEND PAYMENT PLAN  

3. ORIENTATIONS AND TARGETS FOR 2022 
a. Business targets:
Revenue from sales and services (excluding VAT): VND 10,700 billion 
Profit before tax: VND 3,635 billion  
Profit after tax: VND 2,908 billion  
2022's PBT is targeted at VND 3,635 billion, or an increase of 55% compared to 2021, marking 2022 the first year that Phat Dat surpassed the profit threshold of VND 3,500 billion – an impressive figure in the complicated market setting. 
b. Strategic orientations in 2022:
PDR will focus on implementing development strategies in 2022, including (i) expanding land banks to meet both residential and industrial real estate needs, (ii) improving equity capacity and maintaining financial ratios that are superior to other real estate companies in the same segment, (iii) restructuring the management apparatus to increase the stability of the foundation and internal resources, (iv) building a corporate governance model according to modern standards, (v) creating a modern, professional and humane working environment towards the harmonious interests of all stakeholders and (vi) enhancing CSR activities in both efficiency and social impacts. 
With firm leadership, proven strategy and clear direction, the Company is completely confident in implementing all the plans for 2022 as well as achieving all given targets and tasks. Thereby, all commitments to shareholders will be guaranteed at the highest level.