Strategic cooperation from big brands to develop the condotel tower in Ngo May commercial services and coastal hotel & condotel complex
On 9th May 2022, at Gem Center in HCMC, the signing ceremony between Ngo May Real Estate Investment JSC and strategic partners to develop the condotel tower in Ngo May commercial services and coastal hotel & condotel Complex took place successfully. The ceremony signifies the beginning of a partnership to develop high-quality products in Quy Nhon's most strategic location. This event is expected to boost the market by offering hospitality products of international standards to visitors when coming to this picturesque beach.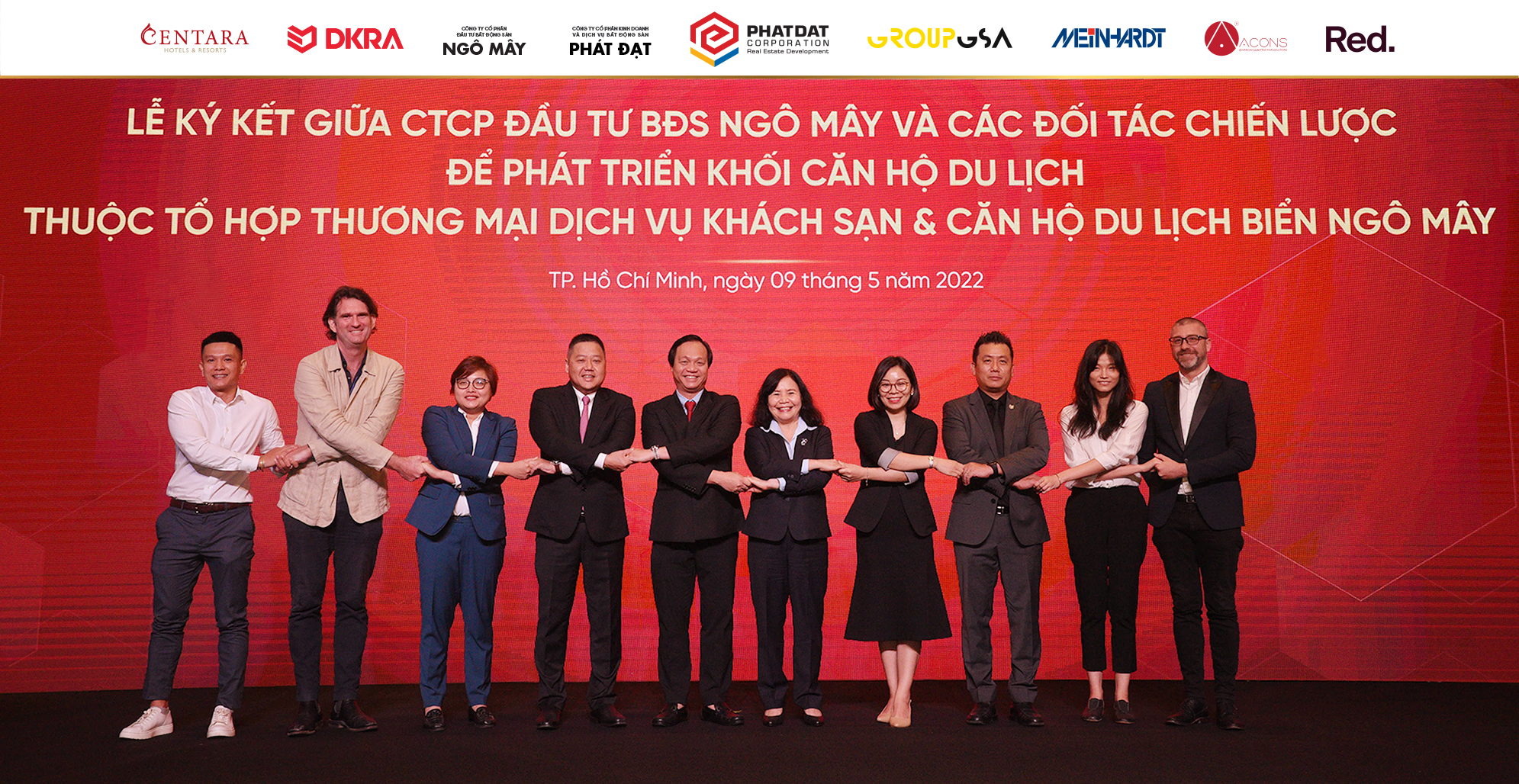 The signing ceremony 
 The development of the condotel tower in Ngo May Complex (Binh Dinh province) involves major names such as Centara Hotels & Resorts (Thailand), GSA (Australia), Meinhardt (Singapore), ACONS (Vietnam), Red Design (Australia), Phat Dat Real Estate Business & Service JSC – a member of PDR, and DKRA Vietnam. This 'handshake' seeks to employ each partner's expertise to offer hospitality products with construction quality and international-standard operations. Additionally, the project is expected to assist the development of Quy Nhon's tourism sector when launching high-end hospitality properties to embrace the increasing needs of domestic and international tourism after the suppression of the covid-19 pandemic. 
Cooperation towards sustainable development 
Speaking at the ceremony, Mr. Bui Quang Anh Vu – CEO of Phat Dat, added, "Phat Dat is regarded as a reputable developer with many years of experience in real estate investment and development. Indeed, PDR has risen to become one of Vietnam's Top 3 largest real estate developers and Top 20 public enterprises. We will leverage our strengths to achieve maximum efficiency through this partnership, providing the finest quality products to investors and customers." Besides, the project developer – Phat Dat Real Estate Service & Business JSC, a member of Phat Dat Group, will apply its strengths in building real estate products based on an in-depth understanding of customer insights and market trends, bringing sustainable added value for customers' investment and travelers' experience at Ngo May's beach condotels.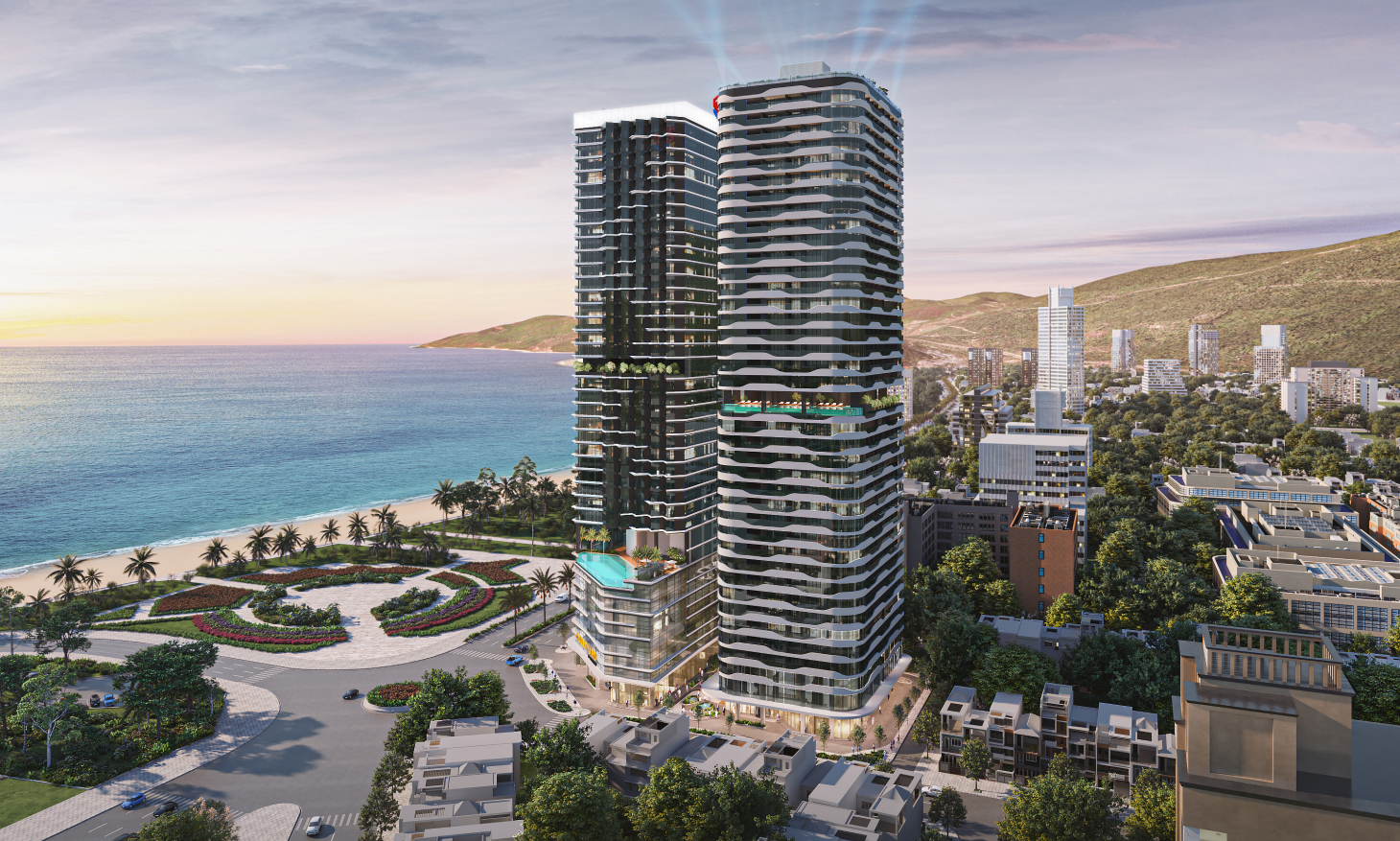 CGI of Ngo May commercial services and coastal hotel & condotel complex 
The project developers and the investor, Ngo May Real Estate Investment JSC, have thoroughly selected reputable partners with extensive expertise to bring unique experiences to customers and project amenities closer to worthy owners. Another objective is to offer a hospitality product line that is not only well built but also managed by a renowned multinational operator. Condotel investors will benefit from the combination of premier units in each industry as profit value grows over time, while visitors staying at the facility will enjoy a family vacation with world-class features.
In real estate development, operation management is as important as planning, construction and distribution. Accordingly, Centara Hotels & Resorts is carefully selected as the operator of the condotel tower. Thus, the profound experience from their experts will generate outstanding values in establishing a full range of facilities that meet international standards, enabling growing benefits to condotel investors. As a well-known global hotel operator under Central Group, Centara Hotels & Resorts has solidified its reputation with a portfolio of over 75 hotels across famous Asian destinations. The management and operation of Centara Hotel & Resorts will be a strong point in making the project an ideal and unforgettable tourist destination in Quy Nhon.
At the signing ceremony, DKRA Vietnam was trusted to be the key player in the project's marketing & distribution. Currently, DKRA Vietnam is a leading property consultant in Vietnam with a comprehensive and aligned service chain from market research, marketing, distribution, and operation in all sectors, especially specializing in hospitality real estate and high-end segments. With its contribution to the real estate market, DKRA Vietnam has been honored "Vietnam's Best Real Estate Agency 2021" by Asia Pacific Property Awards and "Southeast Asia's Best Real Estate Agencies" by Dot Property Southeast Asia for three consecutive years, 2019, 2020 and 2021. 
With such big names on board, the condotel tower of Ngo May Complex in Quy Nhon City – Binh Dinh Province, will earn its deserving spotlight and become a popular tourist destination. 
Ngo May – An attractive destination in the heart of Quy Nhon coastal city 
 The condotel tower in Ngo May commercial services and coastal hotel & condotel complex is a unique hospitality project that converges both the high-end resort values and rental profitability. Following the criteria "location first, then direction," the project is located on a 'golden' site at No. 01 Ngo May Street, Nguyen Van Cu Ward, Quy Nhon City, Binh Dinh Province, with a direct view of the sea and the central square. The land is at a strategic roundabout where the 5 bustling city roads meet: An Duong Vuong, Nguyen Tat Thanh, Xuan Dieu, Dien Hong, and Ngo May. In addition to the ideal and relaxing living space in harmony with nature, according to the concept of feng shui, the lucky 'embracing-the-sea' position will generate prosperity, fortune and smoothness for its owners.
Thanks to the unique "diamond" location in the heart of Quy Nhon coastal city, the project will be a highlight that meets all the demanding needs. The project is proudly in favor of minimalism in design and layout but of no less modern and sophisticated elegance in every corner. Positioned in the high-end segment, each apartment and service provided is likened to a unique work of art. At the same time, the cleverly-arranged green space helps elevate the image of condotel investors as well as tourists.
From all the above factors, the project will be a great spotlight of Quy Nhon's hospitality real estate segment. It will aid tourism growth in Quy Nhon, address the shortage of premium accommodations and provide investors with a long-term and profitable investment opportunity.