The coming Serenity Phuoc Hai – brought by Phat Dat Real Estate Developer
As well as the plan goes, in May 2022, Phat Dat Real Estate Development Corporation (HoSe: PDR) is introducing Serenity Phuoc Hai, which is expected to be a marked advance of the Enterprise in the hospitality real estate market in Ba Ria – Vung Tau Province.
The driving force of Ba Ria – Vung Tau market
Transport infrastructure is a spotlight that makes Ba Ria – Vung Tau (BR-VT) the most popular real estate playground for investors. Since 2020, BR-VT province has implemented many vital projects, typically mentioning the Bien Hoa – Vung Tau Expressway; upgraded Con Dao Airport; Vung Tau International Cruise Terminal; and Long Thanh International Airport. Recently, many highways have been opened, facilitating the connection and trade between what is considered the "gateway to the East Sea" and southern provinces. In particular, BRVT province has approved an investment to expand the coastal road from Vung Tau to Binh Chau to 6 lanes. Located on the most beautiful coastal route in Vietnam from Vung Tau to Binh Thuan, passing 4 beautiful tropical beaches, this part is presented an opportunity to become the most prominent tourist paradise in Vietnam.
According to Neil Macgregor, Managing Director of Savills Vietnam, two major transport infrastructure works in the region, Cai Mep – Thi Vai International Terminal and Long Thanh International Airport, are affecting most of the real estate markets in the South, and Vung Tau is the locality that benefits the most. The port cluster Thi Vai – Cai Mep will be the key trade gateway to the South, while Long Thanh International Airport, just 70km from Vung Tau city, is considered a "key megaproject" of the nation. With the expected launch in 2025, this largest airport in Vietnam will have a capacity of 25 million passengers per year in its first phase. About 50 minutes from Long Thanh, BR-VT will be the closest tourist destination to this new international airport, promising a large number of tourists.
Reality shows that not only tourists but also investors appreciate the attractiveness of high-end hospitality properties in the BR-VT market. Significantly, despite the negative impacts of Covid-19, the area of Long Hai, Long Dien, and Phuoc Hai remain vibrant throughout the last months of 2021. Particularly, the market's price uptrend in Xuyen Moc and Phuoc Hai evolves from the demand for real estate gradually warming up right after the loosen social distancing. The need for housing in BR-VT increased by nearly 25% compared to the same period last year. Of which, Xuyen Moc, Vung Tau City, and Phuoc Hai are the top 3 localities with the most search for appealing properties in the province.
Outstanding new factor in Phuoc Hai Township
Phuoc Hai is planned to become an urban – service – tourism – fishery hub of Dat Do District, which is famous for its magnificent pristine beaches, distinctive architectural works, and a fishing village with a long history. The bestowed nature and the enchanting coastline route have created advantages for Phuoc Hai to attract tourists near and far.
Thanks to the heated hospitality real estate sector and available advantages in BR-VT, Phuoc Hai has drawn many big players in the real estate industry to develop high-quality products for the enormous needs of relaxation after the lengthy epidemic.
Determined not to be left out, Phat Dat has steadily prepared for the launch of Serenity Phuoc Hai with a road frontage facing Vo Thi Sau Street, Phuoc Hai Town, Dat Do District, BR-VT Province.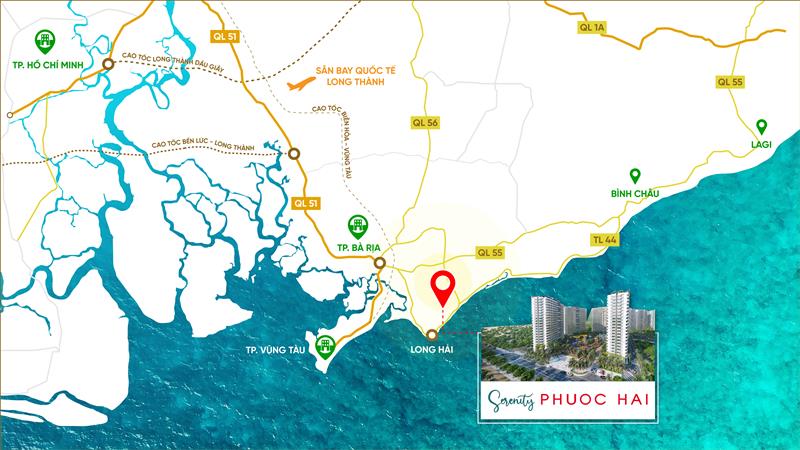 Location of Serenity Phuoc Hai
Owning an area of 73,842 sqm and an expected investment of VND 3,500 billion, the Serenity Phuoc Hai complex will include various products such as tourist apartments, shophouses, hotels, villas, etc. with an array of utilities, satisfying the needs of all customers.
As planned, the project will feature Hillside hotel and villas with an exploitation area of over 55,569 sqm and coastal tourist products of 18,272 sqm. Construction will commence in March 2022, and sales will start in May 2022. Serenity Phuoc Hai is one of PDR's key projects in 2022, which is regarded as a grand advance in the BR-VT hospitality real estate market. It is estimated that the project will generate more than VND 1,000 billion in gross profit for PDR in 2022.
In addition to creating a system of entertainment and recreational facilities, the international standard 5-star hotel contributes to improving the quality of tourist accommodation facilities in BR-VT province. Serenity Phuoc Hai will be an investment highlight in the regional hospitality real estate segment, creating an attractive destination for tourists.
Strengthening the foundation
Based on the core business of developing residential real estate, through a journey of over 17 years of establishment and development, Phat Dat constantly exerts its position as a professional real estate developer with more than 20 projects. Starting with The EverRich 1, Phat Dat's project portfolio is getting diverse day by day to offer varied investment and profit opportunities.
It's clear that Phat Dat aims to build projects in tier-2 coastal cities with established tourism infrastructure and business-friendly legislation. As a result, Phat Dat's initiatives always meet requirements such as favorable location, open trade connection, legal certainty, and the potential to repay investments promptly. By adhering to such strict requirements, Phat Dat has achieved remarkable success and established its firm footprint in HCMC, Binh Dinh, Quang Ngai, Binh Duong, and other cities.
With its seasoned experience and proven project development capacity, Phat Dat believes that Serenity Phuoc Hai will become a hotspot for real estate investors and residents in the near future.