The commencement of Ngo May coastal hotel & condotel Complex
On 6th June 2022, Phat Dat Real Estate Development Corporation (HoSE: PDR) officially kicked off Ngo May coastal hotel and condotel complex in Quy Nhon City, Binh Dinh Province.
This upcoming world-class and luxurious hospitality property is located right in the heart of the picturesque coastal city.
Quy Nhon is considered highly qualified amongst analysts to be a top destination in Asia and worldwide. Quy Nhon won the title of "ASEAN Clean Tourist City in 2020" at the ASEAN Tourism Forum – ATF. In the same year, the famous British travel guide Rough Guides cited Quy Nhon as one of the "Top 3 emerging destinations in 2020".
Indeed, according to data, the number of travelers visiting Quy Nhon has climbed by 45 percent since early 2022 compared to the same period in 2021, indicating a rising need for hospitality facilities from national and international tourists and investors. However, Quy Nhon City lacks high-end tourist lodgings, and Phat Dat's investment in Ngo May Complex not only matches market demand but also demonstrates the company's long-term strategic vision.
The official groundbreaking ceremony for Ngo May commercial services, hotel and condotel complex further promotes the tourism industry in Quy Nhon. This city is attracting a large number of tourists at home and abroad but lacks high-end hospitality products. With an area of over 5,000m2 housing to roughly 900 condotel and 362 hotel rooms, Ngo May Complex will expectedly yield nearly VND 2,000 billion in revenue from 2022 to 2023. The project includes a beachfront condotel block operated by Centara Hotels & Resorts and a hotel block run by Marriott International. As such, future visitors to Quy Nhon will have access to international-standard services.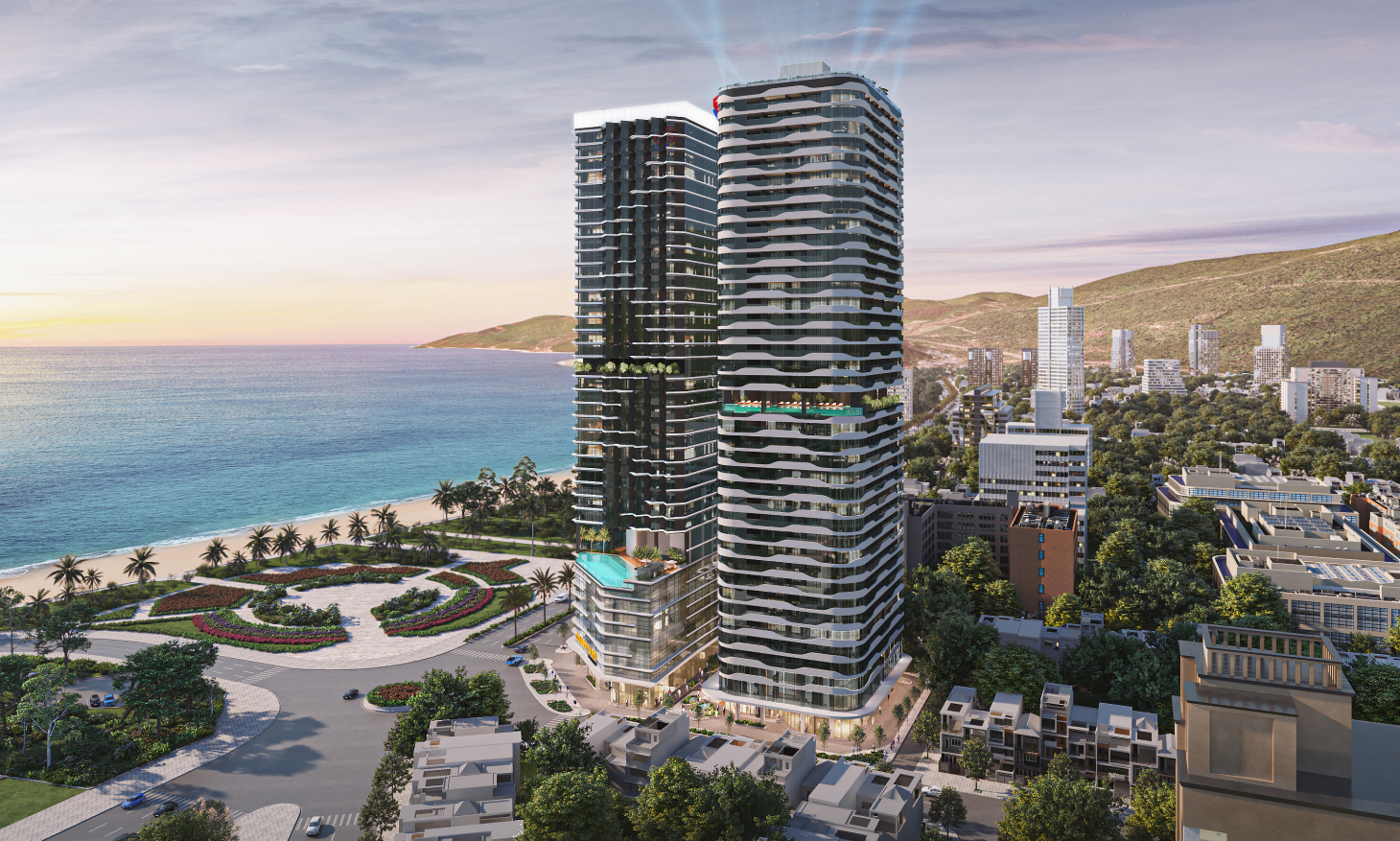 Aiming at launching high-class condotel products of international standards and promoting the tourism industry of the coastal Quy Nhon City, Phat Dat has "shaken hands" with sector leaders to develop the Ngo May project, including Centara Hotels & Resorts (Thailand), GSA (Australia), Meinhardt (Singapore), ACONS (Vietnam), Red Design (Australia), Phat Dat Real Estate Business & Services JSC– a member of Phat Dat Group, DKRA Vietnam, etc. These brands are the "guarantee" for the prestige and quality standards the Investor aims for.
Being positioned as high-end, each apartment is likened to a unique work of art that helps elevate the owner's status. In particular, GSAStudio – the project's architectural consultant, one of the leading Australian companies, sketches a minimalistic yet elegant style into every corner. Thus, customers and investors may experience relaxing moments of world-class standard while staying at a Ngo May's condotel.
In addition to high construction quality, the coastal condotel block will be operated by a prestigious name, Centara Hotels & Resorts – a member of Central Group. This is Thailand's leading hotel management brand with expertise in running renowned 6 brands and 89 hotels and resorts in Thailand, the Maldives, Dubai, Sri Lanka, Qatar, Oman, Japan, and Vietnam, among other places.
Furthermore, the Ngo May project is located at 01 Ngo May Street, Nguyen Van Cu Ward, Quy Nhon City, Binh Dinh Province, and has a direct view of the sea and the city square. The project is anticipated to become a new tourist icon for Quy Nhon, completely integrating high-class hotel services with the finest investment prospects and profitability in the region.
Mr. Bui Quang Anh Vu, Phat Dat's CEO, elaborated: "The high-end hospitality real estate market in Quy Nhon is making great progress, and PDR's investment in Ngo May Complex is a big step forward. We desire to bring high-end hospitality products to customers and great opportunities to investors, as well as to promote Quy Nhon and Vietnam's tourism industry".
As one of Vietnam's Top 3 property developers and Top 20 leading public companies, Phat Dat Corporation possesses extensive experience and significant advantages in developing luxury hospitality real estate. Meanwhile, as the project's developer, Phat Dat Real Estate Service and Business JSC will apply its strengths in property development, marketing and business based on in-depth customer insights and market trends. As a result, the project will bring sustainable added value to customers regardless of the fact that they're investing in or staying at Ngo May's coastal properties.
As word travels about the Ngo May seaside complex, the investment community anticipates significant changes in Quy Nhon's hospitality real estate sector. The Ngo May Complex is projected to become not just a high-end tourist attraction but also a practical and profitable conduit for condotel investors.