What opportunities for 'newcomer' Phat Dat expanding into industrial real estate?
The US-China trade war and the free trade agreements put into effect have prompted international corporations to relocate their plants and investment inflows to other markets outside China. Amongst these markets, Vietnam – one of the global highest growth rates, is emerging as an attractive destination.
According to Trading Economy, Vietnam's estimated labor cost is equivalent to 52% and 64% compared to that of China and the average of the top 3 competitive labor markets in ASEAN (Thailand, Indonesia, and Malaysia). This resulted in a rising wave of industrial property investment in Vietnam in 2018 and 2019.
Driven by the Covid-19 epidemic, the year 2020 has seen this wave getting more intense due to the apparent risk of the supply chain over-depended on China. However, the supply of industrial properties in Vietnam is insufficient to satisfy the current demand. This is one of the main reasons that drive industrial real estate businesses to maintain a positive growth rate and impressive business indicators recently.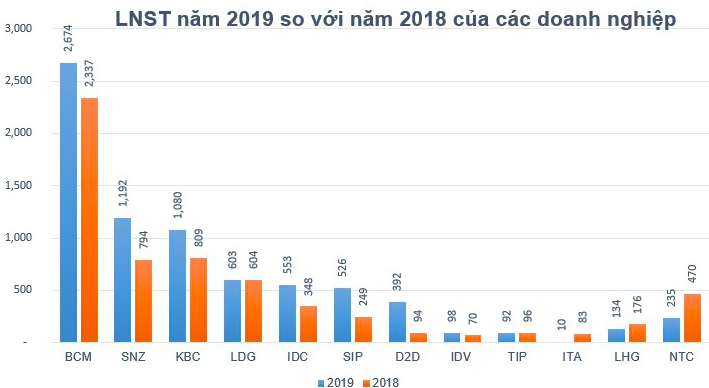 Profit after tax in 2018 and 2019 of real estate businesses
The industrial real estate market expects to grow tremendously, and the Covid-19 epidemic conditions a good opportunity to enter the market.
Since the beginning of 2020, the Covid-19 epidemic has more or less put the market under negative impacts. Due to the lockdown, transportation has been postponed, and foreign investors have delayed their research on locations and direct contact with property owners. Nevertheless, market analysts expect the market will progressively recover after the pandemic is under control.
Indeed, although the FDI saw a flat line in the first half of 2020, industrial realty's rental fee has risen 10% since the end of 2019. Especially, earlier this year, the government released policies on increasing public investment and refining infrastructure to attract foreign investment. Thus, the demand for and the rent of industrial property are projected to rise.
The average rental fee of industrial land and property in northern and southern provinces.


In other words, the slowdown due to the pandemic is presenting a huge opportunity for newcomers entering the industrial property market. The market has welcomed few new names, and one of those is Phat Dat Real Estate Development Corporation (Ticker: PDR). In mid-August, Phat Dat officially implemented industrial property development orientation by approving the resolution on establishing a subsidiary – Phat Dat Industrial Park Investment and Development Company, with an initial charter capital of VND 680 billion.
As a need to highlight, the industrial real estate market is highly potential, yet it sets entry barriers of high competitiveness and huge investment capital. The questions are what PDR has got and what operation direction they are following.
Phat Dat embarking on the new journey with effective capital mobilization capacity and partnership with giant Japanese partners
After 16 years of development, PDR's equity has been constantly increasing, especially, pacing at a 4-time growth rate for the last 10 years, passing VND 4,369 billion. In parallel with the increasing equity, PDR's ROE has risen from under 0.5% in 2011 to over 20% by the end of 2019. In a more forward-thinking approach, the company has broadened its diverse network of partners, including banks (Vietcombank, BIDV, VPBank, Vietinbank, etc.), financial institutions, and business partners. Also, the company has always succeeded in bond issuances in recent years.
Notably, in the most recent interview, PDR's representative has revealed the cooperation with Japanese partners. They are professional industrial-zone developers with many years of experience in this field and hailing from a country with a long history of industrial-zone development. Having been chosen to collaborate with them proves PDR's potential for growth and capital mobilization to operate in this new direction.
The company further elaborated on their continuous enhancement of the human resources, the ongoing search for experienced partners in industrial property development, and ERP system implementation to ensure the integration and consistency in corporate governance. Amongst these, digital transformation is the initial step to generate new competitive edges in pursuit of category expansion and sustainable development strategy.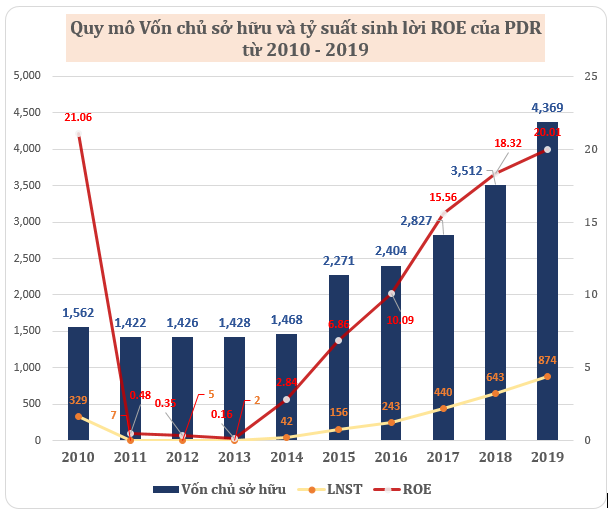 PDR's Equity and ROE from 2010 to 2019
Seizing the wave of foreign clients moving their investment out of China
When formulating market entry strategies, PDR has directly addressed the trend of foreign investors choosing Vietnam as a new destination to relocate their investment. After carefully monitoring and evaluating the market, in which the land bank designated for industrial realty has been gradually decreased, PDR admits an urgent need to implement and put industrial properties in operation promptly.
However, as a newcomer, PDR avoids racing up with current giants in the sector and takes cautious solid moves. Accordingly, PDR focuses on lively industry-oriented provinces such as Binh Duong, Dong Nai, Ba Ria – Vung Tau, and converted agricultural and forestry lands adjacent to the existing transportation infrastructure.
The company also offers a diverse product portfolio, including land lots, ready-built factories, warehouses, comprehensive services, etc. Their target clients are from various developed countries such as Japan, South Korea, European countries, and the US, who are gradually moving their technology and manufacturing industries out of China.
In general, a clear direction and effective capital mobilization capacity have built up a stable foundation for newcomer PDR to take its first steps in the industrial real estate sector. Moreover, the extensive experience in project development and a healthy financial status feasibly enable breakthroughs per industrial property development strategy and, ultimately, further cement the company's foundation to realize their ambitions in the days to come.
Chart of achieved and expected profit targets of PDR from 2013 to 2023. The company chose the image of an eagle as the symbol for PDR's characteristics and a message of internal strengths and development aspirations.