What opportunities for Phat Dat investing in industrial real estate?
After the announcements of breakthrough strategies, stratospheric financial targets for short and long-term, and continuous positive achievements, Phat Dat Real Estate Development JSC (Ticker: PDR) has, once more, caught the attention of investors when venturing into the Industrial Real Estate market.
In Mid-August, Phat Dat has officially implemented the orientation towards industrial property development by approving BOD's resolution on capital contribution to establish a subsidiary – Phat Dat Industrial Park Investment and Development JSC with an initial charter capital of VND 680 billion.
Amidst the recent rising wave of industrial property investment in Vietnam, does Phat Dat have any base to embrace these opportunities and prospects? And what impacts this expansion will have on the development criteria of "Speed and Sustainability" that Phat Dat has announced in the big plan towards 2023? Mr. Nguyen Van Dat – Chairman of PDR's BOD, has shared some information in response to investors' and shareholders' concerns regarding the company's new strategy.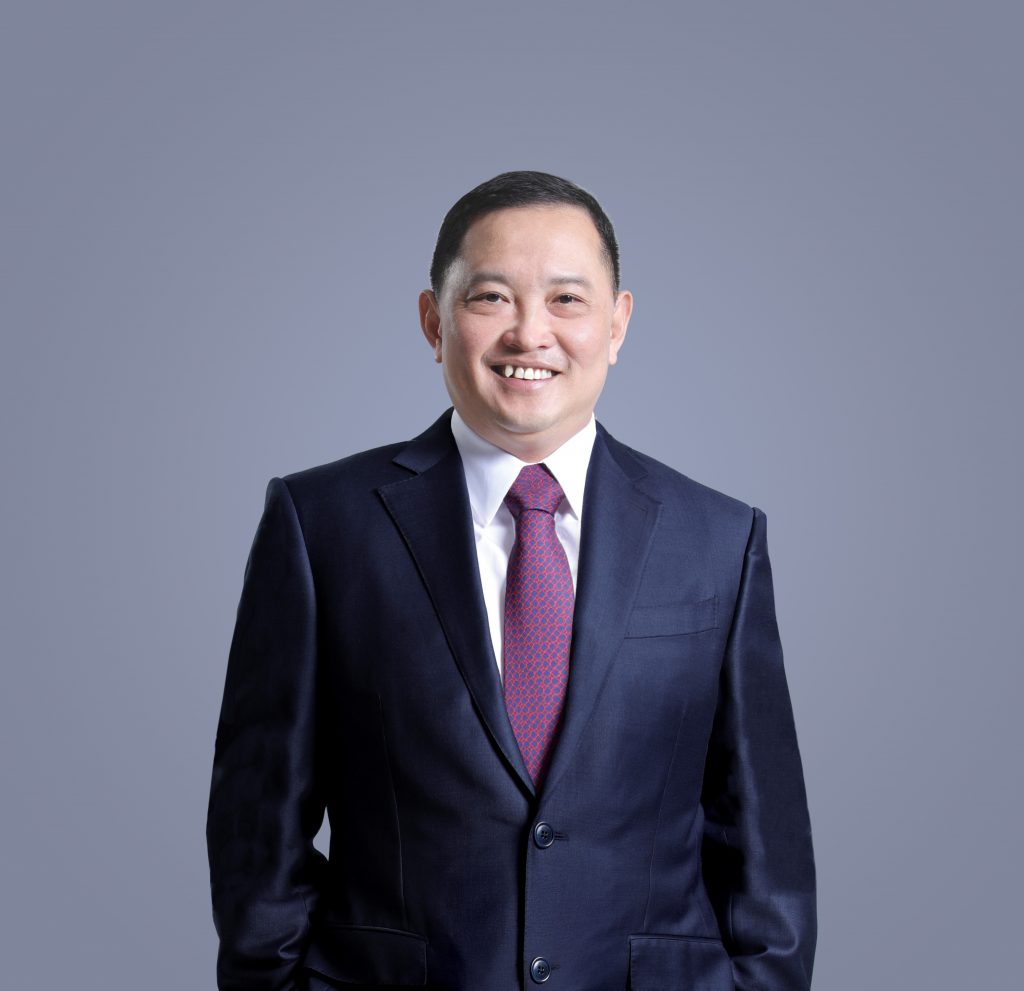 Mr. Nguyen Van Dat – Chairman of the BOD, Phat Dat Real Estate Development JSC..
What are PDR's assessments on the potential of the industrial real estate market?
After recent major events, the global economy has undertaken obvious moves and rearrangement. In that respect, a notable trend is foreign investors selecting Vietnam as an alternative destination for reallocating investment capital.
To seize this opportunity, Vietnam must develop industrial zones that satisfy the requirements of modern production industry. Presently, there are insufficient industry zones under the new set of requirements. Specifically, the supply of industrial real estate cannot satisfy the market's needs; inevitably, investing in industrial property is a timely and trendy step.
However, the industrial land bank is gradually decreasing. Therefore, it is essential to deploy new industrial zones quickly and efficiently. Phat Dat has closely monitored and evaluated the market's movements to fully prepare all the necessary foundation for investing in projects that optimally meet this market demand.
While there is no denying the demand and potential, the industrial real estate market is not "The Goose that Laid the Golden Eggs" for everyone. In the race against other enterprises, which approaches does Phat Dat choose to seize this opportunity, sir?
Phat Dat's new initiative is not merely to "race up" with any short-term trends or opportunities but to offer projects with the highest efficiency and practicality to the market by basing on solid foundations when delivering decisions, preparation, and implementation. In the immediate future, we will focus on localities with existing infrastructure and advantages to develop modern industrial zones, namely mention Binh Duong Province, Dong Nai province, and Ba Ria – Vung Tau province.
PDR is a newcomer in this field. However, Phat Dat benefits from existing strong reputation, project development capabilities, and extensive business experience. Henceforth, we possess an extensive network of partners, investors, and "allies" owning significant capacities in landholdings, financial resources, and field expertise, who are ready to cooperate and satisfy all the requirements.
Additionally, to develop modern industrial properties, we are in cooperation with Japanese partners. They are professional industrial-zone developers with many years of experience in this field and hailing from a country with a long history of industrial-zone development. In collaborating with them, we will inherit all the features of predecessors in terms of their capacities, experience, and visions. From there, we can maximize all the advantages that help achieve the best results.
Having met the most critical conditions such as good reputation, financial health, expertise, and thorough preparation, we have firm confidence that in the new field, Phat Dat can continue to ensure high efficiency in line with the criteria committed in PDR's master strategy.
Phat Dat has set especially high targets within the breakthrough journey toward 2023. Entering such a new market needs enormous resources. Would it disperse the resources of PDR's core business of residential real estate?
We are consistent with our development criteria of "speed and sustainability" and abiding by them in every business decision. Therefore, there is no circumstance of Phat Dat spreading out resources when operating in new markets.
As mentioned, to develop industrial real estate, we have prepared new resources, expertise competencies, and are in cooperation with large, if not extremely large, partners in the industry. Therefore, it is the consolidation on which Phat Dat will focus to generate even more power, not dispersion. This move will not only contribute to breakthrough achievements in the 5-year plan from 2019 to 2023 but also add a sustainable source to PDR's revenue and profit in the following years.
Do the recent market incidents, especially the pandemic, have any impact on PDR's plans, sir?
Of course, there are, but they cannot change PDR's plans and the set goals. First and foremost, the company has obtained its financial backup by steadily accumulating internal strengths and financial status, enabling a proactive position in business operating. Second, lessons from past ups and downs give Phat Dat the bravery and experience in dealing with up-coming market fluctuation. Hence, we have the necessary flexibility and methods to reach optimal solutions. Lastly, PDR's landholdings situate in prime and favorable locations in localities with rapid development.
As a result, although the real estate market has slowed down, Phat Dat is carrying out its projects smoothly and promptly as planned. All open products have been sold out, and all hand-overs are under deployment as scheduled; these provide the means to record revenues and profits continuously. Thus, Phat Dat will undoubtedly achieve the VND 1,500 billion targeted profit of this year.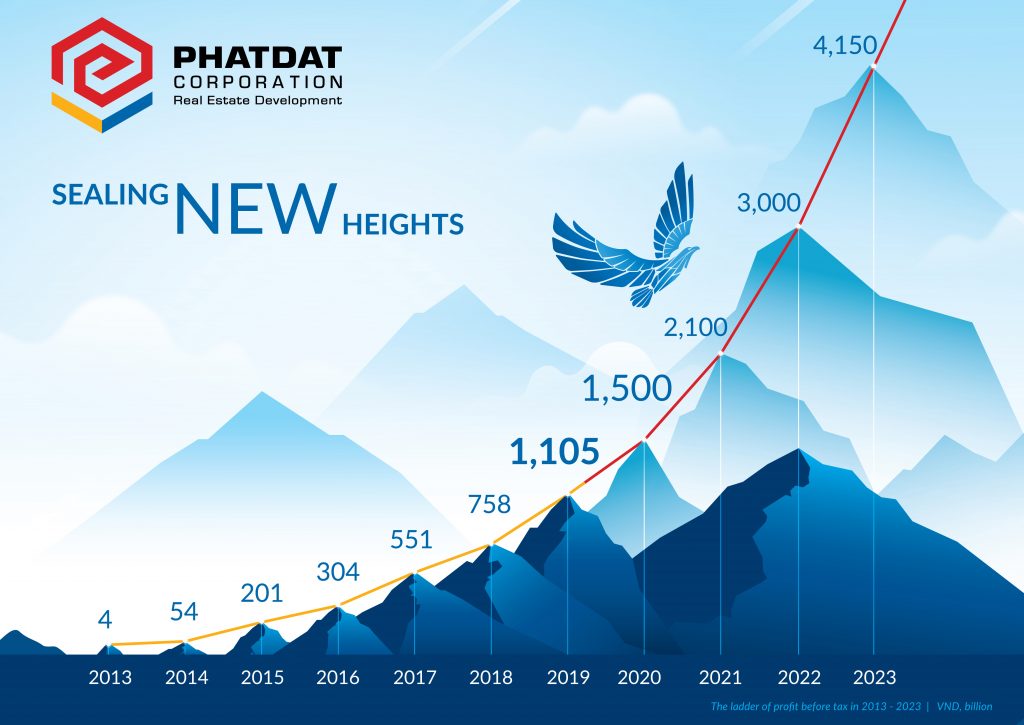 Chart of achieved and expected profit targets of PDR from 2013 to 2023. The company chose the image of an eagle as the symbol for PDR's message of internal strengths and development aspirations
Phat Dat has celebrated its 10-year anniversary of listing on HOSE. Looking back over the past ten years, which business lessons have made the most sense for you? Do you have any plans for the next ten years? Or are you focusing on the current plan forward 2023?
I think the past ten-year period has a significant meaning as Phat Dat has gone through all the ups and downs. There were times when the pressure was so great that we were questioned about our ability to bounce back. But we have proven it with our determined actions and actual outcomes.
Going through both severe challenges and awarding successes equips us with profound business lessons. Thus, experience and bravery were drawn from these lessons. Thanks to these, we have gathered the momentum to gain recent achievements and the internal strengths to fly higher towards bigger goals.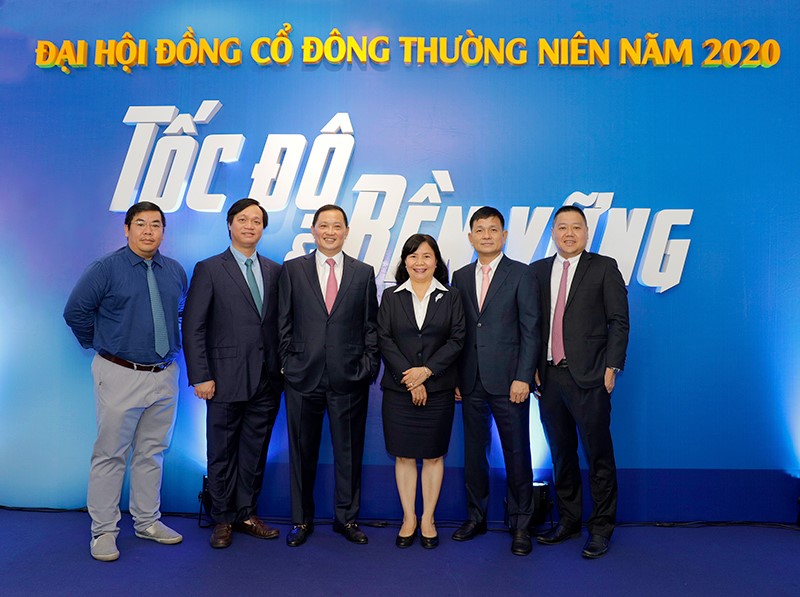 Phat Dat's General Meeting of Shareholders in 2020. At this event, Phat Dat has affirmed the implementation of a long-term strategy for the period 2019 – 2023 with the total cumulative profit target of VND 11,850 billion and the CAGR of 38%.

I have lots of plans and aims, so it's not five years or ten years, but many years after that, for which we are planning. In our long run, besides residential and industrial real estate, we'll expand into hospitality property.
So far, Phat Dat owns a large number of landholdings in ideal locations spreading out to many localities. The land bank will continue to increase for upcoming projects in the next ten years. Hence, we have a stable platform to ensure the best result in the plan of 2019-2023.
Thank you, sir!
Phat Dat has announced a 5-year plan – the plan establishing the "New Era," with the cumulative profit target of over VND 11,850 billion and the CAGR of over 38%. As of 7th September 2020, the company's market capitalization reached USD 500 million.

Phat Dat is one of the six Vietnam's companies that outran 18,000 listed companies in the Asia-Pacific region with revenues of between $10 million and $1 billion, from which Forbes Asia has named the 200 Asia's Best Under A Billion list. Besides, Phat Dat is one of the two newly selected companies listed in the VNSI – Vietnam Sustainability Index with 20 enterprises – and is among the top 5 listed companies included in the next review of VN30 – 30 largest stocks by market capitalization on HOSE. In addition, Phat Dat has won the 24th place in TOP 500 Fastest Growing Companies in Vietnam 2020 by Vietnam Report, the 6th place in 2019 Vietnam's TOP 50 Best-performing Companies by Nhip Cau Dau Tu magazine and Thien Viet Securities JSC.