Phat Dat announces an increase in its 5-year accumulative net profit before tax for the period of 2019-2023 to vnd 14,270 billion from vnd 11,850 billion
Phat Dat Real Estate Development Corporation (Ticker : PDR) continues to make the market "tumultuous" after announcing the leapfrog of its earnings target. At a recent company's event, Mr. Nguyen Van Dat –Chairman of the BOD, announced PDR's updated financial plan for long-term development. Accordingly, Phat Dat increases its targeted 5-year accumulated profit to VND 14,270 billion (2019-2023), from the former VND 11,850 billion target, resulting in the new CAGR of 51% instead of 38%.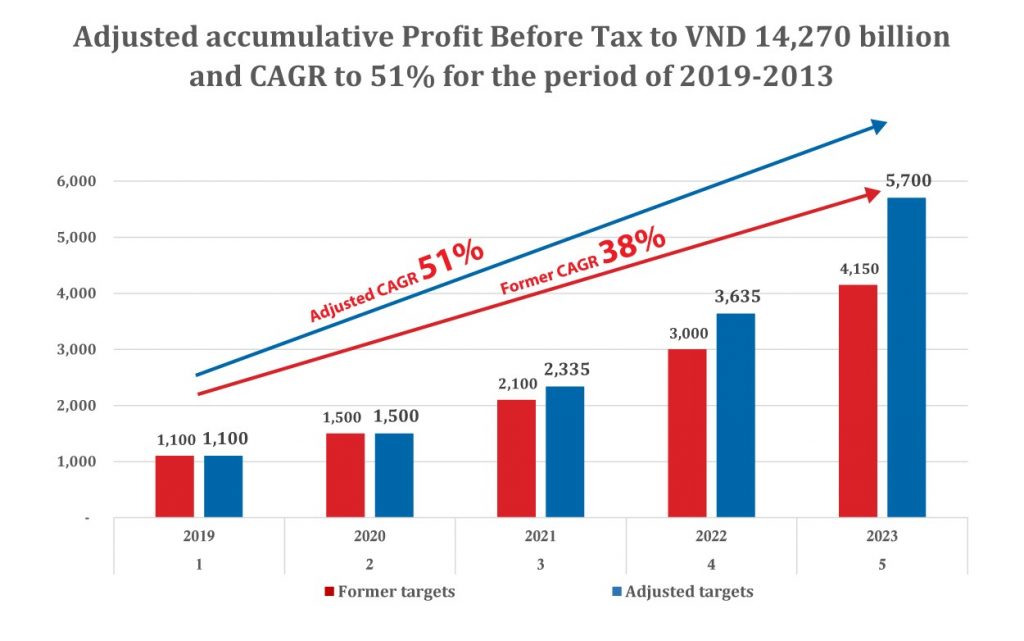 PDR's adjustments of profit before tax target in the period of 2019-2023

The announcement, amidst the severe impacts of Covid-19 on the real estate market and overall economy, has received profound attention from the business community. As of 21/09/2020, PDR has reached VND 14,866 billion in market capitalization, a 173% increase since the beginning of the year. Thus,  the progressive accomplishment of PDR's overall business performance has given credence to the feasibility of achieving breakthrough targets.
In 2019, Phat Dat achieved VND 1,105 billion in profit before tax. Such an  achievement has further cemented a concrete foundation for PDR to confidently elevate the growth rate during the 5-year plan of 2019-2023 (set for creating "The New Era" with breakthrough achievements.)
Since the beginning of 2020, as a consequence of severe impacts from Covid-19, the real estate market has been unpredictable, and even big businesses are presented with unavoidable adverse effects. However, during April's Annual General Meeting of Shareholders, Phat Dat still affirmed continuing business operations expansions as planned, preparing internal resources & approaching plans to tackle new challenges, and confidently ensuring the growth targets.
Per reviewed financial statements of the first six months of 2020, Phat Dat has earned VND 463 billion gross profit, increasing 19% YoY. Current projects have been implementing as scheduled. Notably, all low-rise units of Zone 2 and Zone 9, forming a part of Nhon Hoi Ecotourism City (Quy Nhon City, Binh Dinh province), have been successfully sold out to the market. Thus their corresponding revenue and profit can be recorded. According to PDR's BOD, these outcomes alone have made the revenue and profit targets for 2020.
Simultaneously, Phat Dat's land bank acquisition has progressed optimistically. Presently, PDR's total landholdings reach over 450 hectares across many localities with development potentials, having transparent legal status, and readiness for deploying projects in Ba Ria Vung Tau Province, Binh Duong Province, and Da Nang City, etc.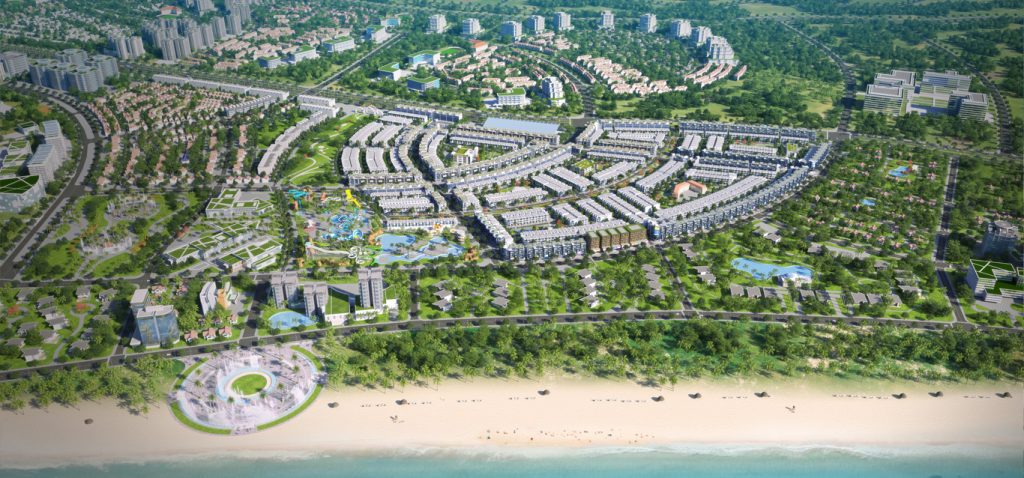 Nhon Hoi Ecotourism City in Binh Dinh province – one of the ongoing big projects of Phat Dat
The positive outcomes not only guarantee a strong financial condition supporting the current business operations but also place Phat Dat with more opportunities for raising optimal capital.
With such developments, the BOD's decision to increase the set targets was obvious. Moreover, Mr. Nguyen Van Dat further added that PDR implants other well-devised ongoing plans, and as such would have more surprising breakthroughs awaiting in the time to come.
In evaluating PDR's business performances, in addition to Group's high growth rate, the market observers are convinced by the PDR's consistent adherence to sustainable development criterion. Per strategy for "The New Era," to enable stable, strong leap growth, Phat Dat advocates a harmonious balance of product diversification strategy, continual development of new projects delivering high efficiency and high certainty cash flows, and financial stability. To achieve this, Phat Dat has invested substantially in human resources, corporate governance, and information technologies.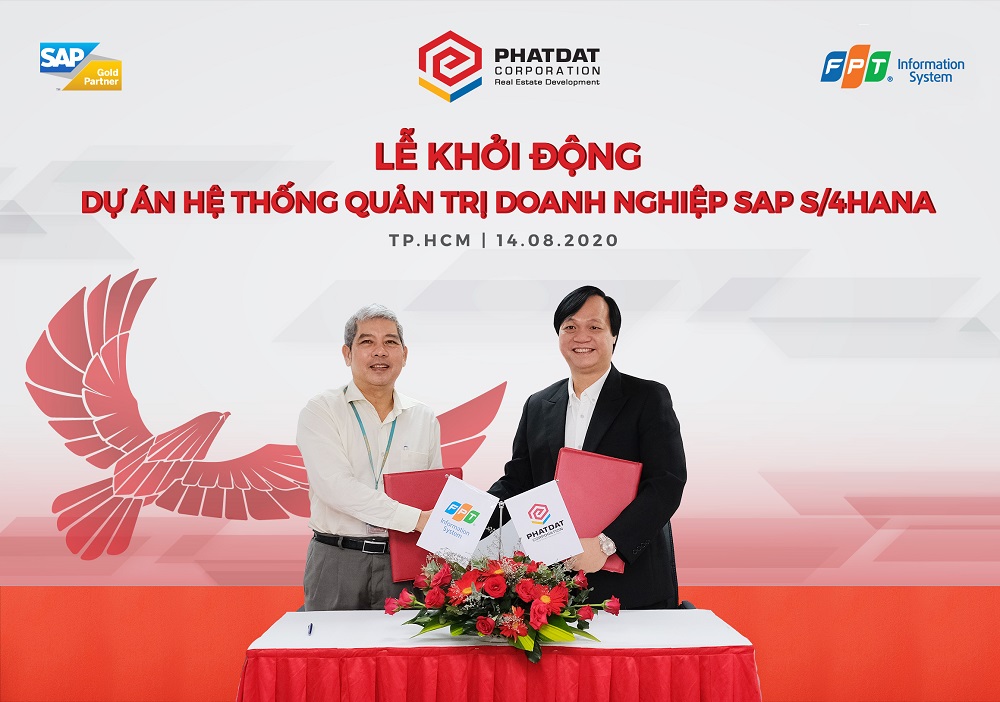 Phat Dat is focusing on enhancing internal strengths – one of the most important factors that guarantee the Speed and Sustainability development criteria
Phat Dat has just celebrated its 16th establishment anniversary,10th anniversary listing on HOSE, and the market expansion from HCMC to Da Nang, Quang Ngai, Binh Dinh, Binh Duong, Dong Nai, Ba Ria Vung Tau, Phu Quoc, etc.

The remarkable growth results in 2019 made Phat Dat one of the six Vietnamese companies on the 200 Asia's Best Under A Billion list, surpassing 18,000 other listed companies in the Asia-Pacific region. Most recently, Phat Dat also won the Bronze Stevie® Award of Achievement in Growth category of the International Business Awards®.

Phat Dat is one of twenty companies listed in the VNSI 20 – Vietnam Sustainability Index with 20 enterprises. PDR is among the top 5 listed companies included in the next review for VN30 – 30 largest stocks by market capitalization on HOSE. Additionally, Phat Dat has ranked 24th in TOP 500 Fastest-Growing Enterprises in Vietnam 2020 by Vietnam Report and 6th amongst the 2019 Vietnam's TOP 50 Best-performing Companies by Nhip Cau Dau Tu magazine and Thien Viet Securities JSC.

Phat Dat completed two dividend payments in 2019 (with a ratio of 13% by stock and 12% by cash). Recently, Phat Dat has also announced the plan for advance stock dividend payment with a ratio of 7% for financial performance in the first half of 2020.